Adore those kiss-worthy lips only with the benefits of jojoba oil for lips. Are you wondering how? Well, jojoba oil on lips is a safe way to nurture your lips with the much-needed nourishment. Putting jojoba oil on lips ideally serves as a PRO to tackle dry and chapped lips. Jojoba oil is a naturally produced outcome from the Jojoba tree. Jojoba is a sandy herbaceous plant native to the southern side of the United States, Northcentral Mexico, as well as other regions of the United States that yields a silky, solid gold oil.
To make the oil, the seedlings of the Jojoba tree are sourced and cold-pressed. Pure Jojoba Oil is an organic moisturizer that helps keep your lips nourished and prevents dryness. It also has a powerful anti-bacterial property, so when you have broken lips, it really can mitigate infectious diseases.
This phenomenal shining decoction would be almost exactly equivalent in structure to the oils and lubricants that our natural skin produces to maintain it nourished, luscious, and luminous.
You may also like:
Now that you know that jojoba oil is packed with all the goodness for your lips and is like a facial oil, here are some of the main features of jojoba oil for dry and chapped lips. Jojoba oil heals dry lips faster than ever and tackles all the roughness. It also speeds up the recovery process of chapped lips and therefore softens them well.
Can We Put Jojoba Oil On Your Lips?
Yes, of course. Jojoba oil is a great pick for everyone to get rid of dry and chapped lips. Our lips tend to get dry, especially during the winter season. Winters might ruin the condition of your lips. But, thanks to jojoba oil for dry and chapped lips. The golden oil AKA glow oil shields your lips from dry patches and nourishes them like a PRO.
Benefits Of Jojoba Oil For Dry, Chapped Lips
1. Nourishes Dry Lips
Jojoba oil is considered a natural moisturizer. This golden oil works like magic to nourish your lips. Jojoba oil is packed with potent anti-inflammatory properties. Their anti-inflammatory qualities and omega-6 fatty acids help to keep skin moisturized and relieve skin inflammation. Omega-9 saturated fats are favorable to the body and aid in its protection.
2. Reduces Lip Darkness
You all know how difficult it is to reduce and finally eliminate lip pigmentation. Lip discoloration or lip darkness is one of the major problems people face these days, especially girls. Women face intense lip darkness and they don't even know how to eliminate it. In such instances, jojoba oil comes to the rescue. Jojoba oil reduces lip pigmentation as it contains various nutrients, minerals, vitamins, and powerful antioxidants. Jojoba oil kicks off dead skin cells from your lips and induces the development of new skin cells immediately.
3. Tackles Lip Sunburn
Like your face, your lips also suffer from suntan or sunburn. Sunburn on your lips can damage the skin cells and might also lead to lip discoloration and darkness.
Jojoba oil contains a wide range of vitamins that are advantageous to the skin and lips, including Vitamin E, a potent antioxidant that helps safeguard the skin's surface from damage. Jojoba oil additionally contains fats, oils, and mineral deposits that nurture and provide skin protection. It further safeguards your lips from intense sunburn.
4. Reduces Dry And Patchy Lips
Did you know that jojoba oil is loaded with potent fatty acids, lips, and fats that nourish your skin deeply and reduce dry lips? We found that jojoba oil is a perfect pick for everyone who has dry and patchy lips. The presence of fatty acids in jojoba oil tackles your lip condition properly. Fatty acids are compounds that are found naturally in oils and lipoproteins. Jojoba oil includes two kinds of saturated fats: omega-6 and omega-9. Both saturated fats ward off chapped lips in a few days and nurture your skin.
How To Use Jojoba Oil For Dry, Chapped Lips?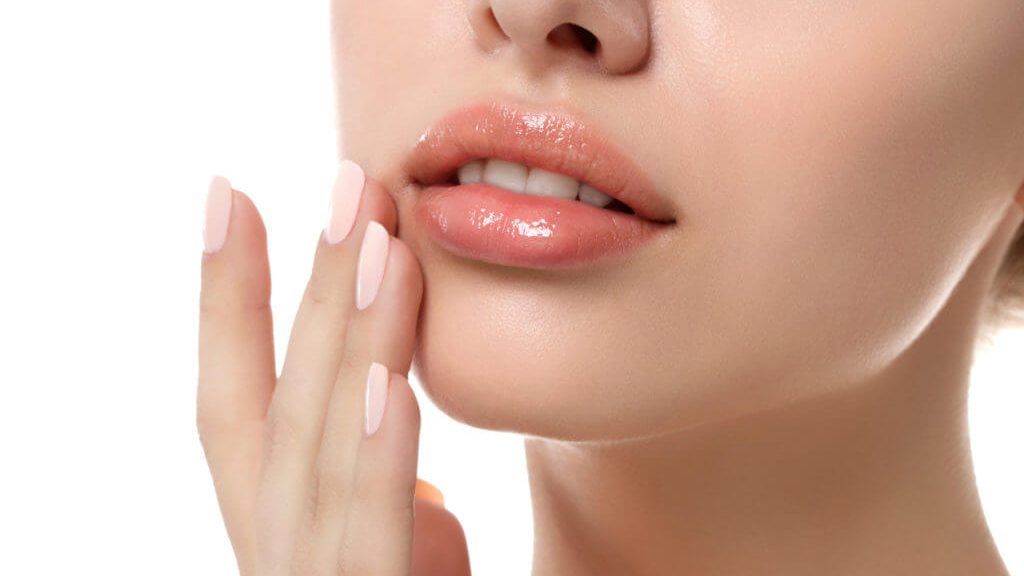 The most common methodology is to utilize 100% natural unprocessed jojoba oil. We advise against using honed jojoba oil. It will not contain all of the nutrient content that your lips require.
When maintained at room temperature, jojoba oil has a fluid, oil-like feel. This simplifies utilisation. Gently massage jojoba oil into your cracked lips with your pinky. You could perhaps repeat this procedure as many times as you require daily. Including Jojoba Oil in our lip care and cleaning is a fantastic way to keep our lips soft as well as moisturized.
Lip scrub and lip balm are excellent DIY remedies for your chapped lips! This special exfoliation removes the dry dead tissue on your lips, allowing them to absorb more effortlessly.
Recipe 1 – DIY Jojoba Oil Lip Scrub
Ingredients:
Method:
In an air-tight container add jojoba oil.
Now pour in a few drops of rose essential oil.
Add sugar to this mixture to make a scrub-like consistency.
Now mix it well and scrub your lips with it.
Exfoliate it for a good 5-10 minutes and then keep it for 2 minutes.
After constant scrubbing, wipe it off with a clean wipe.
Recipe 2 – DIY Jojoba Oil Lip Balm
Ingredients:
Method:
In an air-tight container add jojoba oil and liquid beeswax.
Now pour in a few drops of all the essential oils mentioned above.
Now mix it well and create your DIY lip balm.
Takeaway
Using a regular lip balm is not something that all of you should go for. We recommend you try DIY jojoba oil lip balm for dry lips to nurture your lips. Organic and pure jojoba oil in India is a perfect choice to nourish your dry and cracked lips.
You may also like:
Moksha Lifestyles offers pure jojoba oil in India. You can now buy pure jojoba oil in India in just one click. Place your bulk orders or purchases without any second thought for the best essential oils in India.