You all know acne and oily skin are supposed to be permanent on your face (well, actually not). While many people think that acne can be controlled, one needs to know that constant efforts are supposed to be made to keep pimples and acne at bay. Recently we found that rosehip oil for oily skin is a great option for everyone out there who is looking to control excess oil production. Rosehip oil is a facial oil that is used in various moisturizers and serums so that it serves perfectly well for oily, acne-prone skin.
You might be surprised to note that Rosehip oil is derived from the seeds of a fruit called rose seed. It has several antioxidant properties that tackle your skin conditions and reduces acne and pimples. Not only this, but rosehip oil also works great as a moisturizer for oily acne-prone skin.
All About Rosehip Oil For Oily Skin
You may like this also:
Rosehip oil is a natural oil that is popularly used in skincare products because of its multiple anti-aging properties. Consider rosehip oil to be an anti-aging champion that is also anti-breakout and organic. Even the best, elevated-quality rosehip oil will not cost a fortune. Rosehip oil, inferred from rose seeds and fruits is high in antioxidants including vitamins A, Vit C, and Vit E, as well as linoleic and oleic acids. Rosehip oil nourishes the skin, plumping wrinkles and fine lines and fighting damage from free radicals including sun and smog malfunction, brightening skin tone, reducing discoloration, and leaving it silky soft. Not to indicate that rosehip oil is good for your pore spaces.
Benefits Of Rosehip Oil For Oily skin
If you are worried about the oiliness in your skin and want to get rid of the same then rosehip oil is the one for you. Rosehip oil not only suits all skin types but also reduces dark spots, dullness, and acne scars. Let's have a look at some of the prominent benefits of rosehip oil for oily skin.
High Concentration Of Linoleic Acid
Given its high proportion of linoleic acid, rosehip oil is an excellent choice for blemish and pimple-prone skin. Linoleic acid, a wholly natural and organic essential fatty acid, has been demonstrated to decrease acne during topical application. All natural oils encompass some linoleic acid, but rosehip oil includes a higher proportion of linoleic (when particularly in comparison to certain other oils like almond oil or argan oil), making it a fantastic choice for acne sufferers. If you suffer from acne, read our guidebook to combating acne and imperfections with rosehip oil for acne scars.
Rosehip oil contains vitamins A, C, and E, carotene, and linoleic acids, which assist in healing the skin. This wonderful combination of five values diminishes rashes, calms inflammatory conditions, and restores broken skin. It treats everything from breakouts and itchy skin to infectious diseases, insect bites, and fires. Rosehip oil has also been discovered to reduce the appearance of red marks as well as other types of slight hyperpigmentation. Recognize rosehip oil if you have clogged pores and are experiencing minor discomfort, skin irritation, or are looking to relieve an inflammatory response. Rosehip oil is a treasure of oil that specifically targets and eradicates rough skin issues like a champ.
Rosehip oil for oily skin has been rewarded as one of the best face oils for glowing skin. It actually works like a magic to brighten your complexion. It gradually provides a subtle glow to your skin while keeping acne scars and dull spots at bay. The antioxidants present in pure rosehip oil provide a moisture boost to your skin and make your skin glow flawlessly.
Who knew rosehip oil for oily skin also contributes to reversing the signs of aging? Well, it actually does. Rosehip oil tackles fine lines, wrinkles, dullness, and age spots that occur as a result of aging and not following a proper skincare routine. Once you start using rosehip oil for oily skin, there's no going back as it works like a charm for your skin.
What if we tell you that rosehip oil can be used as a moisturizer too? To be honest, it actually moisturizes your skin deeply and soothes the skin. It adds a soft touch to your skin which keeps dryness and rough patches at bay. So, next time when your skin feels irritated and itchy, try only rosehip oil alone or mixed with your moisturizer to soothe your face.
DIY Home Remedies Of Rosehip Oil For Oily Skin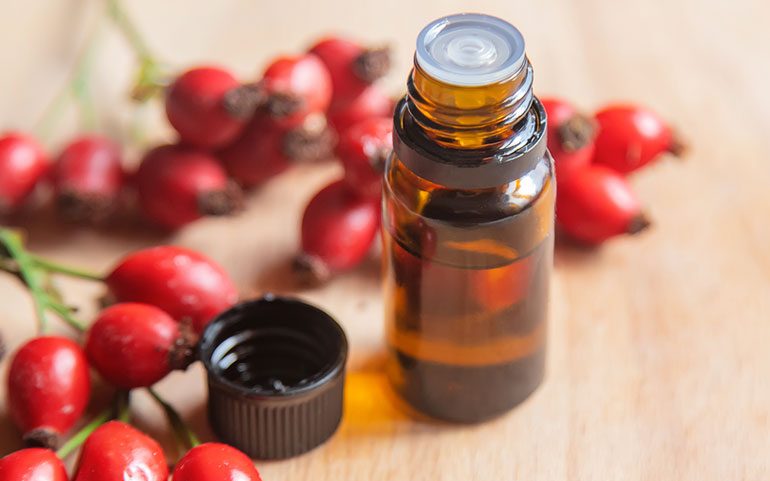 Here's how you can use rosehip oil for oily skin in different ways. We are listing out a few effective and easy-to-make DIY home remedies using rosehip oil. So, stay tuned.
Recipe 1 – Facial Oil
Ingredients:
Method:
Take 4-5 drops of rosehip oil in your palms.
Now rub it and make sure the oil is warm.
Once that is done, gently pat the oil on your face and then massage it with gentle strokes.
Do this daily as the last step in your skincare routine for better results.
Recipe 2 – Aloe Rosehip Face Mask
You may like this also:
Ingredients:
Method:
In a bowl add aloe vera gel.
Now pour rosehip oil in it.
With a spoon, give it a good mix until it becomes gel-like.
Now apply this facial gel on your skin and massage it for 10 minutes.
Once done, wash it off with cold water and your skin will glow like never before.
Recipe 3 – Glow Face Pack
Ingredients:
1tsp rose petals powder
3-4 drops of rosehip oil
A few drops of water
Method:
In a bowl add rose petals powder.
Add a few drops of rosehip oil along with water to form a face pack.
Now apply this face pack for oily skin on your face.
You can also apply it on your lips for gentle exfoliation.
Once it is semi-dried, scrub it gently and wash it off with cold water.
Follow it up with a hydrating toner or moisturizer.
Takeaway
Using natural ingredients to heal and soothe your skin is the best remedy one can opt for. Rosehip oil for oily skin is a miraculous ingredient that not only works on the outer layers of the skin but also goes deep inside to nurture it.
So, now that you know all about the goodness of rosehip oil for oily skin and instant glow when you are trying it. If you are looking for 100% pure rosehip oil in India, then head to mokshalifestyle.com.