Hello to all the curly hair ladies out there. Are you wondering how to maintain your curse or are you frustrated seeing your curly hair damaged, dry and brittle? Well, whatever it is we have a solution for you all. We know curly hairs are tough to maintain and deal with but to your surprise, argan oil works like a charm to treat curly hair. Yes, you heard it right. We know that you have been listening for years now but, it lies on the costlier side of our budgets.
But why worry when you can buy pure argan oil for curly hair with just one click? Moksha Lifestyle is dedicated to serving you with the best and top-quality essential oils and career oils that are great for your hair.
So, talking about curly hair problems let us tell you that curly hair is unmanageable and may cause intense dryness and rough tresses. Girls or even boys with curly hair usually get permanent straightening to get rid of the chaos that follows behind. But is that a solution to treat curly hair? We ask you to think twice before damaging your hair intensely by doing permanent straightening.
Studies and researchers have analyzed that treating curly hair with a straightening or any kind of chemical treatment may lead to severe damage to hair. It can also ruin the health of your hair thereby making it lifeless dull dry and brittle in the long run. Therefore, Ayurveda suggests using top-quality carrier oils to treat curly hair. Make sure to opt for authentic and pure argan oil for curly hair and you will see visible changes in 15 days.
All About Argan Oil For Curly Hair
You may like this also:
Argan oil, also widely recognized as Moroccan oil, is derived from the Moroccan Argan plant. This naturally appearing plant oil is extracted first from granules of the Argan Massive tree fruit. Even though a staple of Morocco and utilized for hundreds of years in the Moroccan region and culture, the advantages of Argan Oil had also spread across the globe and today it is extensively utilized by numerous individuals. Since, the mystery of Argan Oil's perks to the skin, body, and tresses, particularly wavy and curly hair, has now been disclosed.
Argan oil contains a high concentration of micronutrients, nutrients, and antioxidants. Argan oil hydrates and nourishes hair while adding luster and glitz, as well as preventing brittleness and serious harm to your newly crowned treasure.
So it's been enough good talks about argan oil. Now let's jump on to the basics of argan oil and the major benefits that it carries.
Benefits Of Argan Oil For Curly Hair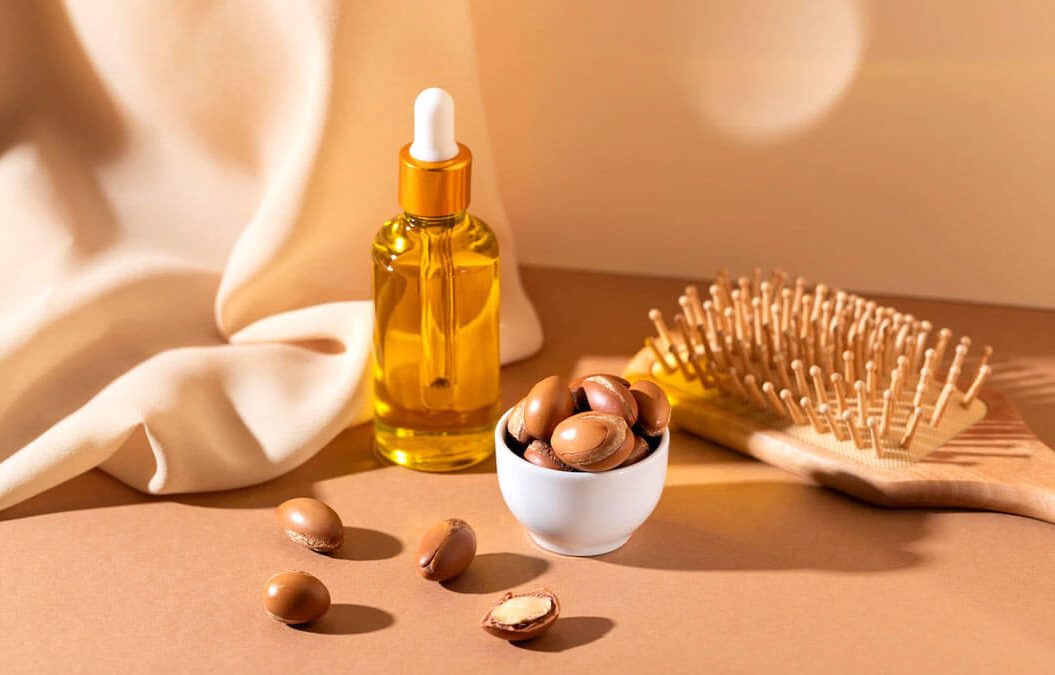 Wondering how to take care of your curly locks? Well, we have a solution for it. Argan oil is rich in fatty acids and has an abundance of moisturizing properties. It takes care of your dull and dry hair well. Argan oil moisturizes your hair and protects it from environmental damage. It also enhances the life of your hair thereby improving the quality of your hair.
Hair growth has been a severe issue for a while now. Due to changing lifestyles of people along with a lack of nutritious food, hair growth takes a step back. However, argan oil in this case works magically to improve hair growth. If you are suffering from intense hair loss and want to grow your hair then, look out for pure and high-quality organ oil.
The clunky and uncontrollable power of curly hair can destroy the health of your hair. Keeping that in mind, researchers have revealed that argan oil works best for curly hair. Argan oil for curly hair has been in the show for a long time but people have realized its importance now. Argan oil is loaded with potent vitamins nutrients and saturated fatty acids that soften curly hair and makes it manageable.
Eliminates Dryness Of Hair
Nowadays people are aware of curly hair girl problems. Curly hair can get dry brittle and lifeless after constant styling. But, all thanks to argan oil for curly hair. You just have to massage argan oil on your tresses and you notice the difference in just one week. Argan oil reduces dry hair and controls the frizziness that comes along.
If dandruff and an itchy scalp are your concern then argan oil is your answer. Argan oil is packed with Vitamin E Oil, fatty acids, anti-inflammatory properties, and various antioxidants. The outstanding properties of argan oil control dandruff-causing bacteria and tackle dry and rough hair. It heals your scalp and controls itchiness.
How Does Argan Oil Work For Curly Hair?
Did you know that argan oil is a charming ingredient for curly hair? You just need to find the best tips and tricks to use it perfectly for curly hair. Let's see how argan oil works for curly hair.
Argan Oil Maintains Curly Hair
Not to mention how stunning and flawlessly maintained curls appear, as if they belong in Alice in wonderland. You can classify and maintain your curly hair with the aid of argan oil. They might very well consider broken and crumbly hair and eliminate flyaways, attempting to make your curly hair incredibly workable.
To maintain the stability necessary for a good health hairline and snazzy, gentle ringlets with excellent suppleness, use argan oil. Argan Oil is extremely beneficial for both your roots and the lengths of your tresses as it controls excess dirt and oil. It has antioxidant qualities and keeps the scalp moisturized. Your hair follicles are where cell lines are created and encouraged to stimulate the development of new hair to give you curly hair that is strong and unwavering!
By creating a moisture shield to seal in extra water, argan oil rejuvenates curly hair and prevents dry, flaky hair. Since water and oil do not even meld, no water-based moisture can transfer through an oil shield, and argan oil can serve as all that boundary for your curly hair.
If you know the struggle of dealing with split ends then argan oil can be your forever partner. From reducing split ends to intensely moisturizing your hair, argan oil does it all for you.
DIY Argan Oil Recipes For Curly Hair
Recipe 1 – Natural Shiny Hair Oil
If you want natural shiny hair and soft curls then this hair oil will be your go-to. The blend of argan oil along with other carrier oils makes it effective to treat dull and dry hair.
Ingredients:
Method:
Add all the oils to a bowl.
Give it a good mix and stir well.
Warm it before applying it to your hair.
Apply it to your hair and keep it overnight.
Recipe 2 – Nourishing Hair Mask
This DIY nourishing hair mask is a must-have for curly hair peeps. All you have to do is apply this hair mask once or twice in 15 days. After regular application, you will notice amazing results.
Ingredients:
1 mashed banana
2tsp of honey
1tsp of argan oil
2tsp of aloe vera gel
2-3 tsp of coconut milk
Method:
In a bowl add mashed banana.
Now add honey, argan oil, and aloe vera gel to it.
Slowly add coconut milk as per the hair mask and make sure to keep the consistency medium and not too runny.
Apply this hair mask 2 hours before washing your hair.
We recommend you keep it only for an hour and then wash it off with shampoo.
A few Things To Consider While Using Argan Oil
Pure argan oil is only for external use and should never be ingested
Store oils out of reach of children and stores them apart from other products.
Some oils can be fatal to pets and, therefore always research before using them.
Oils must ALWAYS be diluted before applying them to the skin. Argan oil is safe to be applied directly but, one should always do a patch test.
Always do a patch test before applying to larger areas of the skin.
It is unclear what effects oils have on pregnant and breastfeeding women. While some consider them safe, many doctors advise pregnant women to avoid the use of essential oils.
Always buy pure oils and stay away from fake counterparts as they won't contain the same therapeutic benefits.
Takeaway
You may like this also:
With standard use of Argan Oil-containing product lines, the resilience, appearance, and touchability of one's tresses will significantly improve. This remarkably excellent ingredient has been linked to enhancing curls, avoiding breakage, and making a contribution to denser, thicker hair and increased hair progress. We can't come up with a single reason why folks wouldn't want to incorporate it into your scrunch regimen! Argan Oil offers everything to benefit from and nothing to lose apart from destruction to hair and flyaways!
So, keep pure argan oil handy at your place to notice amazing results. You can buy high-quality essential oils and carrier oils from Moksha Lifestyle.