Courage and self-assurance and two things that everyone desires in their life! Whether you are a kiddo or a grown-up man or a woman, confidence is something that will take you to heights. Yes, overconfidence might lead to wrong decisions but self-assurance and courage in unity work great for everyone. Talking about all the good things about life, let's face it not everyone gets to experience the potential of courage.
You may like this also:
Many people are way too under-confident and they usually think as they cannot do certain things just because they lack the courage to do them. Well, to tackle all such problems let's welcome essential oils for courage. There are a wide variety of essential oils for strength and courage that are listed below.
Why Do You Need Essential Oils For Courage?
Many people raise this question regarding essential oil why do we need them for strength and courage? Well, to be precise it's a fact that essential oils calm your mind like no one's business. Yes, it does. Anything you take a whiff of directly affects your mind and tells your senses about positive or negative emotions. The same goes for essential oils for courage and confidence. Whenever you inhale the aroma of essential oil you will instantly feel energetic.
Top 7 Essential Oils For Courage And Strength
1. Cedarwood Essential Oil
You have to try essential oils for social courage and nothing better than cedarwood essential oil for that matter. Cedarwood essential oil is one of the best essential oils for courage. Cedarwood Essential Oil is obtained first from the cedarwood tree's pine. This essential oil has an energizing woody, pleasant aroma. You'll be pleasantly surprised to discover that cedarwood essential oil instantaneously rolls, soothes, and overcomes unpleasant emotions. It offers an excellent affirming feeling and provides the confidence and power to stand strong in the head of risky conditions, uncertainty, and tension.
2. Copaiba Balsam Essential Oil
Copaiba Balsam Essential Oil has a pleasant and soothing piney fragrance. This courage essential oil is incredibly valuable. It aids in the relaxation of the body as well as the mind from stressful situations. This essential oil's cardiovascular assistance enables us to take a deep, reinvigorating breath of air and face our apprehensions! Furthermore, its nourishing, exhilarating, encouraging, and energizing characteristics result in a boost in courage and strength.
3. Lavender Essential Oil
If nothing comes in handy to you, get lavender essential oil on your side table. Yes, you heard it right. The OG oil is truly a game-changer as it is a holy grail for many people out there. From skincare concerns to body issues and power and strength, you can rely on this gorgeous oil for all your needs. If you are looking for essential oils for strength and courage then this is it. Lavender Essential Oil psychologically inculcates and rejuvenates you, and it tends to help increase confidence whenever you're feeling physically or psychologically stagnant. Lavender essential oil is extracted from lavender buds. It improves blood circulation, improves digestion, and reduces pain. It contains a sedative effect oil that's also ideal for unwinding in the nighttime.
4. Rosemary Essential Oil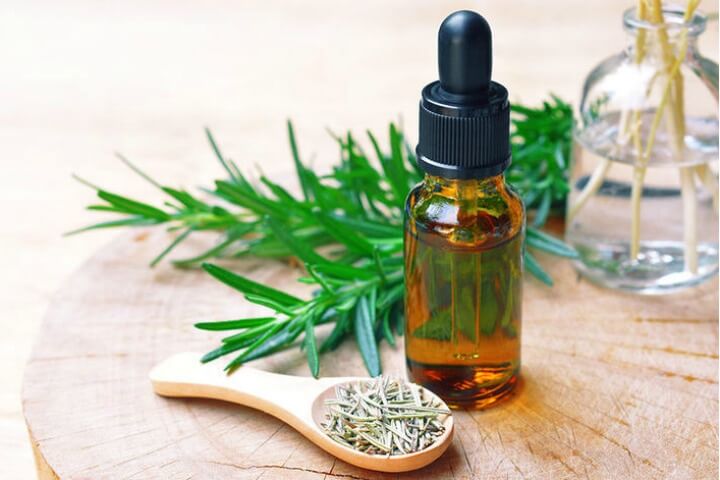 If you love a grassy smell that instantly invigorates your mind and senses then try rosemary essential oil for courage and strength. Rosemary essential oil is derived from the culinary as well as medicinal herb Rosmarinus officinalis. Rosemary Essential Oil increases nervous system activity and enhances mental alertness, cognition, and focus. It also aids in the development of self-belief and the rediscovery of one's intention. Rosemary essential oil is a clear winner as it is one of the best herbal essential oil along with the benefits of boosting courage and strength.
5. Cypress Essential Oil
How about an exotic essential oil for courage? We are talking about cypress essential oil that is not only exotic but works like a PRO in boosting self-confidence and strength. Yes, you heard it right. This essential oil is best for social courage and hats off to its pleasant aroma and feel. When proceeding through both physical and mental changes, Cypress Essential Oil is excellent. It could assist in uncovering insecurities that might be impeding your willingness to make changes. Cupressus sempervirens is a coppiced annual plant that creates cypress essential oil. It has a pleasant woody scent fragrance that aids in emotional rebalancing and stabilization. Cypress essential oil furthermore gives one the capacity to exercise authority and proceed forward.
6. Rose Essential Oil
You all know about the goodness of roses for your skin and body in general. But, this time we are talking about rose essential oil for courage and strength. Packed with a lovely and delightful rosy and floral aroma, rose essential oil makes a phenomenal change in your life. It also promotes the feeling of self-confidence and strength. The calming aroma encourages vitality and emotions and strengthens one's ability to do random things that people are afraid of. Overall, rose essential oil is a charming one and truly lives up to one's expectations about courage and confidence.
7. Vetiver Essential Oil
If you still haven't tried vetiver essential oil for courage and strength then you are missing out on a real gem. Vetiver Essential Oil is a beautiful essential oil that promotes feelings of serenity, calmness, and peace. You might know that vetiver essential oil also counts as one of the best essential oils for grounding. It performs beautifully and has a woodsy scent that instantly calms your mind. The essential oil also reduces negative feelings and eliminates rough emotions that might be holding you for a very long time. So, if you face any of such problems then make sure to try vetiver essential oil for confidence.
You may like this also:
Takeaway
Well, it's a wrap for the series of the best essential oils for courage. So, what are your thoughts? Are you enticed by the idea of essential oils for courage and strength? Pure and natural essential oils in India are worth trying as they work the best for you. They do not create a mess in your life instead the 100% pure essential oils in India are best for strength, courage, self-confidence, and assurance. Make sure to do a patch test when you use essential oils on the skin. Also, do not forget to dilute them with a carrier oil before using them. To buy pure essential oils in India check out mokshalifestyle.com