The era of plant oils has no end! The powerful oils are packed with amazing qualities that nurture your skin and make it feel ultra smooth and soft. One of the essential oils that has made a great impact on the beauty routine of many people is Pomegranate seed oil. The pomegranate oil for skin is no different but it surely has properties that catch each step of excellence towards spotless skin. Pomegranate seed oil for acne has been used for years because of its astounding qualities pomegranate oil is a cold-pressed oil that is extracted directly from the pomegranate fruit and its nutritious seeds. The potent oil is loaded with powerful antioxidant vitamins and nutrients that naturally rejuvenate your skin and provide a spotless and clear glow. Are you wondering how pomegranate seed oil does everything for your skin? Well, today will talk about the benefits of pomegranate seed oil for acne in detail.
You may also like:
People use pomegranate seed oil for acne scars as it reduces dullness and dark spots to a great extent. This super fruit is also known to provide spotless skin in no time. No wonder why people are obsessed with natural skin care using raw ingredients as it holds a multitude of benefits for your skin. Regarding pomegranate oil for acne scars, it is one of the beneficial oils to include in your routine. Several brands use pomegranate seed oil as one of the main ingredients in their beauty products for the instant whitening and brightening effect. Most of the anti-acne serums and brightening serums are loaded with pomegranate seed oil in a specified quantity. Pomegranate seed oil provides a plump skin without making your face look greasy or oily. It is the best for your skin and also for acne scars.
Benefits Of Pomegranate Seed Oil For Acne Scars
Using pomegranate oil for Acne scars can be a little tricky at times since oils are said to be heavy duty and oily they might hamper your skin at times. But after knowing the benefits of pomegranate seed oil for Acne scars and its proper usage, you might not experience the same. So have a look at the primary benefits of using pomegranate seed oil for acne:
1. Pomegranate Seed Oil For Pimples And Acne
If acne conditions and pus-filled pimples are your primary concern then pomegranate seed oil is the best remedy for you. A lot of times, the skin produces excess sebum or oil which triggers the appearance of pimples and acne on your skin. This further leads to pustules, cystic acne, and the painful ones that leave marks on your skin. Thankfully, pomegranate seed oil for acne scars is majorly positive. Using pomegranate oil for pimples and acne reduces itchy skin and controls the excess sebum production thereby diminishing the chances of break out and pimples. The natural oil also accompanies reducing redness as it is loaded with antioxidants. Overall pomegranate seed oil for acne and pimples is a major hit and one can try it without a second thought.
2. Pomegranate Seed Oil For Anti-Aging
Have you noticed smile lines, wrinkles, or saggy skin around your face? If yes then rely on an ideal treatment asap. Aging effects are real and they might take a very long time to heal. Pomegranate seed oil for the skin is used for its major anti-aging qualities. The rich oil is the main source of bioflavonoids which makes it a perfect choice for various skin problems. Apart from this pomegranate seed oil for anti-aging is used as it helps to heal and repair your skin in the best possible way. The oil reduces the appearance of saggy skin fine lines and wrinkles and promotes clear and younger-looking skin.
3. Pomegranate Seed Oil For Acne Scars
While talking about the rich pomegranate oil for skin how can we forget its benefits to reduce acne scars and marks? Pomegranate seed oil effectively reduces acne scars and promotes clearer and brighter skin over time. The oil is a power-packed formula that is loaded with antioxidants and vitamin E content. It helps to lighten acne scars and blemishes and hydrates your skin from within. Not only this but it also promotes healthy collagen production in your skin which in turn tackles hyperpigmentation and dark spots.
4. Pomegranate Seed Oil For Glowing Skin
If you have dry dal and dehydrated skin which doesn't glow at all then you need to try pomegranate seed oil for skin. Studies recommend that pomegranate as a fruit is a good one to promote a healthy glow in your skin. The sumptuous oil has major antioxidant and anti-inflammatory properties which reveal a healthy glow in your skin. The oil is also rich in essential vitamins and minerals which reduce dark spot pigmentation and provide radiant glow. It improves your skin texture and skin tone to a great extent thereby making it feel ultra smooth and soft.
5. Pomegranate Oil For Sun Damage
Be it summer or winter the harmful radiation of the sun can damage your skin badly. Sun damage often leads to acne scars, pigmentation, and dark spots all over your skin. Not anymore! With pomegranate seed oil for acne scar reviews, you can be sorted to include it in your skincare routine. The powerful oil prevents your skin from sun tan and damage when added to your daily skincare regime. It prevents free radical damage and protects your skin from UVA and UVB rays.
How To Use Pomegranate Seed Oil For Acne Scars?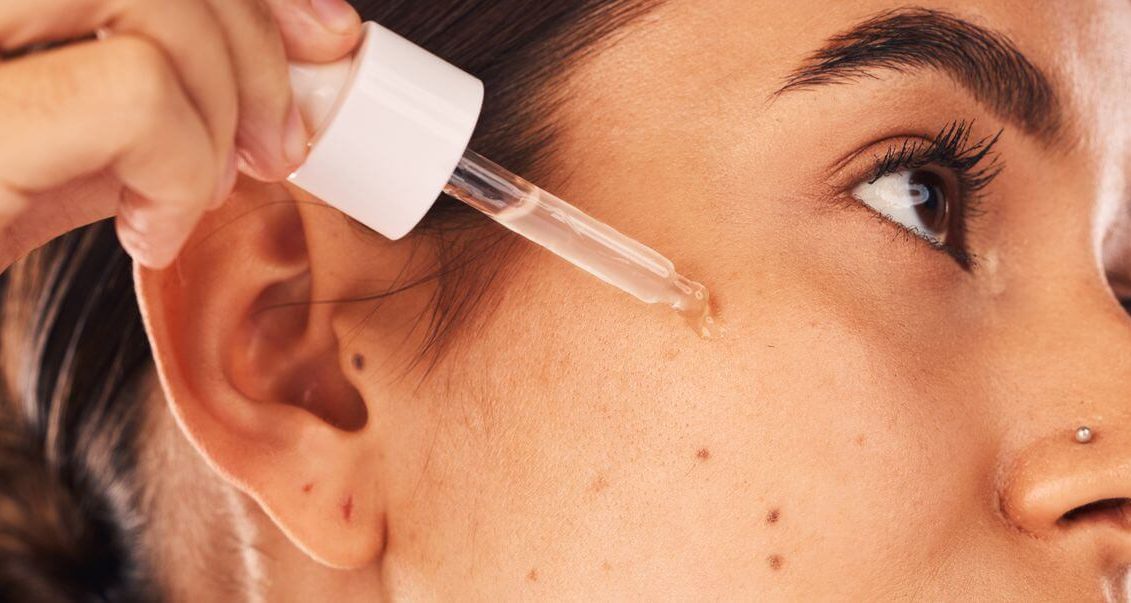 Now that you know almost everything about pomegranate seed oil and its major effects on your skin, it is time to look at its usage so that it doesn't harm your skin and provides the much-needed benefit. So here are some of the best ways to use pomegranate seed oil for Acne scars:
You can simply apply a few drops of pomegranate seed oil directly on your skin. Pomegranate oil has deep penetrating properties that do not leave an oily residue on your skin and sinks in to nurture your skin.
Another way to use pomegranate seed oil for Acne scars is by combining it with Multani mitti and rose water. This combo works like a charm and reduces pimples, and acne scars, and brightens your skin.
If the above two methods don't suit you then you can add 1 or 2 drops of pomegranate seed oil in rosehip oil and apply it as a last step in your skincare routine. This will instantly provide a glowing effect to your skin and enhance your skin complexion.
You may also like:
Takeaway
Pomegranate as a fruit is a rich source of antioxidants, vitamins, and minerals. It significantly helps to eradicate fine lines, dark spots, wrinkles, and sun damage. You can surely include one pomegranate in your diet routine for that nutritional kick. And for skin, of course, you can try pure pomegranate seed oil for Acne scars from Moksha Lifestyles.