Lip care products are very essential these days. People prefer using lip balms at each hour of the day. Someone who possesses extremely dry lips will relate to this. So, if you are one of those who can't live without your lip balm then this post is specifically for you. Shea Butter vs beeswax is a never-ending affair. You have to get your hands on these ingredients to make a lip balm that hydrates your lips like anything. But, is it that easy?
We have to draw a line between the two and let you know about the goodness of each ingredient. So, without any further ado let's have a look at both the ingredients and finally conclude which one is best for making lip balm.
Shea Butter For Lip Balm
The oil obtained from the nuts of the Western Africa shea tree is processed to make pure shea butter. The local population has used it previously; both for topical application as well as food preparation butter (People still use food-grade shea butter for cooking and other purposes). But also right now, it's best known for its application in cosmetics, whether they are commercially available or freshly made, for beauty products or hair products.
You may like this also:
In the beauty space, shea butter is well-known for its hydrating, soothing, and intensely moisturizing properties. Shea butter is considered an amazing emollient and sticks to its soothing properties. It also calms down your skin and soothes inflammation. Do you know that shea butter retains some mind-boggling benefits for lips? Shea butter for lips is well-known in the cosmetic industry and truly works like a bomb product. So, now it's time to gaze at some of the well-known.
Benefits Of Shea Butter For Lips
You have to get your hands on shea butter for your lips to experience the unknown benefits of this gem. Shea butter hydrates your lips well. It tackles all the roughness and keeps it at bay. Not only this; if you haven't applied lip balm in ages, you can use shea butter for lips and get sorted in just two days. It is a quick-fix treatment that gives long-term benefits.
Safeguards Skin's Barrier
Your lips are prone to dirt, dust, pollution, and toxins. To be honest, you cannot do much about it. So, to protect the barrier of your lips, shea butter for lips is used. Shea butter is used in endless lip balms available in the market. It is mainly used to defend your skin from environmental toxins. Studies have shown that shea butter resonates with ceramides which powerfully hydrate your skin and protects the lips.
Shea butter is rich in Vitamin E which is a potent antioxidant. Vitamin E Oil fights free radical damage and reduces tackles oxidative stress. As you all know that these problems may lead to skin aging, wrinkles, fine line,s and saggy skin. Do not think that your lips do not carry aging problems. Well, it does because, after a certain age, the tendency of lips to remain soft decreases, and then, signs begin to appear. In such conditions, rely on shea butter lip balm which acts as a perfect hydrating treatment for your lips.
There are times when your lips extract flakes like no one's business. This happens usually during the extreme winter season and harsh cold winds. The lips tend to become dry and flaky and chip off the flakes badly. Such issues ask for a genuine solution which shea butter provides in no time. Shea butter for lips heals the cracks, flakes, and dryness. It reduces the frequency of flakes on your lips and with time eliminates it like a PRO.
Did you know that your lips can also get inflamed at times? This mostly happens when you eat extra spicy food or smoke or drink frequently. This might hamper your lips and may also induce redness and inflammation. To tackle it, shea butter lip balm is used widely by almost everyone. It protects your lips from harmful germs and makes them mind their own business through hydration and nourishment.
Beeswax For Lip Balm
Beeswax is an intrinsically occurring material naturally produced by a female honey bee that is frequently used in beauty products, especially lip balm. This active ingredient is extremely moisturizing, could indeed actually shield the lips from harmful ultraviolet rays, and has a sweet scent. It might also aid in the prevention of infectious diseases and sore throats. Beeswax balm had also benefits other than chapstick, and it's relatively cheap and easy to discover.
When beeswax was then obtained, it didn't have any color or odor. But even so, as it stays in the wire mesh of the honeycomb, it soaks up the scent of the honey produced by the honey bee. This imparts a mildly sweet, honey-like aroma to the wax. Beeswax lip balm does indeed have a similar yummy flavor and smell.
Beeswax furthermore contains trace amounts of naturally occurring antimicrobial drugs, according to studies. This is particularly beneficial for people who may have extremely dry and chapped lips. We believe it's enough talking so let's quickly jump onto some benefits of beeswax for lips.
You have to try beeswax for lips to judge its promising antibacterial properties for your lips. There are times when bacteria sit on your lips probably because of less care, not washing your mouth, etc. But, thanks to beeswax for lips that helps to tackle all the harmful bacteria on your lips.
Is it for real? Well, yes it is. Many lip balms contain beeswax just because it seals in all the goodness in your lips. It kicks off rough lips and welcomes gorgeous, juicy, and pouty lips in no time. This is all because of its moisture-holding properties.
Beeswax is a naturally occurring substance that is very beneficial for your lips. Talking about the benefits, let us tell you that it soothes your lips well. It sways away all the dryness and flakiness lying on your lips due to weather, eating habits, or drinking pattern. The ingredient promises to soothe your lips well.
No wonder, why cosmetic brands and the entire beauty space love beeswax and how. It is only because of its ability to heal cracked and dry lips. Beeswax kicks off all the dryness from your lips revealing a smooth and soft layer in no time. Not only this, the cracky and flaky look of your lips will erase once you start using beeswax lip balm.
Beeswax & Shea Butter – Which Is Best For Making Lip Balm?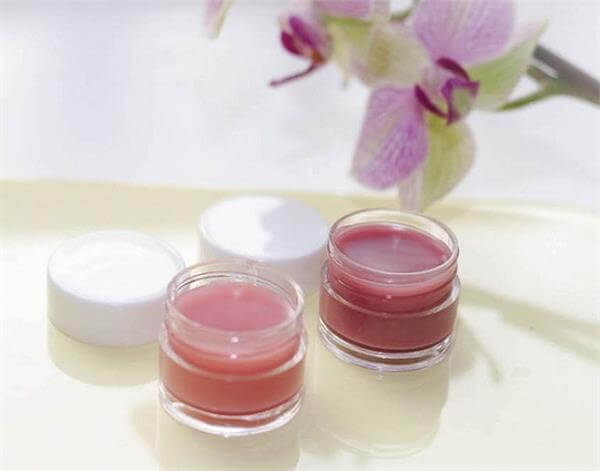 Shea butter is a great pick for all the dry lips beauties out there. But, do not forget about the awesome benefits of beeswax for your lips. To conclude both the ingredients for lip balm are equally effective. But, to choose one you can go for either of them depending on your choice, taste, and skin type. Many people are allergic to kinds of butter and some do not like wax on their skin. So, it is important to look at your requirements first and then choose the best option.
You may also like:
Takeaway
Make some space in your vanity for fresh and raw ingredients because whether it's shea butter or beeswax for making lip balm, you will love them all. If you are looking for the best shea butter for lip balm or maybe beeswax for lip balm then straightaway leave for mokshalifestyle.com. Try your hands on DIY lip balm and other recipes and enjoy!