Struggling to grow your hair to its desired length or experiencing hair fall? If you are one of these people, you will surely be aware of how difficult it is. But don't worry, we have an effective and well-proven solution, why don't you try onion oil for hair growth this time? Yes, onions are a great source of nutrients including vitamin C, vitamin B9, vitamin B6, potassium, and many others that are all good for your hair. Your hair will look its best since they provide you with stronger roots that encourage hair development. Not only this, but regular application of onion oil can have anti-inflammatory, fungicidal, and antibacterial effects on your scalp, which provide a healthy environment for hairs to grow. This onion oil has more to offer, that is why we dedicated this entire blog to the benefits of onion hair oil. Along with homemade DIY recipes which include natural ingredients and Onion oil for hair growth. So, if you are facing hair fall, fizziness, thinning, dandruff, etc., it's time to try onion oil for hair health.
Onion Oil Benefits for Hair Health
Onion oil is well-known for its high sulfur content, which fights against hair fall and leads to a faster hair growth cycle. It is also rich in proteins, especially keratin, which is a protein responsible for hair growth by providing adequate nutrients to the scalp. In order to maintain the health of our hair, onion oil provides essential vitamins, antioxidants, enzymes, and minerals. Onion oil is a wonderful natural substance that can help you with the following advantages, preventing the development of hair aging to boosting new hair growth. Let's examine the benefits of onion hair oil in more detail.
Reduce Breakage and Thinning: The sulfur and potassium content in onion hair oil starts the creation of collagen and builds bonds in the hair, which works wonders to improve the overall tensile strength of the hair strands. As a result, your hair is less likely to break or thin, leaving you with a thick and luxurious mane. Sulfur in onion oil prevents hair from breaking, developing split ends, and thinning. Additionally, the sulfur in onions promotes hair development in the crown region.
Deals with Premature Greying of Hairs: There can be various reasons which can lead to greying of hairs at a young age. Onion oil is enriched with certain vitamins and minerals, which can prevent and even reverse the growth of grey hair. It has a certain enzyme called catalase, which when activated, automatically helps in the darkening of your hair back to its original colour. This helps in preventing free radicals from damaging your hair, which in turn helps darken the hair and restore it to its original colour/shade.
Helps in maintaining The PH level: The ideal pH for your scalp should be approximately 5.5, and the pH for your hair should be around 3.5. Applying onion oil to your scalp and hair can assist your body in naturally maintaining the pH levels, giving you a healthy, balanced scalp. This provides a clean and healthy environment for the scalp, resulting in the growth of long and voluminous hairs.
Acts as a Natural conditioner: Onion oil can also function naturally as a hair conditioner to promote hair growth. Yes, that's correct. If you frequently massage onion oil into your scalp before washing your hair, it will help your hair grow and will be beneficial if you have dry or frizzy hair. Onions contain antioxidants and flavonoids, which improve blood flow to the scalp and give hair more volume and gloss. Hair advantages from onion oil include de-frizzing and deep conditioning of the strands. The hair strands become lubricated, silky, smooth, and shiny thanks to onion hair oil. It also guards against harm to the hair shafts.
Promotes Hair Growth: Onion hair oil is well-known in Ayurveda medicine due to the many nutrients and properties that assist to prevent hair oxidation and encourage the creation of long, silky locks. Onion oil feeds the scalp and promotes stronger and enhanced circulation, resulting in firmer, thicker, and healthier hair. With onion hair oil, you may ensure the growth of thicker hair by nourishing your scalp and boosting blood flow.
Cure Dandruff Problems: Dandruff and a dry scalp can cause unhealthy hair and hair loss. The numerous antibacterial and antiseptic qualities of onion oil help to prevent dandruff on the scalp and then treat a variety of scalp illnesses. These qualities also aid in giving your hair additional volume and strength. Onion oil's antibacterial and anti-inflammatory characteristics aid in the treatment of dandruff as well as the prevention of any scalp infections that may exist in the hair roots. From the roots to the tips, the bioactive ingredients in onion oil aid to hydrate hair follicles, lessening breakage and enhancing volume.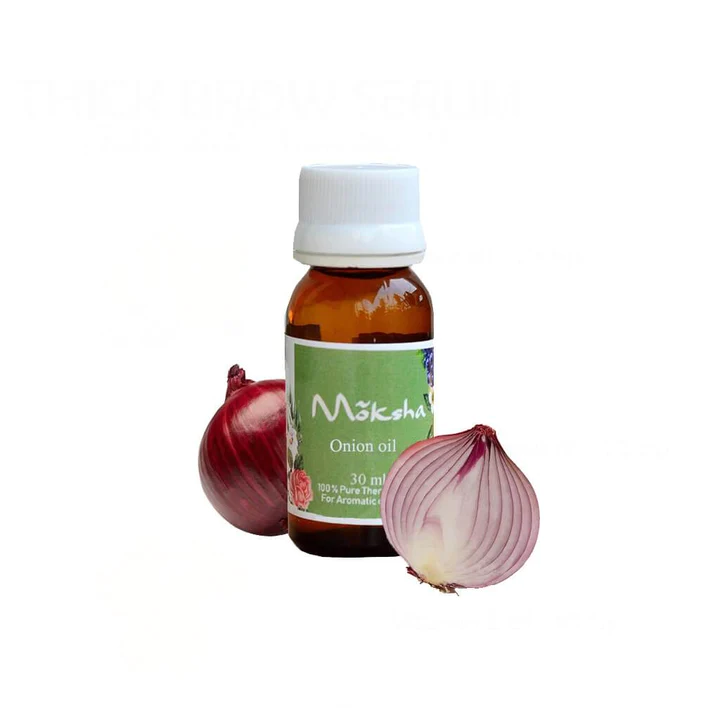 DIY remedies using Onion Oil for Hair Growth – Homemade Recipes
Your hair will get thicker, healthier, and more quickly develop thanks to this inexpensive, very effective treatment. To maximize its benefits, you can blend onion oil with any other carrier oil. For instance, you could mix onion oil with coconut oil or olive oil. Your hair will be shiny and healthy thanks to this all-natural remedy. So, included below are some of the top homemade onion oil recipes for hair development.
Recipe 1
Ingredients:
Directions:
Combine the curry leaves and chopped onions in a blender. On a low flame, add this paste to the container.
Add coconut oil to the same container after that, and let it heat up slowly.
Increase the flame after five to ten minutes. The mixture should be allowed to boil.
The combination should be set aside all night. You can now use your onion and curry leaf hair oil.
Recipe 2
Ingredients:
Directions:
Add equal amounts of castor oil and onion to a mixing bowl. To combine the ingredients, stir them.
Use circular motions to gently massage this mixture into your scalp.
For an hour, let this combination sit on your scalp. Use a gentle cleanser and conditioner to rinse it off.
Recipe 3
Ingredients:
Directions:
Add both oils to a small basin. Oils should be blended thoroughly.
It should be applied to your scalp, then massaged for a while.
After many hours, wipe it off. Use this two times per week.
Recipe 4
Ingredients
Onion Juice- 1 Tablespoon
1 whole Egg- 1 Tablespoon
Directions
1 whole egg and 1 tbsp. of onion juice should be whisked together thoroughly in a bowl. Use a sufficient amount of this mixture to cover your scalp and the length of your hair. Put on a shower hat and give your hair at least 20 to 30 minutes to recover. Rinse your hair thoroughly with cold water and a mild Sulfate-free shampoo.
Recipe 5
Ingredients
Directions:
Combine Onion oil and Aloe Vera gel in a small basin. Completely combine both ingredients. 
Apply this concoction on your scalp, and then wait 45 to 60 minutes. With gentle shampoo, rinse it off.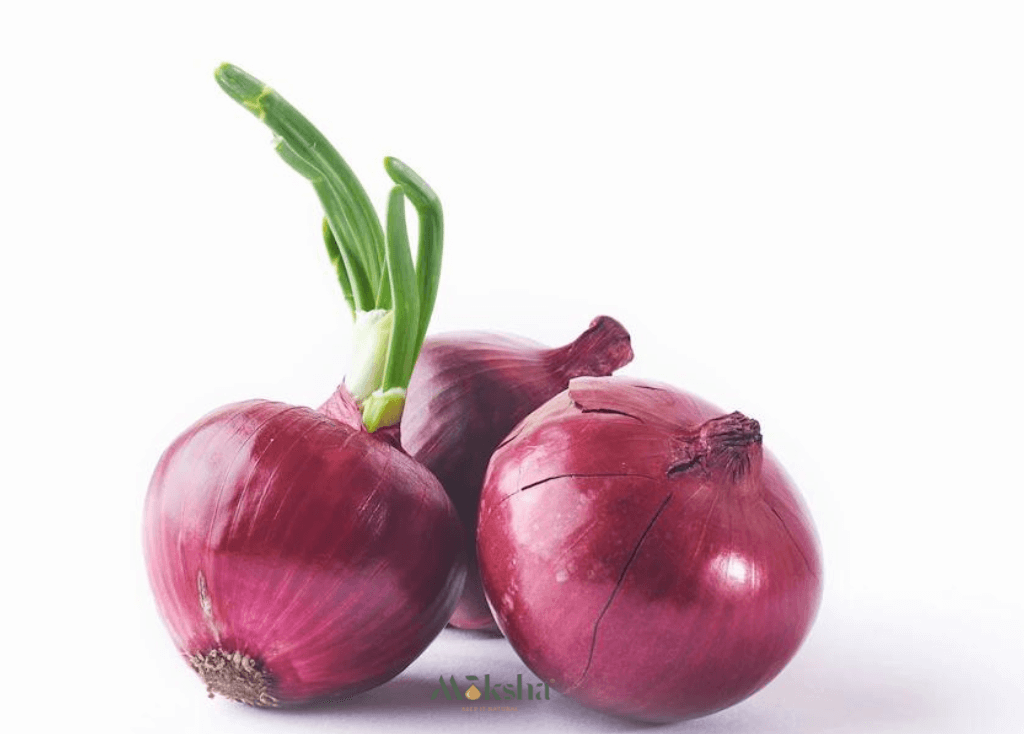 Things to keep in mind before using Onion oil for hair growth
If you already have an allergy to eating onions, it is not a good idea to use onion oil on your skin.
You might be able to prevent further allergic reactions by steering clear.
 Because onion oil is strong and smelly by nature, make careful to test a small area of skin before putting it directly on the scalp.
This implies that if you do have sensitive skin or a sensitive scalp, leaving it on overnight is not a good idea.
As with any product or treatment, cease using onion extract if it irritates you.
Always choose USDA-certified oils because they are the highest quality oils on the market and can be utilized to care for your skin and hair.
Takeaways
An inexpensive, risk-free, and powerful product, onion hair oil can greatly improve your hair care routine. Your hair's texture, volume, and appearance are enhanced as it is strengthened, conditioned, protected, and repaired. Onion oil is one of the best hair care remedies to get rid of hair issues quickly and effectively. Therefore, using onion oil for hair growth can be a great decision, you can make for you enhancing your hair well-being. Its active ingredients and properties are making it a popular choice these days. So, if you haven't put your hands in trying to reap the benefits of onion hair oil, it's time to try and see the result. The only downfall is that it has a strong overpowering smell, which can stick around even after shampooing, so for this, you can combine it with other oils to dampen the smell or use it in smaller proportions. Choose nature's way of healing your hair with onion oil. You can order the top-graded and 100% pure onion hair oil, from www.mokshalifestyle.com.
You can also visit their online store at www.mokshalifestyle.com or follow us on Instagram at @mokshalifestyle for daily updates.
FAQs
How frequently do you use onion oil on your hair?
It is better to limit your use of onion oil to once or twice a week at most. Anything beyond that ought to be avoided. Using too much onion oil on your hair might occasionally result in irritation and itching.
Do onion oils have any negative impact on hair?
The biggest adverse impact is the strong and pungent odor that emanates from your head after using onion oil, however, this is simply a transient side effect and goes away after washing your hair. In addition, overusing onion oil on the hair can cause itching, dryness, and hair loss.
---