Want to make your room smell like a divine hall of positive and calming energies? Our top fragrance oils for candles are here to assist you. The fashion of scented candles is very in these days. Be it festivals, parties, celebrations, or grand occasions, people prefer to light up dazzling candles to enrich the atmosphere and flourish it with positivity and soothing scents.
Well, long story short, scented candles with the best fragrance oils are the need of the hour. Folks enjoy it like a ball of the moment and cherish the after-effects of scented candles and the fragrance that it oozes. Fragrance oils play a very important role in the making of scented candles. It enriches the candle with its powerful fragrance and excludes a relaxing and calming aroma in the atmosphere.
Many of you are not new to the concept of fragrance oils. But, a majority of people are still unaware of fragrance oils and how they work, and which one to choose. Fragrance oils are made of natural ingredients as well as some are made of compounds and chemicals. Both of them are readily available in the market but the quality differs from store to store. So, here are the top 10 fragrance oils for candles that you can buy to freshen up your environment:
1. Black Amber & Lavender
Black amber and lavender fragrance oil is a flourishing oil that oozes a rich aroma of citrus notes and bushy lavender. The fragrance oil pumps out top notes of citrus and the middle note of lavender aroma. The base notes include vanilla, amber, wood, and Tonka. A sumptuous exotic aroma with dazzling tropical fruit top notations that ultimately led to a soul of vibrant lilac and a substantial framework of musk bean, vanilla, cherished woods, and amber. Grab this exotic fragrance oil without any second thought for your next DIY Scented Candle.
2. Cedar & Amber
Packed with the top notes of Pine, Herbal, Bergamot & Citrus this fragrance oil oozes a phenomenal aroma. Delicate pine notes have been delicately coupled with both the crispness of bergamot and fruity. Seize the blooms notes of exotic jasmine and white rose to add dimension as well as harmonize with base notes of cedar, amber, and Tonka, as well as a glimpse of condiment. The spice of this fragrance oil along with the fruity and floral aroma blends in like a dream and offers a soothing scent.
3. Fresh Bamboo
How about spicy bamboo fragrance oil? The fresh bamboo fragrance is a gorgeous one as it flourishes freshness and spicy notes well. Fresh bamboo fragrance oil is prepared with top notes of leaves, stem, and middle notes of spice, fern, floral, and base notes of musk and orange blossoms.
To establish this sweet and juicy aroma, a rendition of greenery bamboo notations is balanced with just a smidgen of condiment and a glistening tropical blooms assent. To endorse the herbal perception, a bitter orange base is surrounded by a concise musk consensus.
4. Hibiscus & Honey Fragrance Oil
You may like this also:
Looking for a blend of floral and fruity notes? This aroma is the ideal blend of citrusy and fruity sweetness. Lime, plum, white tea, honey, hibiscus, ylang-ylang, lavender, and Tonka are among the notes. Hibiscus and honey perfume oil have gentle floral notes that give it a pleasant, comforting smell. It possesses a rich, silky fragrance.
5. Japanese Cherry Blossom
If you are a spring lover and someone who adores the spring vibe then cherry blossom is for you. Japanese Cherry Blossom fragrance oil is an ideal spring fragrance that lingers on your body and fits perfectly in the criteria of scented candles. The fragrance oil is packed with base notes of sandalwood, bean, and Tonka while the middle notes include cherry and floral rose scents. The top notes include Cherry blossom, magnolia, and ozone. This fragrance oil is one of the best seller fragrance oil for candles and is worth trying, especially in springtime to brighten your space and create a magical vibe.
6. Mountain Rain Fragrance Oil
It's time to switch your taste and find the perfect rainy season-appropriate fragrance oil for scented candles. Seize this ideal mountain rain fragrance oil to soothe your senses as it has notes of roses and lavender along with woody and earthy undertones that set the hype right. This fragrance oil is derived freshly from the mountains and gives that subtle misty rain in the forest kind of mood. So, all the nature lovers out there, buy mountain rain fragrance oil for candles from Moksha Lifestyle to get your vibe sorted.
7. Jungle Waterfall Fragrance Oil
Want perfect nature-like and energizing fragrance oil for candles? Do not look anywhere else and seize this Jungle Waterfall fragrance oil. The fragrance oil has base notes of sandalwood, cedarwood, and musk white the mid notes have cypress, lavender, and sage. The top notes include Orange and Bergamot which smells like a dream.
8. Vanilla Oak Fragrance Oil
To be honest, creamy and premium fragrance oil is worth spending money on. Vanilla Oak fragrance oil is one such oil that fits in the picture and is true to its words. The creamy and luscious vanilla scent blends well with the sandalwood aroma and woody oak moss. This fragrance oil is a clear mixture of sumptuous vanilla aroma with woody undertones and reminds of vanilla infused in liquor.
9. Violet Fragrance Oil
Want to unwind and de-stress your mind from the hectic schedule at work? We have got you sorted. Violet fragrance oil for candles is just the right pick for folks out there. The fragrance oil is a phenomenal blend of violet, jasmine, lemon, cucumber water, and jasmine. The fragrance then captures the deep notes of sap, cashmere, and musk.
10. Woodland Fragrance Oil
Best known to nurture your DIY candles, body lotions, and diffuser blends, this fragrance oil is an ideal one for nature lovers. Woodland fragrance oil makes you feel like you are in a rainy forest and the soil is getting wet and all earthy. The subtle fragrance oil contains deep notes of frankincense, lichen, patchouli, and cedarwood.
Things To Keep In Mind While Using Fragrance Oils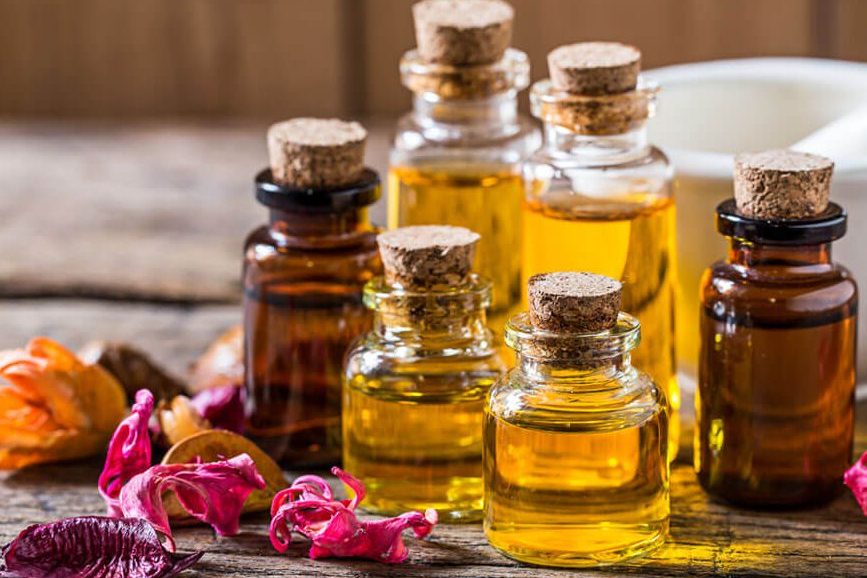 Fragrance oils are only for external use and should never be ingested.
Store Fragrance oils out of reach of children and store them apart from other products.
Some Fragrance oils can be fatal to pets and therefore always research before using them.
Always do a patch test before applying to larger areas of the skin.
It is unclear what effects Fragrance oils have on pregnant and breastfeeding women. While some consider them safe, many doctors advise pregnant women to avoid using Fragrance oils.
Always buy pure Fragrance oils and avoid fake counterparts as they won't contain the same therapeutic benefits.
Takeaway
You may like this also:
Fragrance oils are definitely the need of the hour and must be included in your regimen for DIYs and other concoctions. But, always remember to choose pure fragrance oils for candles as they give the most heart-warming aroma and calm your senses like no one else. Moksha Lifestyle chooses to offer pure essential oils, carrier oils, and fragrance oils with no compromise in quality. So, grab your pure fragrance oils for candles from mokshalifestyle.com.