Nature lovers, we know you love being around plants and grasses. To be honest, it feels relaxing and calming as well. But, what if bees make you feel annoyed and cranky? Many times, people experience severe and painful bee stings in the garden. This might be harmful to your skin as bee stings usually lead to skin allergies.
You may also like:
Along with skin allergies, it causes severe irritation, itchiness, and swelling. So, it is better to stay away from it rather than experience all this. But, if a bee stings you somehow and you don't have any treatment handy, rely on essential oils for bee stings. Yes, essential oils. The ones which are potent, pure, and made to tackle bee stings are worth each penny. Just use natural bee sting remedies to relieve the area from pain and swelling.
Benefits Of Using Essential Oils For Bee Stings
Essential oils are truly a gem of a product when it comes to soothing bee stings. You can use them in multiple ways to relieve the pain and swelling. After knowing the amazing benefits of essential oils for bee stings, you will be all excited to know about the oils. So, let's check out the benefits.
Bee stings are sore. It pains a lot especially when you don't refer to natural remedy bee stings treatment. Essential oils come to the rescue and soothe the affected area. It helps you get relief from pain and itchiness. The soothing properties of the best essential oils for bee stings work like a charm.
Often bee stings lead to crazy swelling. But, the best essential oils for bee stings reduce swelling in just a few minutes. You can use it with a carrier oil to see noticeable results.
The pain that comes with bee stings is very agonizing. It leads to itchiness and deep redness on the skin. Essential oils for bee stings help to relieve the pain and combat the itchiness that comes with it.
Top 5 Essential Oils For Bee Stings
1. Lavender Essential Oil
The lavender essential oil can be used to treat stings, wounds, and small cuts. Its anti-inflammatory capabilities will heal the spot. Unlike many other aromatherapy oils, this oil can be used straight on bee stings. (Patch test is recommended as always). It has comforting effects similar to chamomile and can be used to reduce pain. As per a 2012 study, lavender has prominent anti-inflammatory benefits on a microscopic level. Apply it to get rid of bee stings of all sorts. It is incredibly beneficial for bee stings, insect bites, minor cuts, and burns.
2. Tea Tree Essential Oil
Tea tree essential oil is well-known for its anti-inflammatory, anti-bacterial, and anti-itching abilities. Tea tree oil is an antifungal oil that can help minimize the soreness of a bug bite or bee sting. It's also antibacterial, so it keeps germs at bay. This makes it an effective companion in the fight against bee sting agony. One of the best essential oils for bee stings can be used to treat bites and stings from mosquitos. It also tackles bug bites, flea bugs, fire ants, and spider bites.
3. Peppermint Essential Oil
If you've had a minor allergy to bee stings, you can apply peppermint essential oil to the sting to relieve pain. Make sure to dilute it before using it. When the oil comes into touch with the surface, it produces a soothing feeling and delivers pain control agenda. Peppermint essential oil can indeed prevent insect bites. It helps in reducing the chance of further stings or bites. Peppermint essential oil is excellent for relieving inflammation and the most excruciating bites, such as fire ant bites.
4. Chamomile Essential Oil
Another popular and effective essential oil to reduce pain due to bee stings is Chamomile essential oil. Roman chamomile oil has amazing antihistamine properties that tackle bee stings like a PRO. Chamomile essential oil is used in many beauty products and moisturizers because of its healing and nourishing properties. The oil relieves inflammation, tingling, and swelling caused by bee stings. It accelerates the healing of blisters while lowering irritation, pain, and swelling.
5. Basil Essential Oil
If you are looking for one of the best essential oils for bee stings then definitely opt for basil oil. Basil oil is a mild, antibacterial, and anti-inflammatory oil that may alleviate redness. The plant's antifungal qualities keep infections at bay. This makes it the perfect oil for treating all forms of tick bites, notably bee stings.
You may also like:
Well, that's all for the top 5 essential oils for bee stings. We hope you found your perfect match above. Oh, wait did you see the recipes? If not, read below as we have mentioned some fast-acting essential oils for bee sting remedies. These natural bee sting remedies are great to relieve the pain, inflammation, and redness that come with bee stings. Check them out.
Essential Oil Recipes For Bee Stings & Swelling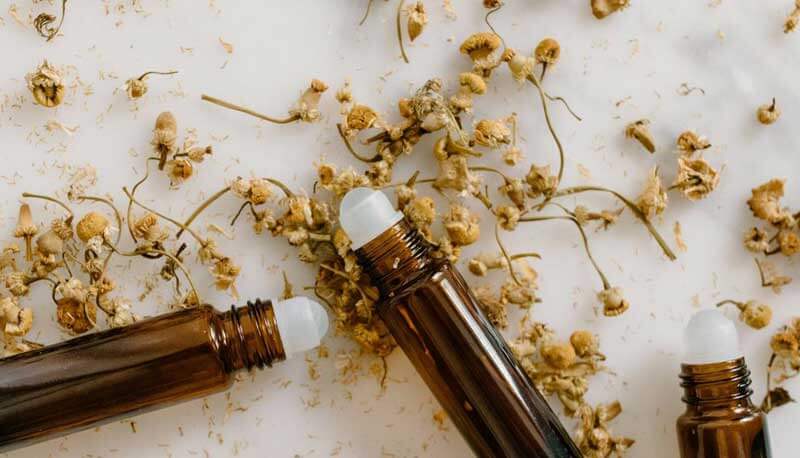 Recipe 1 – Soothing Roll-On
Roll-on bee sting treatment is amazing as it involves the best essential oils for bee stings. It instantly calms your stung area and provides instant relief from pain.
Ingredients:
Method:
Mix all the oils in a bowl.
Make sure all of them are mixed well.
Transfer the essential oils and carrier oil to a 10ml roller bottle.
Keep this concoction handy and apply it whenever you feel itchy and irritated on the spot.
Recipe 2 – Bee Sting Balm
One of the best natural bee sting remedies includes bee balm. This DIY balm for bee stings is perfect to tackle post-itchiness and redness. It keeps swelling at bay and soothes the affected area. You must try this natural remedy bee sting treatment for great results.
Ingredients:
1 tbsp shea butter
4 drops of lavender essential oil
4 drops of peppermint essential oil
1 tsp coconut oil
Method:
In a double boiler method, heat the beeswax and let it melt.
Once melted, take it off the heat and pour it into a small container.
Now add essential oils and coconut oil to it.
Stir the mixture well and let it sit for a while.
You can also keep it in the refrigerator to set.
Keep it handy in your purse as this can be used as a moisturizer too in an emergency.
Few Things To Consider While Using Essential Oils For Bee Stings
Essential oils are only for external use and should never be ingested.
Store essential oils out of reach of children and store them apart from other products.
Some essential oils can be fatal to pets and therefore always research before using them.
Essential oils must ALWAYS be diluted before applying on the skin as they are highly concentrated and can cause irritation. You can dilute them in a carrier oil of your choice and the max concentration of essential oils should be 3-4%.
Always do a patch test before applying on larger areas of skin.
It is unclear what effects essential oils have on pregnant and breastfeeding women. While some consider them safe, many doctors advise pregnant women to avoid the use of essential oils.
Always buy pure essential oils and avoid fake counterparts as they won't contain the same therapeutic benefits.
Takeaway
Essential oils for bee stings are truly a must-have to tackle unforeseen circumstances. No wonder, if essential oils weren't discovered, it would have been a struggle to scoop out natural remedies for bee sting treatments. Well, whatever it is, as we All is well that ends well. It's time to take a balanced decision by opting for pure essential oils. Yes, pure essential oils only at Moksha Lifestyle. These are pure and organic essential oils derived directly from farms. Shop at www.mokshalifestyle.com.
FAQs
1. What is the best way to cure a bee sting?
If you have essential oils handy then apply them to the affected area. You can also compress it and use ice to soothe inflammation. Make sure to use a disinfectant soap to wash off the surface.
2. Can I use eucalyptus oil for bee stings?
Yes. For sure! Eucalyptus oil has anti-inflammatory and anti-bacterial properties that tackle swelling and pain. Mix it with a carrier oil of your choice for better results.