Are you experiencing frequent razor cuts and bumps? Men in general shave their beards and usually get cut and have red bumps on their cheeks. Not only this, but women also shave their bodies often and observe razor burns and cuts. These situations can be very tricky as many people are not aware of the goodness of coconut oil for razor cuts.
Today, we will talk everything about razor cuts and burns and how coconut oil works to cure all this. Pure coconut oil is a product that every household stocks in their home. People not only use it in winter but also adore its benefits in summer. The lightweight, non-greasy and 100% pure coconut oil deeply moisturizes your skin while reducing razor bumps, cuts, and signs of itchiness and rashes.
You may also like:
Talking about razor cuts, not everyone is aware of how they should use coconut oil for razor cuts. So, today we will talk about all the benefits of coconut oil and how it works.
Pure Coconut Oil is a versatile product. In addition to being delectable in food preparation and full of therapeutic properties, it also enables you to avoid additives, and ridiculously priced makeup items by offering a natural approach. Utilizing coconut oil for hair removal seems to be just one method to enhance your skincare routine and minimize pollutants in your skin.
Your skin is the most significant organ in your body. Our body absorbs the ingredients we impose on it. If you want to improve your overall health, you must consider the components in every product that arrives in direct contact with your skin, from your body lotion to your shower gel, your fragrance to your shaving foam.
Talking about shaving foam and accessories for shaving, we must make sure that these products have nourishing ingredients. Coconut oil is an ideal ingredient to moisturize your skin. Now, let's have a detailed look at what razor bumps are and how coconut oil helps to cure them.
What Are Razor Bumps & Razor Burns?
Razor papules expose your surface to serious pathogenic bacteria. This could also cause severe skin sensitivity and inflammation, as well as severe bruising.
Shaving bumps are caused by poor razor procedures. It usually happens whenever the sharp razor blade is too near to the hair cells. This causes the hair just underneath the top layer of skin to regrow in a circular form into your body.
When the pointy edges of these hair strands pinch your surface, your body reacts with a "soft tissue inflammatory response." It is your skin's immune system's response to large particles. This reaction yields itchy bumps as a side effect.
Razor sparks AKA Razor burns are much more prevalent than razor pimples and are much less dangerous. Razor burns are characterized by allergic reactions, rashes, intense inflammatory responses, and itchy skin.
Benefits Of Coconut Oil For Razor Cuts
Coconut oil is extracted from pure and raw coconut flesh and the method of extraction is known as wet processing. Pure and unrefined coconut oil is normally used in several skincare and beauty products. Virgin coconut oil in India nourishes your skin and nurtures it deeply. It also shields your skin and makes your skin soft and supple.
Soothes Razor Burns And Cuts
Coconut oil is a PRO when it comes to soothing razor cuts and burns. Pure coconut oil for razor cuts is packed with powerful antioxidants that tackle free radicals and decompose them. The power of decomposing helps to soothe inflammation as soon as possible and eliminates bacterial and fungal infections on the skin.
Nourishes And Hydrates The Skin
You all know how moisturizing coconut oil is. But, razor cuts on dry and flaky skin can cause severe rashes, burns, and even deep cuts. Coconut oil in this case helps a lot to nourish your skin. Coconut oil is loaded with potent antioxidants like fatty acids and Vitamin E which deeply hydrates your skin and locks in all the moisture in your skin.
You may also like:
As per the studies, we found that coconut oil for razor cuts is an effective remedy that never goes out of vogue. It heals the razor cuts slowly and gradually while preventing the skin from itchy rashes.
How To Use Coconut Oil For Razor Cuts?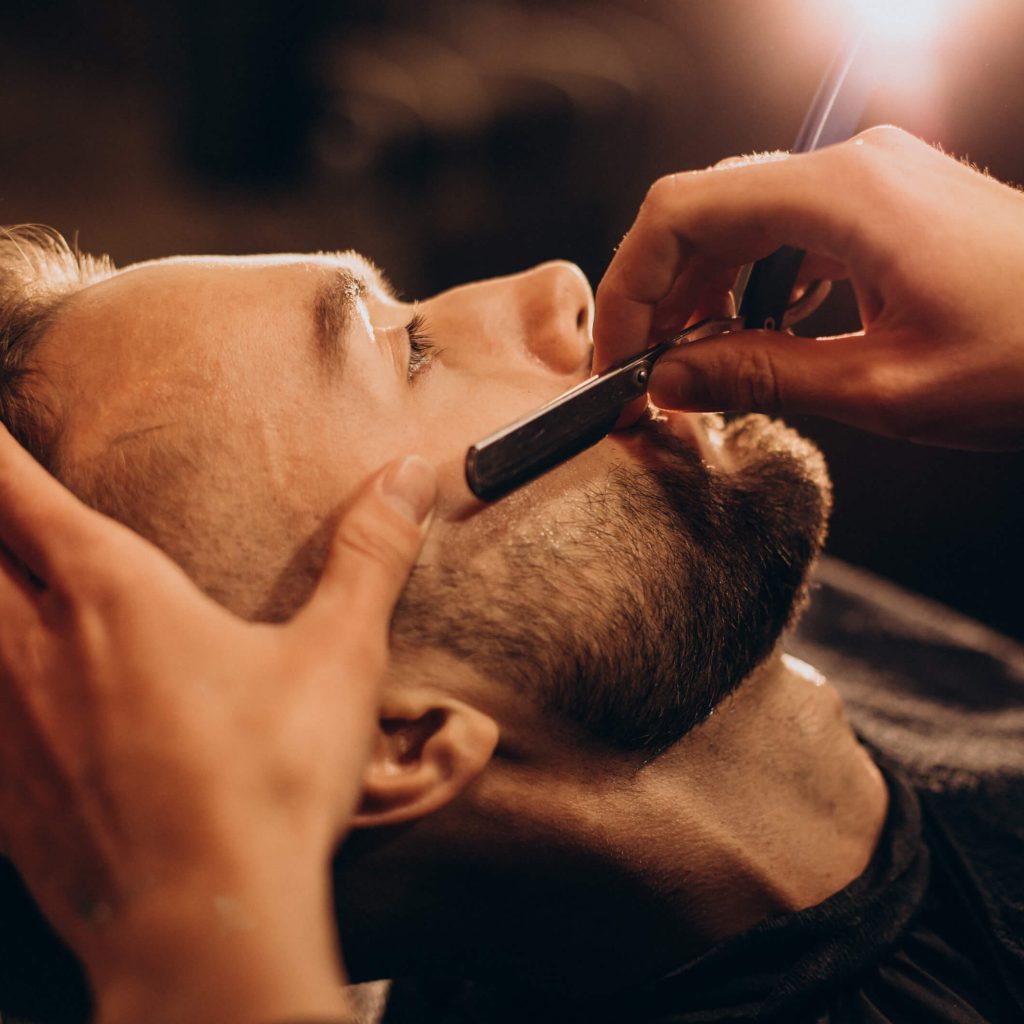 There are different ways to use coconut oil for razor cuts. From using it in the place of shaving cream to after-shave oil and some DIYs we have everything for everyone. Let's not delay it and quickly check out different ways to use coconut oil for razor cuts.
1. Recipe 1 – Coconut Oil As An After-Shave Oil
Everyone is aware of the ingredients mentioned in the after-shave balms and lotions. But, on the other hand, we have coconut oil that nurtures your skin and is free from toxins and chemicals. Coconut oil has a calming scent and has lauric acid that hydrates the skin intensely.
You just need 6-7 drops of coconut oil. Take it in your palms and rub on your cheeks and use it as an after-shave.
2. Recipe 2 – DIY Coconut Oil Soothing Gel
Ingredients:
Method:
In a bowl, add aloe vera gel.
Now pour coconut oil into it.
Slowly add tea tree essential oil and rosehip oil in it.
Now mix everything well and form a gel-like balm.
You can apply this before shaving your body. It can also be used as an after-shave or shaving gel.
Takeaway
We are finally wrapping up this series and it's a pleasure to see how pure coconut oil works immensely well for razor cuts and burns. Not only razor cuts but it also works beautifully well for other skin conditions like itchiness, rashes, inflammations, burns, eczema, and other skin problems.
If you are looking for pure coconut oil in India, then hop onto mokshalifestyle.com. We have pure essential oils and carrier oils that work wonders for your skin.