Moroccan argan oil has been in the beauty industry for quite a long time. The Exclusive skin care and hair care ingredient has recently gained a lot of recognition, all thanks to its glorious benefits. The liquid gold is a treasure for your skin. But did you know that argan oil for hair is also a very well-known remedy that works like a pro? Not only for hair but argan oil as a heat protecting works incredibly well and protects your hair from the damage that straighteners and curlers cause. Now you might be wondering is argan oil a heat protectant? Well yes, it is. The conditioning and intensely moisturizing and hydrating properties of argan oil play a very important role in dry and lifeless hair. This magical oil not only repairs the damaged hair strands but also protects your hair from the heat of irons and other heat-styling instruments.
You may also like:
Using argan oil as a heat protectant comes in very handy because it has wonderful properties to nurture your hair with countless benefits. Argon oil as a heat-protected also revives your hair and promotes hair growth by 2x times. However, not everyone has the availability of pure argan oil derived from the kernels of argan trees. Yes, you heard it right. Pure organ oil from Morocco is rarely available as it is very expensive and holds the pure essence of the kernels. But we at Moksha Lifestyles offer 100% pure and high-quality organ oil for hair. Pure argan oil is multipurpose and can be used for skin and hair. Moroccan argon oil has a sheet amount of hair and beauty benefits and therefore people utilize it as a strong heat protectant.
Is Argan Oil A Good Heat Protectant?
While talking about the benefits of argan oil for hair how can we miss out on the fact that it works like a perfect heat protectant? If you want to style your hair in curls, straight, wavy, beach waves or any other hairstyle make sure to use organ oil as a heat protectant before styling. Argan oil is rich in antioxidants and vitamins which protect your hair from the harmful effects of heat. Not only this but it also moisturizes dry and dull hair strands which usually get damaged during the process of styling.
So without any second thought, we can consider organ oil as a good heat protectant for your hair. Several people also utilize it as an after-styling product to keep their hair in place. All in all argan oil for hair can be used as heat protection before styling and also after styling.
Benefits Of Argan Oil For Hair As A Heat Protectant
1. Argan Oil For Heat Protectants
Using argan oil as a heat protection is the best thing that you can do for your hair. The clear-cut answer is organ oil a good heat protectant is a big YES. Argan oil is loaded with fatty acids antioxidants like Vitamin E and other minerals which together work to promote healthy hair and also protect your hair from damage. Argan oil penetrates deep into your hair strands and also reduces the risk of damage caused by heat styling.
How To Use It?
So it is quite evident that you can simply use 3 to 4 drops of argan oil before heat styling your hair.
2. Say Goodbye To Split Ends
If you have split ends it is majorly because of the styling that you have done before. While styling your hair, the strands are exposed to high temperatures which usually detroit the bonds in your hair length and leads to ultimate damage. Fortunately, the chain is now broken with the help of argan oil benefits for hair. Argan oil when used as a heat protectant reduces damage and prevents your hair from breakage and frizz.
3. No More Frizzy Hair
While talking about frizzy, dry, and dehydrated hair let us embrace the benefits of argan oil for frizzy hair. Argan oil tackles frizzy hair ends as it is rich in vitamin E and other essential fatty acids including Omega 3 and Omega 9. Pure Moroccan argan oil for hair hydrates dehydrated hair and makes it look sleek and smooth. If we focus on the composition of pure argan oil it is made of very small molecules which are very beneficial for your hair shaft.
How To Use It?
To use pure argan oil for frizzy hair, simply apply a few drops to your damp hair, especially at the ends.
4. Shiny Hair At Its Best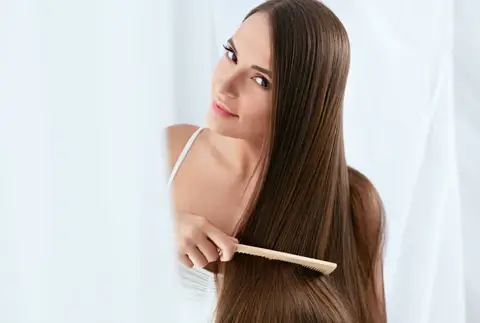 It is time to welcome shiny and soft hair and say goodbye to frizzy and dry hair ends which usually make you look dull and lustreless. Its styling may lead to dull and dehydrated hair which also takes over the shiny look of your tresses. But with pure argan oil as a heat protectant for hair, it helps to bring back the shine and also makes your hair look extremely soft and lustrous.
5. Bid Farewell To Dandruff
If you are facing dandruff due to an itchy scalp it is time to look for an alternative that reduces dandruff. You can simply combine a few drops of Rosemary Essential oil or tea tree Essential oil with pure organ oil to get smooth and shiny hair with no dandruff. This combination works like a charm and penetrates your scalp to prevent the appearance of nasty white flakes.
6. Promotes Hair Growth
Did you know that argan oil helps to promote hair growth by 2x times? Argan oil is loaded with potent antioxidants, vitamins, nutrients, and other properties that claim to enhance hair growth and reduce hair fall to a great extent. Since pure argan oil as a heat protectant is like a traditional remedy for your hair, it reduces the chances of breakage which further leads to hair growth. So it is better to use pure argon oil before heat styling your hair to minimise the chances of breakage and induce hair strength and growth.
You may also like:
Takeaway
Let's glorify the beauty of argan oil as a heat protectant for hair and make it a worldwide rich remedy. Including argan oil in your routine is not only a great task but it also brings in ample amount of benefits for your hair and skin. But as we always say, stick to pure, and high-quality carrier oils for maximum benefits and no side effects. At Moksha Lifestyles, we offer pure argan oil for hair which you can use as a heat protectant to transform your hair.