Want oh-so-silky and smooth skin? Well, who doesn't love silky and soft skin without opting for hundreds of treatments? We know you are keen to know about that one body lotion that doesn't feel sticky and still makes your skin glow. We have got you covered today with the best essential oils for lotion. Yes, you heard it right. The best essential oils for body lotion are a great way to nourish your skin and make it glow and feel smooth instantly. You can make your DIY body lotion at home and add the essential oils mentioned below in the required quantity. The best part is you get to choose what scent and benefits you want in your body lotion.
You may also like:
Essential oils are very valuable as they carry tons of benefits. You can add them in anything to spice up the look and feel. They are loaded with beneficial properties and potent plant extracts which when applied on the skin can have phenomenal advantages. So, now you know why essential oils are hyped and why they deserve the crown. But, before jumping onto the actual topic let's have a look at the bried about essential oils for lotion
Essential Oils For Lotion Making
Your ordinary or casual lotions are a mix of natural as well as chemicals in the ingredient list. It contains some artificial colors and fragrances that might hamper your skin and may lead to itchiness, skin irritation, and rashes. Such conditions may lead to the need of using essential oils for body lotion. The essential oils for homemade lotion are very moisturizing and they also contain natural ingredients. So, all in all, it is a positive outcome from our side and will also become yours in the coming days. You can use essential oils for lotion cream to nourish and hydrate your skin deeply without leading to any skin conditions. Just use a good amount of DIY body lotion using essential oils and you will be sorted for the day. The nourishment and hydration that homemade lotion provide are next-level.
So, now is the time to relish the majesty of body lotions made at home with the help of essential oils. Here are some of the best essential oils for lotion:
1. Sandalwood Essential Oil
You do not have to worry about what essential oils are good for lotion. Sandalwood essential oil has your back as it is packed with prodigious advantages for your skin. Sandalwood essential oil carries a nice earthy and woody scent that dawdles on your body and stays for a very long time. It also has cooling and soothing properties that eliminate the chances of skin infections like eczema, rashes, redness, and itchiness. It also enhances your skin by improving its complexion and providing healthy and radiant-looking skin.
2. Lavender Essential Oil
Whenever you browse essential oils for men's lotion you will see lavender essential oil at the top of the list. Lavender oil has a calming scent and that's why it is widely used in several skincare and body care products including body lotions and creams. One of the most influential essential oils for lotion making, lavender oil stays true to its claims for your body's skin. It helps to nourish dehydrated and flaky skin while also providing several health benefits like reducing stress.
When you add lavender essential oil to your lotion cream, it will smell like a floral garden of lavender buds. It is a keeper for those who suffer from lack of sleep and need relaxation in their life. Just add a few drops of lavender essential oil to your unscented lotion and apply it to your body. Do not apply it to your facial skin as it might not be suitable for that. After applying it to your body, you will instantly feel calm and relaxed.
3. Peppermint Essential Oil
Want to amp up your body care routine by including a cooling body lotion? Well, try peppermint essential oil for body lotion which seems and works like a chill and cool-cool body lotion for your skin. It is one of the most widely used essential oils for men's lotion because of its distinct aroma and cooling properties. Peppermint essential oil is jam-packed with a popular compound known as menthol. Menthol is a cooling and calming abettor which provides a cooling sensation to your skin. In summer, peppermint essential oil body lotion would be a great option.
But, make sure to use essential oils for homemade lotion in a specified quantity as more of it can lead to skin aggravation.
4. Cedarwood Essential Oil
Another essential oil that deserves a huge round of applause is cedarwood essential oil. This essential oil has a musky fragrance that lingers on your body and soothes skin irritation. Cedarwood essential oil is one of the top ingredients in several skincare and beauty products available all around the world. The skin-soothing qualities of cedarwood essential oil make it one of the best essential oils for lotion. You can certainly add 3-4 drops of cedarwood oil while making your body lotion. It relieves itchiness in your skin and moisturizes it well without leaving traces of oiliness.
5. Rose Essential Oil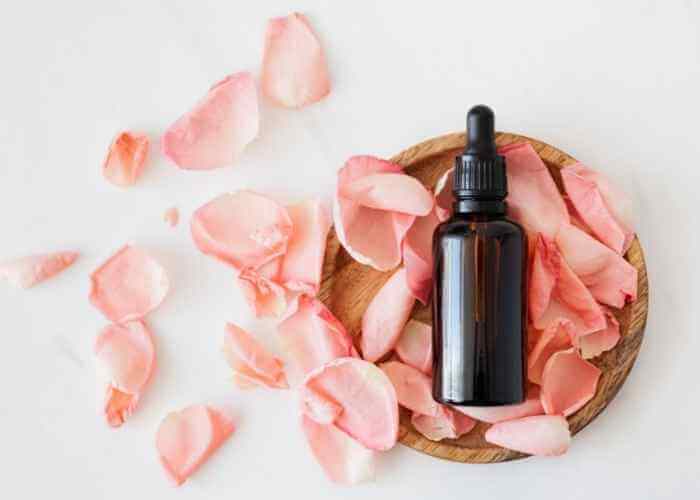 If you are searching for essential oils that ooze strong fragrances and have fewer skin benefits then rose essential oil is an ideal choice. People who love the fragrance of roses will enjoy this rose essential oil body lotion. Rose essential oil hydrates your skin intensely and keeps bad odors at bay. So, if you want to enhance your body care routine by indulging in calming fragrances then definitely try rose essential oil for lotion making
6. Orange Essential Oil
The best essential oil for lotion is the one which benefits your skin in several ways. Thanks to orange essential oil for lotion which helps remove tan from your skin effectively. Orange oil can be added to your DIY lotion to maximize its skin effects and moisturize the skin immensely. Reports have shown that orange oil disrupts the melanin production in your skin which is responsible for dullness and darkness. Once you start using orange essential oil in your lotion there's no looking back.
Where To Buy Essential Oils For Lotion?
If you are still wondering where to buy the best essential oils for lotion then here's the treat. Moksha Lifestyle is all decked up to serve pure, organic, and 100% chemical-free essential oil at prices that won't burn a hole in your pocket. We stock up the fresh batches of essential oils so that you can use them to amp up your lifestyle.
You may also like:
Takeaway
We are nearing the end of the series of the best essential oil for lotion. Now that everything is pretty clear from our side, we hope you are all excited to hop on to some of the best essential oils for lotion making. Make sure to check their authenticity and buy only the pure ones from Moksha Lifestyle.