If by any chance you observe fungus around your foot area then be sure you might into big trouble in the coming days. Does this statement scare the hell out of you? Well, it does to many people because foot fungus is something you should be scared of. And if you are not, it is time to get practical and treat it with proper guidance. Foot fungus can be very damaging and hurtful in the long run. The severe version of foot fungus causes yellow chipped nails which possess a lot of dirt and bacterial infection around it. We know just by listening it feels unsightly and threatening to you. To be precise the actual condition is even worse. So, it is better to treat foot fungus with natural remedies. Yes, by natural remedies we mean essential oils for foot fungus.
You may also like:
Are you surprised to know about essential oils being a PRO in this field as well? Essential Oils are truly a gift of nature that no one can reject at any cost. The essential oils are a package of blissful plant extracts and are loaded with amazing properties that will benefit your skin like anything else. Not only this, but essential oils also contain skin-soothing properties that eliminate the problem of foot fungus and make it soft, smooth, and clean.
Best Essential Oils For Foot Fungus
If you are wondering what essential oils are good for healthy foot fungus then stay tuned. Today, we will share the top 6 essential oils for foot fungus that work just like any other topical treatment and are even better than it. These essential oils for athlete's foot fungus are very versatile means which means you can use them in different ways to nourish your feet and hydrate them to prevent forthcoming infections. So, without any further ado let's have a look at essential oils for foot fungus prevention.
1. Tea Tree Essential Oil
Tea tree essential oil for foot fungus is widely recognized for its anti-inflammatory properties. If you are looking for essential oils for an athlete's foot fungus then it's high time you check out Moksha Lifestyle Tea Tree essential oil. Packed with antibacterial and antifungal properties, tea tree essential oil works well to soothe irritation and itchiness that comes with foot fungus.
Foot fungus might grow day by day if not treated on time. Thanks to tea tree essential oil which is loaded with amazing properties that reduce the chances of fungal infection on your skin and calms the irritation.
2. Lemon Essential Oil
Did you ever think that you can use lemon essential oil to treat foot fungus or toenail fungus? We recently found that lemon essential oil is a great pick for everyone who is suffering from fungal infection or any irritation of that sort in their skin. The lemon essential oil has a potent and lingering citrus aroma which has commendable benefits in aromatherapy. Apart from this, the lemon essential oil is also a clear winner as it rejuvenates your skin and sinks deeply providing ultimate nourishment. The fungus that surrounds your nail will no longer be evident, and all credit goes to lemon essential oil for that.
Lemon oil heals infections and soothes your skin keeping it soft and moisturized. You can simply combine the lemon essential oil with a bunch of other essential oils and a carrier oil of your choice to relish its benefits.
3. Peppermint Essential Oil
Who doesn't know about peppermint essential oil for an athlete's foot? Peppermint essential oil is very popular because of its anti-inflammation, analgesic and antifungal properties. Because of all these properties, peppermint essential oil tops the list of the best essential oils for foot fungus. It contains a potent ingredient known as menthol which has cooling properties. The presence of menthol in peppermint essential oil instantly cools down your infection and eradicates it very fast.
The fresh, strong, and sharp aroma of peppermint essential oil reduces inflammation to a great extent thereby reducing the chances of allergies and infections. With continuous usage, peppermint essential oil can kill all the fungi and bacteria residing on your foot.
4. Lavender Essential Oil
How about using lavender essential oil for athlete's foot fungus? If you are looking for a quick fix that works better than any topical treatment available in the market then get yourself a bottle of lavender essential oil. The lavender essential oil has a very calming, sweet, and floral aroma that has exceptional aromatherapy benefits. Apart from the aromatherapy benefits, it also tackles allergies and fungal infections on your skin. Since lavender essential oil has anti-inflammatory and antifungal properties, it destroys the origin of bacteria on your skin.
Lavender essential oil heals the wound faster than ever and tackles the irritation and itchiness of foot fungus.
5. Lemongrass Essential Oil
Citrus essential oils have made their special place in everyone's vanity. Talking about lemongrass essential oil which holds a very distinct, herbal, and exotic aroma. Lemongrass essential oil has antioxidant, anti-inflammatory, and antibacterial properties that reduce foot fungus and eliminates bacterial growth on your feet. It reduces the symptoms of allergies thereby eliminating all the chances of toenail fungus.
You can combine lemongrass essential oil with Lavender, Eucalyptus, Geranium, and even Rosemary essential oil to make a potent mix for your foot fungus infection.
6. Clove Bud Essential Oil
Clove is an ingredient used widely in delicacies and to tackle signs of flu, cold, and cough. But, did you know that clove essential oil is also your go-to option when you suffer from foot fungus? One of the best essential oils for foot fungus includes clove essential oil. Clove oil has a very sharp, potent, and pungent smell which might be disturbing for many people. But, we cannot ignore the miraculous advantages that this smell comes with. Clove essential oil treats inflammation like a PRO. It also treats infections on your skin including foot fungus, infection in the mouth, and toothache.
Many people rely on clove bud essential oil solely to treat their toothache because of its analgesic and pain-relieving properties.
How To Use Essential Oils For Foot Fungus?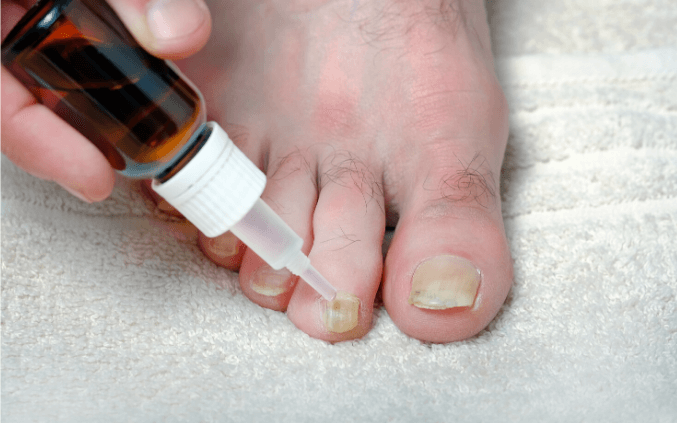 We have two remedies that work well to treat foot fungus. Let's have a look at them.
Recipe 1:
Ingredients:
Method:
In a bowl, combine coconut oil along with all these essential oils.
Now give it a good mix and transfer it to a serum bottle.
Now use the dropper to apply a few drops of this blend on your foot fungus to experience instant relief.
Recipe 2:
Ingredients:
2 cups of rose water,
10 drops of lemon essential oil,
10 drops of lavender essential oil,
5 drops of eucalyptus essential oil, and
Spray bottle
Method:
In a spray bottle add rose water.
Now in a bowl combine all the essential oils mentioned above.
Pour the blend into the spray bottle and cover the lid.
Shake it well so that everything is mixed properly.
Now spray this calming mist on your foot fungus for instant relief.
You may also like:
Takeaway
We have listed the best ways to use essential oils for foot fungus. We hope you find it useful. And if you did, it's your turn to be responsible while buying the best essential oils for foot fungus. Make sure to buy only pure essential oils from Moksha Lifestyle.