The time we spend the most must be occupied with pure and fresh air. So, whether it's your office or home you can use the best essentials to purify the air. Yes, these naturally extracted natural oils have the amazing properties of purifying the air. Not only are their aromatic liquids blessed with properties of cleaning and purifying the air but it also comes with amazing properties like antibacterial and antimicrobial which have their benefits of healing the human body. So, keep reading to know more about the best natural oils for air purification and choose the best DIY blend for your home and workplace to experience freshness and protection from airborne dangers.
What Are Essential Oils?
Essential oils are fragrant liquids extracted through the steam or cold pressing of a variety of plant parts, including roots, stems, flowers, etc. These natural oils have been contributing to and increasing human wellness since ancient times because of their special nutrients and constituents. from which these unadulterated and natural oils also have the function of purifying the air and eliminating microorganisms that can cause airborne illnesses. It is now time to fill your home with these fragrant scents, which will make you feel refreshed and appreciate the environment, making you more positive and happy. Additionally, they are risk-free; just remember to dilute them as you use them, and don't worry about any negative side effects.
You may like this also:
Let's go further to learn more about the advantages of the best essential oils for air purification listed below and discover why we ought to use them.
List Of Best Essential Oils To Purify Air
Due to their distinctive aromatic fragrances and chemical composition, essential oils are frequently utilized to treat human ailments and create a refreshing environment. As a result, several air-purifying essential oils can help, whether you want to get rid of musty smells from your laundry room or foul scents from the bathroom. Listed below are a few best essential oils that can purify your home's air organically.
● Tea Tree Essential Oil
The most frequently used essential oil in aromatherapy to improve human well-being is the tea tree essential oil. With its clean, fresh, medicinal, and woodsy camphoraceous perfume, this plant-based natural oil made from Melaleuca Alternifolia leaves can help you improve the environment by removing bacteria from the air. In addition to cleaning the air, its antibacterial and anti-inflammatory effects also serve to boost immunity and help ward off infection-causing microorganisms. One of the best essential oils for air purification, it is also fantastic to use during illness or to help against mold in your house.
● Eucalyptus Essential Oil
One of the best essential oils to purify the air, included in this list is Eucalyptus Essential Oil. It is a superb air-cleaning oil with a minty, fresh scent that is also incredibly potent against bacteria and inflammation. Due to its ability to clear mucus and pollutants from the respiratory system's airways, this natural oil is also used as a decongestant, improving breathing. Eucalyptus essential oil is therefore a must if you have the flu, a cough, or wish to purify the air around you. Using natural oil as a diffuser at home may clean and decontaminate the interior environment.
● Lemon Essential Oil
Lemon Essential Oil can be utilized as a potent air purifier in your house because of its pleasant, fruity, and zesty aroma. Contains strong antibacterial and anti-microbial properties that build a shield against microorganisms that can cause infection. Along with its refreshing scent, this pure oil also encourages change and eliminates negativity from the environment. Therefore, if you want to start your day out fresh and full of energy, you might think about using lemon oil since it not only helps to remove bacteria and viruses from the air but also helps to reduce weariness, depression, and inflammation. Making it one of the best essential oils for purifying the air. That's why, Lemon oil rich in limonene, is regularly included in household cleaning products.
● Lavender Essential Oil
The lavender essential oil has been utilized in aromatherapy for more than two thousand years, and many different reasons. This natural oil offers a remedy for everything, from treating human ailments like eczema and nausea to reducing stress and insomnia. If you want the air around you to smell clean and fresh, you should glance through it. Lavender essential oil is one of the best oils to use for air purification. It is one of those oils that is excellent for the health of your skin, respiratory system, and hair due to its abundance of anti-bacterial, antidepressant, antiseptic, and anti-microbial characteristics. Try this powerful oil to improve your overall health. It is advisable to apply this at night to heal your body from within and to take advantage of its delightful and distinctive aroma. To get a good night's sleep, simply diffuse it in your bedroom before bed or apply a few drops directly to your pillow.
● Frankincense Essential Oil
With its warm, spicy, and woody aroma, Frankincense Essential Oil, which is made from the resin of the Boswellia Frereana tree, aids in clearing and supporting the lungs, which serve as our body's first line of defense against airborne pathogens. Asthma, congestion, and bronchitis can all be treated with their antibacterial and antimicrobial properties. It eliminates germs and other microbes that obstruct breathing and even works to mitigate the impacts of air pollution. Its pleasant aroma makes it one of the best air-purifying essential oils, which is fantastic for respiratory health and also assists in improving attention by lessening stress, anxiety, and depression. This will produce a bright environment and maintain freshness throughout the day.
● Lemongrass Essential Oil
Lemongrass essential oil, which has a strong, citrusy flavor and a fresh aroma, is one of the best essential oils to purify air since it shields against infection-causing germs. This oil is unique because of its antibacterial qualities, which are also very helpful in treating respiratory disorders, tension, and anxiety. Its comforting and energizing smell helps to calm and relax your thoughts. This oil has additional health benefits for the lymphatic and hepatic systems, which gives it a twofold advantage in ridding the blood of toxins.
You can also consider other best natural oils for purification like:
Rosemary Essential Oil
Peppermint Essential Oil
DIY Diffuser Blend To Purify Air Using Essential Oil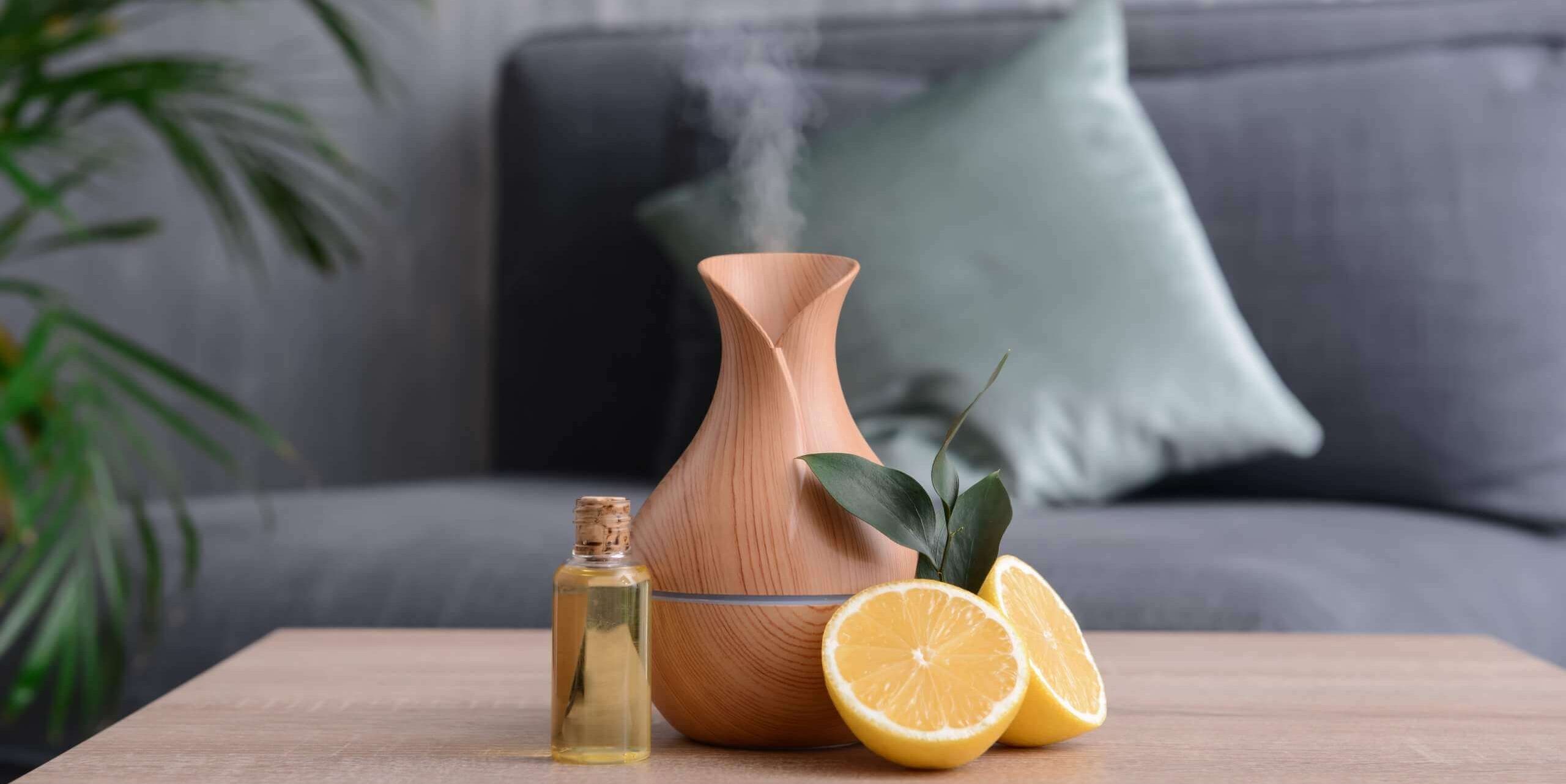 After knowing how beneficial and effective these plant-based oils are. It's time to learn how to bring these air-purifying essential oils into action. Try these DIY Diffuser blend recipes and keep your surroundings refreshing, chemical-free, and hygienic by using this best essential to purify the air. Along, with clean air, enjoy their other benefits for improving your well-being.
Recipe 1. Fresh & Clean Diffuser Blend
Ingredients:
2 drops of Lavender essential oil
2 drops of Eucalyptus essential oil
2 drops of Lemon essential oil
2 drops of Rosemary essential oil
Recipe 2. Stale Air Fighter Diffuser Blend
Ingredients:
Recipe 3. Kitchen Odor Fighting Diffuser Blend
Ingredients:
4 drops of Lime essential oil
3 drops of Grapefruit essential oil
2 drops of Tea Tree essential oil
Recipe 4. Bathroom Natural Air Purifying Diffuser Blend
Ingredients:
Directions:
Choose a diffuser recipe from the list.
Add a few drops of essential oils after adding the necessary amount of water to your aromatherapy diffuser. Check your manual for exact measurements if you are unsure.
Start up your device. Take pleasure in the lovely fragrance mist that will fill your home environment.
Things To Keep In Before Using These Best Natural Oils For Air purification:
Read more about how long to diffuse oils to learn how to diffuse for 10-30 min before usage.
The recommended practice is to avoid applying undiluted essential oils to the skin. Make cautious to dilute essential oils before applying them topically to the skin with a carrier oil like jojoba oil or sweet almond oil.
Always choose pure and high-quality therapeutic essential oils. For this, you can check whether they are USDA Certified or not and only cold-pressing and steam distillation methods are used for extraction.
Pregnant or breastfeeding women should avoid the usage before consulting their doctor or an aromatherapist.
Avoid direct contact with toddlers and pets from essential oils, as they are at high risk of toxicity.
Conclusion
You may thus try the best essential to purify the air that is listed above and allows your body and you to feel refreshed from within. The germs and viruses that cause infections and airborne ailments will be protected from the environment by these best natural oils for air purification. You will leave behind a clean, fresh, and chemical-free atmosphere. So, introduce these essential oils made from plants into your daily routine to stay healthy. As its benefits are beyond serving the physical well-being of the individuals. They offer several benefits, including the ability to eliminate offensive odors from the air and improve moods by diffusing calming scents around your home.
You may like this also:
"TIME TO FEEL FRESH WITH MOKSHA'S ESSENTIAL OILS."
FAQs
1. What kind of oil do you use in air purifiers?
Essential oils are a combination of unique nutrients and properties like antibacterial and antimicrobial which destroy airborne germs and are even beneficial for your respiratory health. That's why these pure and natural essential oils are considered to be used in air purifiers.
2. How do I make my air purifier essential oil?
Just add 5-6 drops of your favorite essential oil( Lavender, Lemon, Peppermint, etc) and mix 1-2 cups of distilled water and start your device and let yourself indulge in the aroma of these organic oils.
3. From where do you get the premium quality essential oils in the market?
There are various brands available that offer essential oils in the market. But among them, we suggest you go for the Moksha lifestyle as they have the most premium quality essential oils available in the market. Looking for 100% pure, organic and therapeutic essential oils choose the Moksha lifestyle.