As you all know digestive issues can be very annoying followed by a range of discomfort and extreme pain that is unbearable. Do you know why digestive issues occur at first sight? Well, we recognized that eating heavy meals and not taking proper nutrition died along with exercise may lead to poor digestion which can affect your health. An array of digestive issues follow such as bloating stomach ache gas acidity and more. In these cases, nothing works and people always opt for natural treatments for digestion and bloating to fix their health. Kudos to the best essential oils for digestion that work incredibly well to encourage your overall digestion system and health. It improves your metabolism and supports your natural body system without causing any side effects.
You may also like:
You might not have heard about essential oils for digestion but there are a lot of essential oils that help to cure improper digestive system. Essential oils are a powerhouse of different qualities along with soothing properties to add to your digestive system and make you feel light and healthy. Your digestive issues may be a reason for overeating nauseousness traveling and bloating. And for such common issues only natural remedies for digestion work because they promise positive results without effective your body system. One of the well-known natural remedies for digestion includes essential oils for digestion. The essential oils for stomach digestion provide remarkable benefits along with therapeutic properties that soothe your digestive system and keep your unhealthy stomach on track.
Using Essential Oils For Digestion
Essential oils and the digestive system go hand in hand. If you see a problem in your digestive tract and want to fix it immediately essential oils can be very useful. The best essential oils for ace of digestion include citrus essential oils, spicy essential oils, and even herbal essential oils. All the essential oils included in these categories help to tackle nausea, vomiting, and bloating and promote your digestive health. Now that you know so much about essential oils and how they positively affect your digestive system let us quickly check out some of the best essential oils for digestion and how they can be used to keep your digestive system on track.
1. Ginger Essential Oil
The one that tops the list of essential oils for slow digestion includes Ginger Essential oil. You all know that Ginger is one of its kind which is traditionally used by our grandparents and parents to improve the digestion system. Thanks to the newest technology Ginger is now available in the form of essence such as ginger Essential oil which helps to balance your overall digestive system. Ginger Essential oil is commonly known as a spice oil that calms stomach aches, reduces irritating sensations around your belly, and helps in promoting your digestive health. Not only this but Ginger Essential Oil is also rich in a bunch of nutrients and vitamins that help to deal with motion sickness, diarrhea, and upset stomach. So one must use Ginger Essential oil in their herbal tea to promote good digestion.
2. Peppermint Essential Oil
As mentioned above fresh and mint essential oils are a must-have if you are suffering from poor digestion. Peppermint Essential oil is considered one of the safe essential oils for digestion now as it keeps the bloated stomach at bay and relaxes your muscles. Peppermint Essential Oil is a powerhouse of a cooling agent known as menthol which helps to deal with acidity, gas, nausea, and spasms. Apart from all the good things that peppermint Essential oil does for you it also controls irritable bowel and helps you feel fresh and same during bowel motions. So make sure to use peppermint Essential oil for amazing benefits to cure poor digestion.
3. Fennel Essential Oil
Do you remember how we get fennel and sweet after having a spectacular and luscious meal at the restaurant? The fennel that the staff provides you is only given so that you do not feel bloated or experience digestion problems the other day. Thanks to Fennel Essential Oil which is considered one of the best essential oils for ease of digestion as it reduces bloating and digestive cramps to a great extent. When you feel constipated after having a sumptuous meal it is important to detoxify your body and fennel Essential oil comes in handy for that purpose. The best part about using fennel Essential oil is that it helps in managing loss of appetite and nervous digestion which can be very extreme if not treated on time.
4. Orange Essential Oil
As we mentioned above citrus essential oils are a go-to option for many people who suffer from poor digestion and constipation. Citrus essential oils good for digestion include many such as Orange Essential oil, lime Essential oil, grapefruit essential oil, lemon Essential Oil, and more. But the best one still stands to be the orange essential oil for poor digestion as it helps with gut problems. Orange Essential oil is loaded with a vital compound known as D-Limonene which keeps your got health in cheque and also tackles problems such as abdominal pain and discount in digestion constipation and colic. Not only this but orange Essential oil also helps to reduce bowel movements in your stomach and works as a natural detoxifying agent for your body.
5. Black Pepper Essential Oil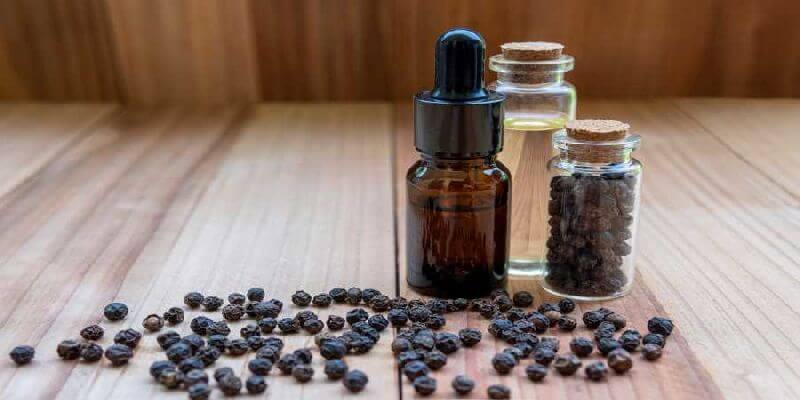 You might have heard of using black pepper in Chinese recipes such as noodles shawarma Manchurian and many more. But have you ever heard of black pepper Essential oil for poor digestion? Well believe it or not but black pepper Essential oil helps in circulating blood flow and energy in your body like a PRO. The dark pungent spicy and warm fragrance of black pepper Essential oil helps to reduce digestive issues that include constipation, cramps, loss of appetite, nausea, and bloating. Black pepper essential oil is a powerhouse of monoterpenes and sesquiterpenes which helps to elevate abdominal sensation in your stomach and keeps stomach pain, motion sickness, digestion, and vomiting at bay.
6. Basil Essential Oil
You can never go wrong with the holy basil Essential oil which works as a natural purifying agent for your body. The soothing and coming properties of basil essential oil make it one of the best essential oils for good digestion. Apart from that basil essential oil also helps with cramps that occur after overeating. Also eliminates the feeling of vomiting and discomfort that may lead to upset stomach and poor digestion for a very long time. So using basil essential oil is always a good choice and you can never go wrong with it.
You may also like:
There is no such thing as how you should use essential oils for digestion. It depends on person to person and ingesting essential oils for digestion like including them in herbal teas can be problematic for some people. So if you are not okay with ingestion of essential oils make sure to dilute it and use it as a massage oil around your belly to keep your digestive system on track.
Takeaway
Essential oils are those powerful treatments that promise to never affect your body negatively. Be it digestive issues, gut health, constipation bloating or any other problem essential oils always come in handy for all these purposes.