Are your tresses in trouble because of extreme hair fall and zero hair growth? We found many people saying that they are losing their hair left, right, and center and they don't know what to do. Well, top specialists at Moksha lifestyle suggest using the best essential oils for hair loss. If you are suffering from intense hair loss, hair thinning, itchy scalp, dryness, or dermatitis then this post is only for you.
Today, we will tell you how to deal with hair loss and improvise your hair growth in such a way that it looks gorgeous and thick. You know it's hair fall time when that season of the year arrives. It usually happens during the rainy season and also in the summer months. Just a slight change in your diet, weather condition, lifestyle habits, or even emotional well-being can affect your hair growth and lead to hair loss.
You may also like:
Sigh! That feels annoying. But worry not as we have the solution to all these problems. Today's post is all about the superpowers of aromatherapy for hair loss and thinning hair. The best essential oils to stop hair loss and re-grow hair are worth trying.
We recently found that the best essential oils for hair loss are also a boon to improve your hair texture, hair length, and thinning hair edges. All you need is the best hair loss remedy using essential oils and you are sorted for life. Essential Oils are concentrated extracts of herbs, leaves, roots, and stems which nourish your hair deeply and make your hair follicles strong and hygienic.
Benefits Of Best Essential Oils To Stop Hair Loss And Regrow Hair
Did you know that the best essential oils for Alopecia Areata have numerous benefits to transform your hair from dull to smooth? Not only this but the best essential oils to reduce hair fall also combats several hair concerns and improves hair growth. So we thought why not let everyone know about the wonderful benefits of essential oils for hair loss? After knowing the sound benefits of essential oil we are sure you will fall in love with them and will use them regularly in your hair care routine. So let's jump on to our main topic.
Improves Blood Circulation
The best essential oils for hair growth boost your blood circulation to the scalp. A rush of blood in the scalp can lead to amazing hair growth and phenomenal hair texture.
Promotes A Clean And Healthy Scalp
As you all know essential oils are loaded with nourishing properties along with potent vitamins and nutrients. There are times when your hair does not get the vital vitamins that it needs. In such cases, essential oils for hair loss come to the rescue. The best essential oil not only reduces scalp irritation but also elevates hair growth and a restorative scalp. Essential oils are packed with anti-inflammatory, antibacterial, and anti-fungal properties that play an important role in combating scalp issues and maintaining stronger hair.
Did you know that essential oils have magical powers to make your hair follicles strong? The essential oils for hair loss stimulate your scalp and induce hair growth through hair follicles. So, if you are looking to grow your hair quickly without any chemical treatments then opt for natural essential oils for hair growth.
7 Best Essential Oils For Hair Loss
1. Peppermint Essential Oil
Do you love fresh organic and minty fragrances? If yes, then peppermint essential oil is your forever buddy. Peppermint essential oil comes from the mint family and oozes a cooling, soothing sensation. When applied to the scalp with a carrier oil for hair growth, the tonic enhances blood circulation in the scalp. Peppermint Essential Oil has deep cleansing and antibacterial properties that sucks dirt and dust from clogged pores. One of the best essential oils for hair loss eliminates product build-up on the scalp and stimulates your hair follicles which helps in hair growth.
2. Tea Tree Essential Oil
An essential oil that is known to heal your skin intensely also captures your hair and promotes healthy hair growth. Tea tree oil has antibacterial, anti-inflammatory, anti-microbial, and deep cleansing properties that reduce dandruff from the scalp and eliminates itchiness. Tea tree oil refreshes your scalp and discourages the production of excess oil in your scalp. After eliminating all the nasty things from your scalp, tea tree oil boosts hair growth and prevents hair loss to a great extent.
3. Lavender Essential Oil
Did you know that one of the best essential oils for studying and concentration is also considered an effective essential oil for hair loss? Lavender oil has anti-fungal and antibacterial properties that maintain your hair follicles and promotes sound scalp health. The lavender essential oil also eradicates dandruff and infections from the scalp making your locks look smooth, shiny, and soft. The concentrated essential oil for hair loss contains antioxidants and nutrients that help with inflammation and makes your scalp healthy for hair growth. So, next time when you are struggling with hair loss try lavender essential oil with a carrier oil of your choice.
4. Fenugreek Essential Oil
Do you remember Indian moms and grandmothers applying fenugreek hair masks on your hair? Fenugreek essential oil has amazing hair growth effects that not only tackle hair fall but also induce instant hair growth. The best part about fenugreek essential oil is that it prevents premature greying of hair which is ah-mazing. It also reduces dandruff, and itchy scalp and makes your tresses fluffy, smooth, and glossy in just one wash. You can just apply fenugreek essential oil by diluting it with the carrier oil of your choice.
5. Ginger Essential Oil
Do you know that your hair stops growing when your scalp creates product build-up, itchiness, and dirt? In such situations, Ginger essential oil comes to the rescue and prevents your hair. The ginger essential oil has anti-inflammatory properties that eliminate scalp condition and reduces itchiness. It also improves the quality of your hair and prevents hair loss and damage. Ginger has vital nutrients and potent vitamins that your hair needs.
6. Lemongrass Essential Oil
Moisturizing your hair shafts to promote healthy hair growth is not possible with local essential oils. Lemongrass essential oil strengthens your hair follicles and enhances hair growth. It reduces hair loss to a great extent and eliminates product build-up, dandruff, and itchiness. The efficacy of lemongrass essential oil is top-notch and therefore it promotes hair growth within a few weeks. So, try lemongrass essential oil in your hair care routine and you will notice the changes in a short period.
7. Eucalyptus Essential Oil
As we all know eucalyptus essential oil is a game-changer when it comes to health, hair, skin, and overall benefits. It has amazing antiseptic, anti-inflammatory, and hair growth properties that fight hair loss. The best essential oil for hair loss also has medicinal properties that encourage healthy tresses, eliminate itchy flakes, and reduce dryness. Eucalyptus essential oil also cuts off the presence of lies and nits from your hair.
Hair Loss Essential Oil Blend Recipes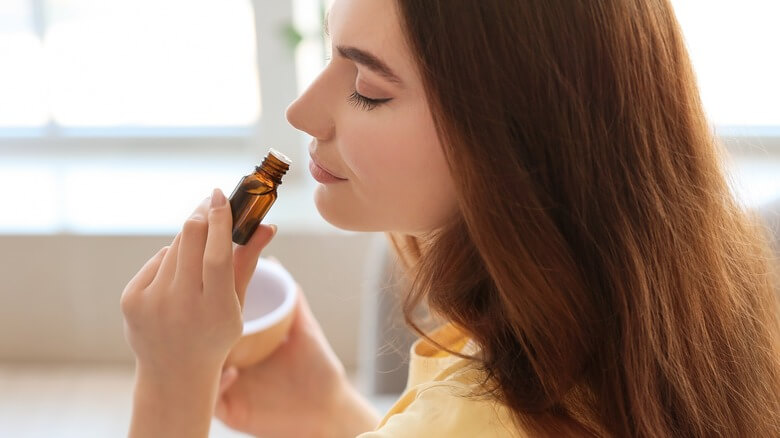 Recipe 1 – Rejuvenating Treatment
The combination of the best essential oils to reduce hair fall is listed right below. The rejuvenating treatment massage oil refreshes your scalp, promotes healthy hair growth, and tackles uneven hair fall. Incorporate this massage oil into your hair care routine and view the astounding benefits.
Ingredients:
5 drops of peppermint essential oil
2 tbsp of coconut oil
3 drops of lavender essential oil
Method:
In a bowl and warm coconut oil.
Now add lavender and peppermint essential oil to it.
Stir this mixture well.
Massage this therapeutic hair loss treatment on your hair and keep it for 30 to 40 minutes.
Wash it off with a mild cleansing shampoo and follow up with the conditioner.
Recipe 2 – Nourishing Banana Hair Mask
Banana is said to moisturize and nourish your hair deeply. So, instead of just eating it for health benefits, apply this DIY banana hair mask for hair loss.
Ingredients:
1 banana
3-4 drops of lemongrass oil
1 tablespoon honey
1/2 tablespoon olive oil
Method:
In a bowl mash a ripe banana.
Add honey to it and mix it well.
Now add lemongrass essential oil along with olive oil to it.
Apply this nourishing hair mask to your hair for 25-30 minutes and then wash it off with deep cleansing shampoo.
Things To Consider While Using Essential Oils For Hair Loss
Essential oils are only for external use and should never be ingested.
Store essential oils out of reach of children and store them apart from other products.
Some essential oils can be fatal to pets and therefore always research before using them.
Essential oils must ALWAYS be diluted before applying to the skin as they are highly concentrated and can cause irritation. You can dilute them with a carrier oil of your choice and, the max concentration of essential oils should be 3-4%.
Always do a patch test before applying on larger areas of skin.
It is unclear what effects essential oils have on pregnant and breastfeeding women. While some consider them safe, many doctors advise pregnant women to avoid the use of essential oils.
Always buy pure essential oils and stay away from fake counterparts as they won't contain the same therapeutic benefits.
Takeaway
Apart from the wholesome benefits of essential oils for your hair, it is important to check if you are applying organic and pure essential oil or not. Hair loss is a serious concern and treating it with local and uncertified products can be dangerous. So, we highly recommend you opt for an organic, therapeutic grade, high-quality essential oils from a certified brand. We at Moksha lifestyle manufacture pure essential oils made by steam distillation method. Moksha Lifestyle essential oils contain a natural aroma and compelling incendiary compounds that are 100% pure and organic. So, make an informed decision and buy only pure essential oils.
You may also like:
FAQs
1. Do essential oils work for hair loss?
Research has found that essential oils work for hair oils effectively. In the same context, peppermint essential oil is known as one of the best essential oils to reduce hair fall.
2. Where can I get pure essential oils to reduce hair fall?
For topical application, make sure to buy pure and organic essential oils, You can buy the best Essential Oils for Alopecia Areata and hair loss at www.mokshalifestyle.com.