Who doesn't adore glowing and beautiful skin? We are constantly trying out various skincare and makeup products to make our skin glow beautifully. But, on the contrary, do you know that there are some skin care products AKA natural ingredients like facial oils that help to enhance your glow? Yes, face oils for glowing skin are the need of the hour. Many times you don't need several layers of products to look beautiful. The best face oil for glowing skin is all you need to nurture your skin and give it a classic festive ready glow.
We recently found that people are enjoying face oils not because it makes their skin glow but, because it also deeply hydrates the skin. The deep nourishment along with unmatched glow is everything a woman desires of. So, now is the time to look out for the best facial oils for glowing skin. Well, do not look further, and stay tuned as we share the best face oils for glowing and clear skin in this article. Not only this our primary motive is to help you find the perfect oil for your skin type as finding the oil that suits your skin is the most difficult part.
How To Choose Facial Oils According To Your Skin Type?
You may like this also:
Are you wondering which facial oil is best for your skin type? We know it's a lot of struggle while choosing face oils for glowing skin as there are different skin types and the needs are very different. So, keeping the same in mind we are presenting you with the best tips to find out which face oil will suit your skin type.
The best way to analyze face oil for your skin is to look for ingredients. For example, almond oil,jojoba oil, castor oil, and olive oil are loaded with essential vitamins and nutrients. They also have tons of fatty acids that contribute to the nourishment and hydration of your skin. So, if your skin is dry and patchy, you can try any of these oils. These oils are great for dry and itchy skin that needs a hell out of moisturization and nourishment.
There are various oils that might look heavy. But, do you know that these oils are very light when applied to the face? The feel might be heavy but once it sinks into your skin it disappears like a dream. If you are someone who has oily acne-prone skin then rely on Rosehip oil, tamanu oil, and hemp seed oil.
Are Facial Oils Good For Your Skin?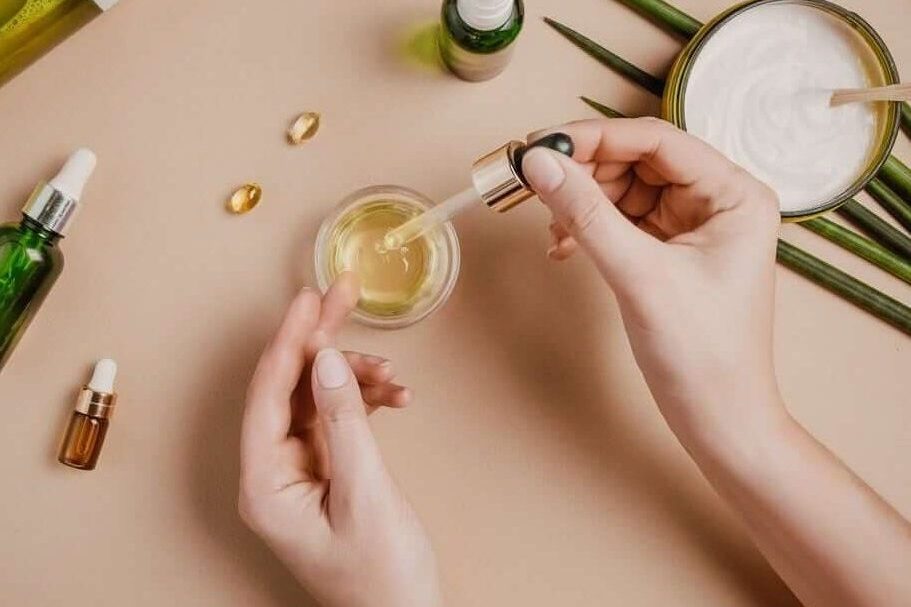 Who said facial oils are not good for your skin? We believe that the best face oils for glowing skin and other ones that suit every skin type and are truly worth giving a shot at. You just need a few drops of the best face oils for clear skin and you are done. The rest of the job will be done by the goodness encapsulated in the facial oils.
Facial oils are definitely great for your skin as they provide intense nourishment and moisture to your skin. It doesn't matter if you have dry, sensitive, oily, or acne-prone skin. Face oils are meant for all skin types. They not only add a subtle glow to your skin but also sink into the deep layers of the skin to nurture skin cells and enhance your skin health.
We believe we have talked enough about goodness and created hype around the best face oils for glowing skin. Now is the time to check out the best face oils for clear and glowing skin. So, without any further ado let's have a look.
1. Rosehip Oil
If you genuinely believe in the power of glowing skin with facial oils then you need rosehip oil in your life. Rosehip oil is a gem of oil that works specifically to reduce acne scars and dark spots. It provides a subtle glow to your skin and makes your skin shine like a glazed doughnut. Extracted from the organic rose bush seed, this oil feels extremely lightweight on the skin. Not only this, the beauty of this oil lies in its goodness of enhancing your skin's glow and reducing acne marks and spots.
2. Jojoba Oil
If there is one oil that dry skin peeps need in their life then it has to be Jojoba oil. Jojoba oil is naturally derived from jojoba seeds and is packed with tons of essential nutrients and fatty acids. Jojoba oil is very lightweight in texture and is a perfect pick for oily skin peeps as well. This oil does not clog your pores whatsoever. It is non-comedogenic and controls excess sebum production which is again a good thing.
3. Sweet Almond Oil For Glowing Skin
Sweet almond oil is a great one for all skin types. It contains fatty acids that control excess oil on your skin. So, now if you face the problem of excess sebum production in your T zone or face then, rely on sweet almond oil without any second thought. Many people do not know this but, almond oil is packed with vital retinoids as well. Yes, you heard it right. Retinoids are said to reduce the appearance of dullness, dark spots, and acne marks on your skin. Almond oil is also a fantastic treatment for dark circles. Almond oil for dark circles has a great place in the skincare industry.
4. Virgin Olive Oil
Radiant and glowing skin is not everyone's cup of tea. But, with virgin olive oil, you can add layers of moisture to your skin. Olive oil is packed with rich fatty acids along with essential vitamins like A, D, E, and K. Olive oil nourishes your skin and keeps dry patches at bay. It goes in the deep layers of your skin providing a youthful glow.
5. Argan Oil For Clear Skin
You may like this also:
We know you might be thinking that argan oil is only good for hair. But, do you know that argan oil works immensely well for your skin? The mind-boggling properties of pure argan oil in India can literally transform your skin magically. Argan oil is rich in several varieties of phenolic acids along with rich fatty acids. It instantly reduces skin inflammation and also reveres the signs of aging which is a great thing. Considered one of the best face oils for glowing skin, it is used mostly by dry-skin beauties. Argan oil is extracted from pure Morrocan Argan trees. It carefully soothes your skin, keeps acne at bay, and provides a lustrous glow.
6. Vitamin E Oil
How about a multi-purpose oil that works great for your hair and skin? There's no denying the fact that Vitamin E oil is a must-have for dry hair peeps. But, have you ever wondered if vitamin E oil can also be used on your skin? Pure Vitamin E oil is a powerhouse of antioxidants and therefore nourishes your skin like a PRO. It also has anti-inflammatory properties that tackle itchiness, redness, dry patches, flakiness, and skin irritation. You just need to mix it in your face packs or in your moisturizer to get that healthy glow that everyone craves.
7. Coconut Oil For Dry Skin
Many people tend to get dry patches around their cheeks. This happens especially in winter when the weather is extremely cold and the skin turns itchy and patchy. For all those circumstances, you need coconut oil. Coconut oil is a great pick for dry skin beauties as it deeply hydrates your skin while restoring its health back. Pure and virgin coconut oil suits dry skin people but, one should always do a patch test before using it. Coconut oil is widely recognized to nurture dry and patchy skin as it has moisturizing properties. It also contains vitamins E and K which are anti-microbial and anti-fungal in nature.
8. Castor Oil For Glowing Skin
Pure castor oil is the one that you need to heal your skin. Castor oil is loaded with fatty acids, humectants, and other antibacterial properties. It nurtures your skin and keeps water loss at bay. The best part about using pure castor oil for glowing skin is that it instantly hydrates your skin and doesn't feel oily or greasy. One has to use only pure castor oil from Moksha Lifestyle to get maximum benefits.
Takeaway
It's finally the end of the series. We have now found the top 8 face oils for glowing skin. It's now your turn to choose the facial that suits your skin type. Whether you seek to replenish your natural skin nutrients, battle blemish germs, or attack fine lines and wrinkles, these oils had already got you wrapped. Want to learn more about the benefits of face oils for your skin? Refer to our guide for more information.