Utilizing natural ingredients could really help to ease a lot of the pressure created by the seasonal variation! Winter usually brings many of the year's grimmest, windiest, and darkest days. Here is our list of the top 10 natural oils for the cold season.
Essential oils, or medicinal utilization fragrances, has numerous advantages. Aromatherapy has been shown in research findings to relieve stress and depression, promote relaxation, and relieve inflammation. Plant oils can indeed be snorted straightforwardly or by using a diffuser, and they can be applied topically either through skincare products or shower gels. Some essential oils can also be usually prescribed.
Warming, pleasant, and/or tangy aromas are ideal again for winter. Cold weather is frequently associated with an increase in common cold and flu viruses. Since so many natural oils are innately anti-bacterial and anti-viral, utilizing home remedies to fragrance your vacations and rainy winters rather than chemically synthesized room perfumes may help to prevent the diffusion of respiratory infections and cases of flu. Fragrances that will assist in neutralizing the consequences of the Vata period are featured in the list below. With that said, the fragrances that would be most favorable to you would be those that you enjoy. Simply select aromas that appeal to you and enable you to feel rooted and relaxed this fall/winter season.
Now that you are introduced to aromatherapy basics and the usage of essential oils, let's quickly have a look at the top 7 essential oils for winter:
1. Clove Oil
Woody and strong fragrances are apt for the upcoming winter season. Welcoming the one and only clove bud essential oil for winters! Packed with a slightly woody and bitter aroma, the clove bud essential oil is very strong in nature.
Clove oil is both warming and empowering. Clove oil can sometimes be great for unplugging and soothing. Just inhale the invigorating aroma and you will feel down-to-earth and grounded like never before. This is another oil that should be diluted because it can destroy your complexion if exposed topically to it.
2. Cinnamon Essential Oil
Cinnamon essential oil definitely stands up to the expectations. The distinguishable, strong fragrance of cinnamon bark essential oil is strongly intertwined with the bakery as well as other consoling experiences. It has recently been asserted that it promotes solace, which leads to peaceful sleep, and that it might still have aphrodisiac qualities. There's no denying the fact that cinnamon essential oil is very strong and potent. It might be a great pick if you love strong aroma but always use it with caution. If you apply cinnamon to your skin directly you may experience a stinging sensation.
3. Ginger Essential Oil
How about some classic Indian spice essential oil? This time we are talking about the one and only ginger essential oil. Ginger oil is widely known for adding a phenomenal taste to your chai, especially in winter. Undeniably, it is much appreciated in winter as ginger oil has a classic woody, earthy and uplifting smell.
This spicy oak, savory, and musky Essential Oil's heating and energizing properties have obtained it the descriptor "Empowerment Oil." It is said to help replenish sentiments of vulnerability, cowardice, and slow growth with enthusiasm and moral courage, as the title indicates. Ginger oil is believed to be advantageous for individuals who struggle with emotional disparity because it helps manage spontaneous and changeable psychological oscillations. Ginger Oil's exhilarating properties make it effective for treating hormonal imbalance and failure to concentrate.
4. Peppermint Essential Oil
A typical aroma of peppermint essential oil helps to calm down your senses in winter. When the cold breeze sways in chilly weather, peppermint essential oil helps to provide that warm and cozy atmosphere. Peppermint essential oil has a gorgeous aroma and a tangy flavor to it. It is frequently used in Christmas celebrations, bakery items, and many more. A large lot of people enjoy peppermint essential oil diffuser blends in winter.
5. Oregano Essential Oil
You may like this also:
An oil that usually is not known by everyone but is a game-changer is oregano essential oil. The powerful aroma of this oil is flavourful, vegetal, and very camphor-like. It has a pleasant and autumnal but bright fragrance with a vibrant yet comforting freshness that assists in regulating thoughts and feelings while also helping clear and reinvigorate the psyche, thereby making it especially suitable to use during faith traditions. While oregano is very well known for its function in flavoring delectable condiments and many other dishes, the essential oil does have antimicrobial and antiviral properties.
6. Lavender Essential Oil
Are you excited to use lavender essential oil for the coming winters? Windy, dry, and stormy weather dries and irritates the complexion. The lavender essential oil has a relaxing and soothing fragrance and is identified to minimize the appearance of skin inadequacies. Use Moksha Lifestyle Lavender oil in conjunction with your moisturizer to relieve, moisturize, and soothe infrequent itchiness and dehydration, restoring hydration to your skin. Lavender essential oil does indeed have lovely intricacies that are supposed to energize in addition to encouraging the feeling of peace, inner stability, and mental alertness. It also aids in the rollout of serious negative feelings like sadness, anxiety, fear, mood swings, or grieving.
7. Rosemary Essential Oil
There is no doubt in the fact that herbal essential oils are a great pick for this winter season. Rosemary essential oil is a herbal oil that smells just the way you want to feel in winter. An extremely cozy and very grassy aroma is something that soothes your mind in the chilly winters. The potent oil also has stimulating qualities that promote the feeling of freedom, peace, encouragement, and tranquility.
DIY Essential Oil Blends For Winter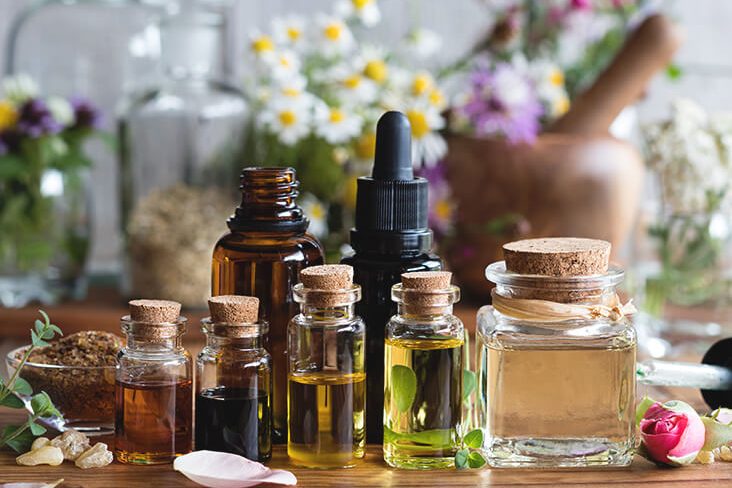 If you are willing to invest your time and efforts in the best DIY essential oils blends for winter then stay tuned. We are all pumped up to share the best diffuser blends for the winter season which will instantly relax your mind and will give you that warm feeling.
Recipe 1 – Soothing Blend
Ingredients:
Method:
In a bowl add almond oil.
Now pour in all the essential oils in it.
Give it a good mix and diffuse it as per the instructions.
You can also transfer this blend to a roll-on bottle and apply it to your pressure points.
Recipe 2 – Winter Calming Blend
You may like this also:
Ingredients:
3 drops of Cinnamon essential oil
2 drops of Clove Oil
2 drops of Oregano Oil
1tbsp Coconut Oil
Method:
In a bowl add coconut oil.
Now pour in all the essential oils in it.
Give it a good mix and diffuse it as per the instructions.
You can also transfer this blend to a roll-on bottle and apply it to your pressure points.
Things To Keep In Mind While Using Essential Oils For Winter
Essential oils are only for external use and should never be ingested.
Store essential oils out of reach of children and store them apart from other products.
Some essential oils can be fatal to pets and therefore always research before using them.
Essential oils must always be diluted before applying to the skin as they are highly concentrated as can cause irritation. You can dilute them with a carrier oil of your choice and the max concentration of essential oils should be 3-4%.
Always do a patch test before applying to larger areas of the skin.
It is unclear what effects essential oils have on pregnant and breastfeeding women. While some consider them safe, many doctors advise pregnant women to avoid the use of essential oils.
Always buy pure essential oils and stay away from fake counterparts as they won't contain the same therapeutic benefits.
Takeaway
Finally, it's a wrap. We have found our top 7 essential oils for winter. So, now it's your time to pick your favorite one. If you are looking for pure essential oils in India then, check out Moksha Lifestyle essential oils. From top-quality essential oils to a minimal price range, we have all-natural ingredients that you need to glorify your looks. Visit www.mokshalifestyle.com for more details.