If you're looking for a skincare solution that can moisturize and nourish your skin to the deepest level, then we highly recommend trying body butter for skin health. Yes, Body butter is a richer and more nourishing alternative used for moisturizing your skin. From oily, to sensitive to dry skin, these skin-friendly butter have active ingredients and properties, which contribute towards keeping your skin hydrated and glowing. It's time to consider the best body butter available in the market and protect your skin from all the external factors like UV damage, pollution, and other factors like stress, and acne which dehydrates your skin by choosing these all-natural butter. Read till the end and get a complete picture of how beneficial these butter are for your skin health and select what suits your skin the best.
What Is Body Butter?
A highly moisturizing skin moisturizer is body butter. Typically, it is a rich cream prepared from a variety of natural and organic ingredients, including cocoa, shea, mango, etc. Some jars of butter may contain essential oils as an extra treat for your skin. Because of its special formula, body butter can both prevent dryness in your skin and aid in its recovery. It contains a variety of active ingredients and qualities, including Vitamin A, and E, oleic acid, linoleic acid, anti-inflammatory, antibacterial, and more. These ingredients help to lock in moisture and heal skin problems like acne, reduce wrinkles, and protect against UV ray damage, among other things, leaving the skin moisturized, healthy-looking, and luminous. Emollients, which soften the skin, and humectants, which increase moisture, are examples of unique substances that may be included in some formulations to address particular skin conditions.
You may like this also:
It may be time to think about replacing it with a rich body butter from the selection of the best body butter listed in our following section.
Which Is The Best Body Butter For The Body?
Body butter is all-natural and pure skin-friendly butter specially made for providing extra nourishing and moisturizing to your skin. Some butter is also a benefit for providing strong and voluminous hairs. It isn't amazing, it is a complete package for your body nourishment. Learn more about these hydrating butter and choose which one suits the best as per your needs.
● Cocoa Body Butter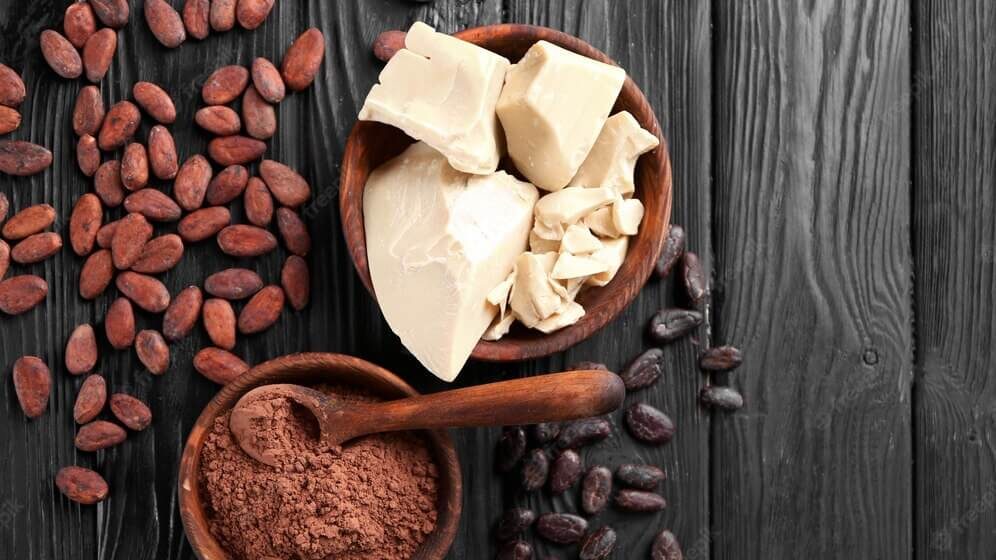 The roasted cacao seeds are stripped and then pressed until the theobroma butter, also known as cocoa butter, comes to the surface. The health of your body and skin may be supported by phytochemicals found in cocoa, according to a study. These compounds may improve skin quality, boost blood flow to the skin, and slow down the aging process of the skin by shielding it from the sun's harmful UV rays. Due to its high concentration of fatty acids like Palmitic acid, Lauric acid, Arachidic acid, Vitamin E, and natural antioxidants, cocoa butter is frequently hailed for its capacity to hydrate, nourish, and improve the flexibility of the skin. The fat in cocoa butter creates a protective layer over the skin. Additionally, it has naturally occurring antioxidants that stop rancidity and extend its shelf life. When applied to the skin, cocoa butter has a velvety smooth texture that makes it ideal for use in lip balms, salves, lotions, and some forms of cosmetics. It is also used as a basis for medical suppositories to administer drugs because it is harmless and melts at body temperature. Pure and organic cocoa butter is frequently used to reduce the appearance of scars, wrinkles, and other skin imperfections. Many women think that using creams and lotions containing cocoa butter will help prevent and lessen the appearance of stretch marks both during and after pregnancy. Additionally, cocoa butter has been praised as an antidote for dermatitis and eczema-related rashes. It is one of the most well-liked kinds of body butter because of how potent it is.
● Kokum Body Butter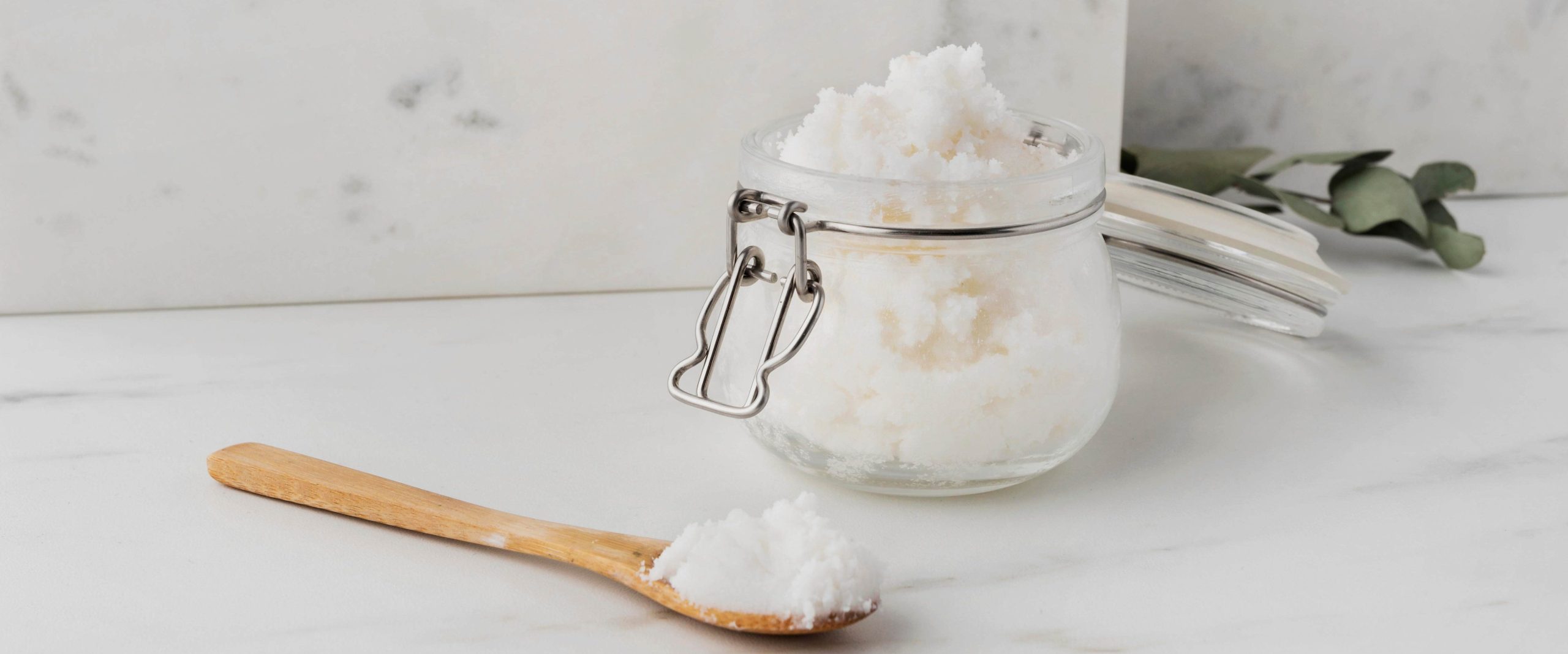 The seed of the Garcinia Indica, more popularly known as the Kokum tree, fruit is used to make kokum butter. Pure Kokum body butter has a light nutty and earthy scent and is light brown to yellow in hue. Although it is a non-greasy, lightweight body butter that contains stearic acid, it has intense hydrating properties. Since kokum butter is so high in antioxidants and vitamin E, it is probably best known for its ability to act as a powerful emollient, or moisturizing agent. Almost every area of your body, including your skin, lips, feet, scalp, and hair, can be improved by using it. It could be a good idea to start with a tiny amount to test your tolerance before using a large amount of kokum butter if you have dry, sensitive skin and want to try it. Kokum butter is lighter than other plant-based butter of a similar sort. Because it easily absorbs into the skin and doesn't leave you feeling greasy after application, it doesn't clog pores or cause acne. The regular application causes the skin to naturally soften and regain its suppleness. It is excellent for DIY cosmetics as a natural emulsifier or hardening agent.
● Mango Body Butter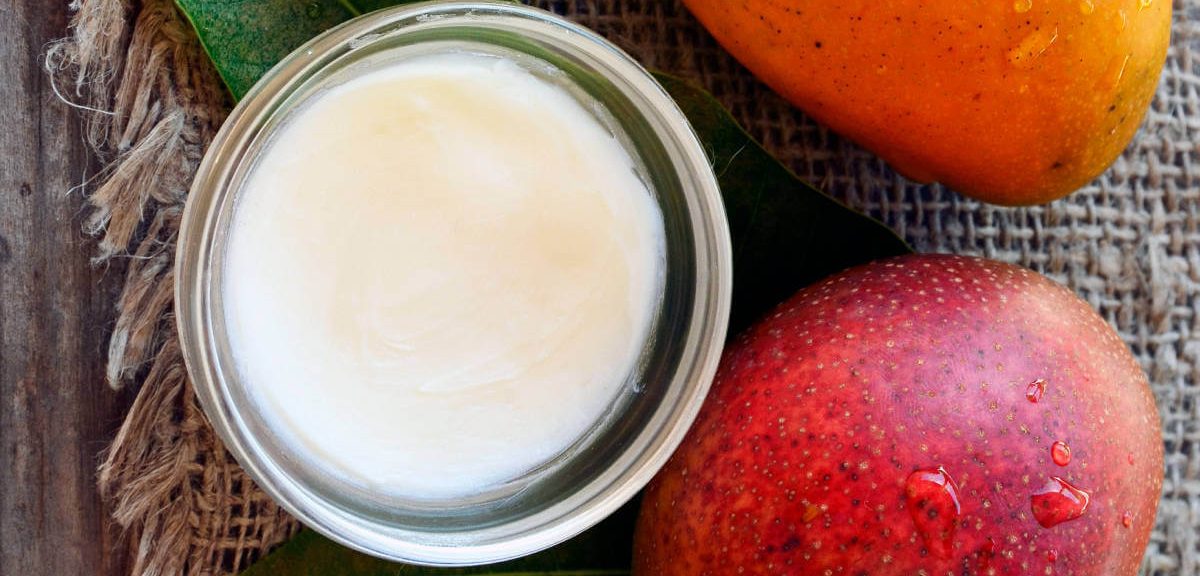 Mango seeds sometimes referred to as mango kernels, are used to extract the fat that is used to make organic mango butter. Because of its great nutritional value, it is recommended as one of the best body butter for the skin. Iron, vitamin E, potassium, magnesium, zinc, vitamin A, vitamin c, vitamin e, vitamin f, folate, and vitamin b6 are all abundant in organic mango butter. Additionally, pure mango body butter has several anti-inflammatory and antibacterial qualities that are excellent for the health of skin, especially sensitive skin. Unrefined mango butter contains salicylic acid, linoleic acid, and palmitic acid, all of which are effective in treating skin conditions like eczema, psoriasis, ringworm infections, fungal infections, etc. Pure mango body butter contains a lot of Vitamin C, but it also has phytochemicals and antioxidants that protect the skin from UV damage and keep it from being dry and irritable. It is a natural emollient that helps soothe inflamed skin and helps you keep your skin supple. It is a moisturizing natural emollient that helps keep your skin supple and calm when it becomes inflamed. So, give Mango body butter a try right now if you're looking for a healthy way to nourish your body.
● Shea Body Butter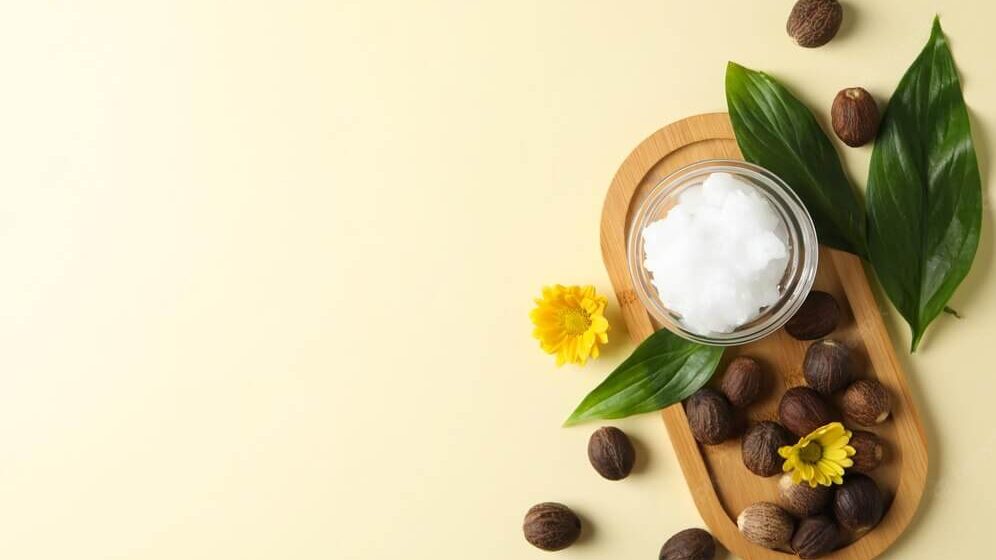 The finest butter made from the nuts of shea trees is called shea body butter. Its color is off-white or ivory, and it solidifies at warm temperatures. Numerous skin and hair care products contain it. It has nutrients like vitamins A, E, and F that support strong hair and skin. It is one of the greatest body butter for healthy skin because it is used to hydrate and renew the skin. It has a higher concentration of fatty acids, such as linoleic, oleic, stearic, and palmitic acids, which help to rebuild the barrier between your skin and the outside world, retaining moisture and lowering your risk of dryness. Shea body butter also helps to restore the natural balance of oils in your skin, which may help prevent acne from developing by locking moisture back into your skin's epidermis. It is also non-comedogenic by nature, making it simple for your skin to absorb completely and preventing greasy skin after application. According to studies, shea butter, both pure and organic, also has anti-microbial and anti-inflammatory qualities that reduce irritation brought on by environmental factors including dry weather, UV damage, as well as inflammatory skin diseases like eczema. Additionally, it can be applied to soothe irritated skin, and regular application to the scalp and hair will promote hair growth and lessen frizzy and dry hair by retaining moisture in the hair strands. The best for both Hair and skin is shea body butter.
What Is The Difference Between Body Butter Vs Lotion?
The consistency is what distinguishes body butter from a body lotion. Lotions feel lighter, contain more water, and have less concentrated oil content. Body Butters, on the other hand, feel much richer and thicker on the skin because they are filled with oils. What is so wonderful about body butter, you might be asking yourself at this point, which is a perfectly reasonable question. Body butter is an excellent product to use immediately before bed or on a relaxing spa day because it is a thicker substance. However, the lotion works better as a continuous moisturizer throughout the day. Compared to lotion, body butter is thicker. For deep moisturization, this makes it fantastic. Lotion often has more water and less oil. Because of this, lotion typically has a lighter formulation that absorbs more quickly.
You may also like:
In conclusion, you must select the proper moisturizer formulation for your requirements. To find the ideal routine for you, try combining body butter with all-day body lotion in your regular skincare routine. You could discover that using body butter and lotion together keeps your skin feeling and looking nourished all day long.
Takeaways
Body butter is a fantastic alternative for people with dry skin, especially those dealing with the chilly and cold winter air when it comes to nourishing parched skin. Body butter is used to moisturize dry skin and provide a smooth-feeling surface as compared to body lotions. They are a combination of butter and oils. When coupled with essential oils, they perform optimally. Additionally, due to its thick and rich consistency, it's a great treatment for softening and reviving your appearance for a radiant glow. Say HELLO to the body that feels nourished and hydrated all day long. For buying the best top-graded butter you can go with Moksha. Visit their website to know more.
You can visit their online store at https://shop.mokshalifestyle.com/ or follow us on Instagram at @mokshalifestyle for daily updates.
FAQ
1. Is body butter safe to use every day?
Using body butter every day is helpful if you have dry skin. While this is going on, if you have normal or oily skin, you might only need to use body butter once every two to three days, once a week, or merely to address troublesome dry patches.
2. Which is preferable, body butter or body oil?
Body butter and body oil can be layered if you notice that your skin is dry and does not become greasy. A body oil would be the best choice if your skin is more delicate or prone to breakouts. Having body butter and oil on hand is good if you don't have any particular skin issues.