Are you tired of bearing an itchy scalp all the time? We know it can be frustrating at times and the major reason behind this can be head lice. Yes, you heard it right. Head lice can be very annoying and the pain they cause is unbearable at times. Not only this but they also spread from person to person and are quite unnoticeable until you experience itching to an extreme level. You might know that head lice are very common in children as they spread in school. Nowadays even adults are suffering from the situation and it is quite evident that the transfer of eggs leads to constant multiplication of head lice. You might be wondering how to reduce head lice and eliminate it from your hair permanently. While the task is very difficult and time taking the results are truly amazing. You can use Rosemary oil for lice and see the results by yourself. Essential Oils are quite potent and they offer amazing results if used consistently in proper quantity. In this blog, we will discover the amazing benefits of using Rosemary oil for head lice and whether this oil works or not.
You may also like:
Lice is a very prevalent condition that majorly affects more than a million people all around the world. It is very common among children, adults, and even old age people. While many people trust chemicals and lice shampoos to get rid of head lice, a group of people also focus on natural remedies. Natural remedies to get rid of head lice are gaining popularity these days. One such natural treatment for head lice includes using Rosemary oil. Rosemary oil is the best natural remedy to treat head lice effectively. It has great effectiveness in tackling several hair care concerns including hair loss, dandruff issues, itchy scalp, and head lice.
What Is Rosemary Oil?
Talking about Rosemary oil for lice prevention, it is the best one amongst all the essential oils. Rosemary oil is derived from the leaves of the Rosemary plant which is herbal. It has a bunch of health benefits that nurture you internally. Apart from this Rosemary oil for skin, Rosemary oil for hair growth, and Rosemary oil for healthcare concerns is widely prevalent these days. Studies have revealed that Rosemary oil is a powerhouse of anti-bacterial, anti-fungal, anti-inflammatory, and anti-microbial properties. All these qualities of Rosemary Essential oil help in the treatment and prevention of lice infestation.
The herbal essential oil is truly the one of its kind which works like a charm to treat several hair care concerns. Rosemary oil for lice prevention is a popular remedy these days. However, it is also used for hair care issues like hair loss, dandruff itchy scalp, frizzy hair, and more.
Rosemary Oil For Head Lice
Are you wondering how Rosemary oil works for lice? Well, here are some of the prominent reasons why Rosemary oil can be a great pick for lice prevention. But if you have a severe lice infestation that keeps on spreading day by day then we recommend you consult a haircare specialist.
1. Antifungal Properties
As mentioned above Rosemary oil is loaded with potent antifungal and antibacterial properties. These qualities of Rosemary Essential oil for lice prevention come in handy. Rosemary oil instantly kills the bacteria and restricts the process of multiplication. It cuts down the spread of lice infestation and makes your head clean and smelling fresh. The strong antifungal properties help to kill the fungi on your scalp and also battle with head lice to restrict their growth. Using Rosemary oil with olive oil or any other carrier oil brings in several benefits for lice prevention.
2. Anti-Inflammatory Properties
Rosemary oil is an herbal essential oil that is packed with strong anti-inflammatory properties. If your scalp is not clean and is jam-packed with bacterial infection, inflammation, or even dandruff then lice can make a home in your head. Itchy and irritated scalp which is prone to inflammation attracts lice and its family members. Thankfully, Rosemary oil for lice is the best treatment available. Rosemary Essential oil for lice prevention has anti-inflammatory qualities that soothe the scalp and also tackle itchiness and inflammation.
3. Strong Fragrance
While talking about Rosemary oil for lice prevention, how can we forget that it bears a very strong fragrance? Well, that is true. If you have ever got a whiff of Rosemary oil you will know how strong it is. The oh-so-strong and potent aroma of Rosemary Essential oil makes it difficult for lice to sustain on your scalp. It suffocates the lice and blocks their multiplication which instantly restricts them from spreading from person to person. So, using Rosemary oil for head lice will truly offer a wide range of benefits because of its strong fragrance.
4. Dehydrating Nature
Even though Rosemary Essential oil helps to condition and hydrate specific skin areas, it has a drying effect on your scalp. Yes, you heard it right. Rosemary Essential oil for eyebrow growth and Rosemary oil for eyelash growth is widely used because of its hydrating and conditioning properties. But when used on hair and scalp, Rosemary oil offers a drying effect that instantly kills head lice. Keep in mind that it does not dry out your hair, it just dehydrates the lice present on your scalp and kills them. You can use Rosemary Essential oil with a carrier oil for your entire hair for its incredible benefits. It not only keeps lice at bay but also promotes hair growth, reduces dandruff, and itchy scalp, and maintains healthy hair.
How To Use Rosemary Essential Oil For Lice Prevention?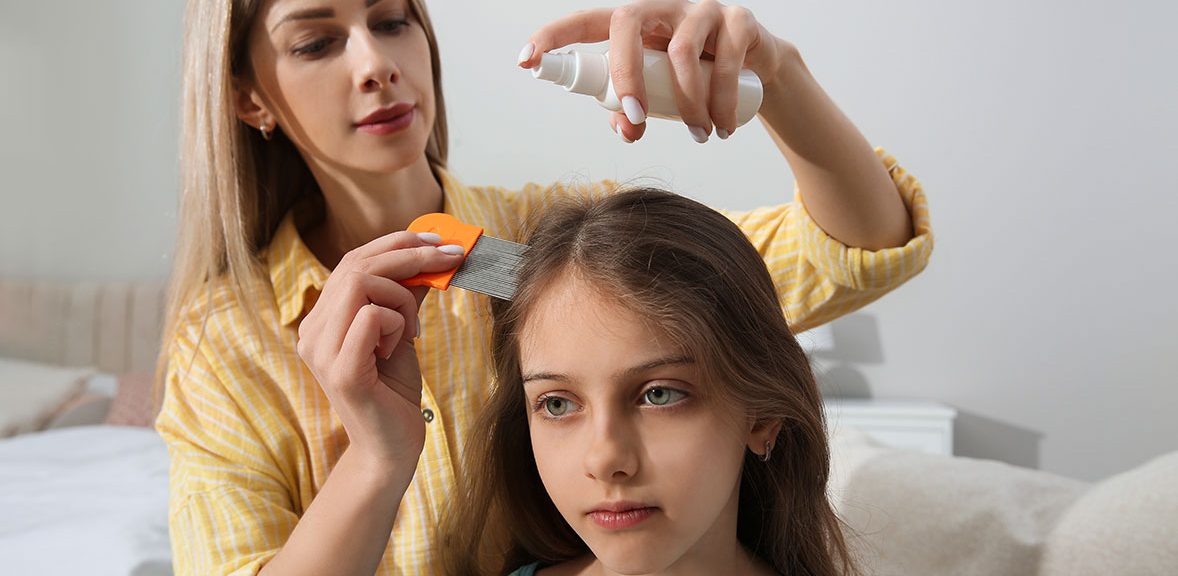 There are several ways in which you can utilize Rosemary oil for hair growth and Rosemary oil for lice prevention. While the upcoming section talks about the usage of Rosemary oil for lice, we would also like to tell you that the Essential oil is a great one for hair growth and reducing hair fall. The essential oil is widely used in herbal hair oils for hair growth and several natural remedies for hair growth as it is loaded with essential vitamins and nutrients. So, let us check out the ways to use Rosemary Essential oil for lice.
Recipe 1- Anti-Lice Hair Oil
In your regular hair oil and 10 to 15 drops of Rosemary Essential oil.
Make sure that your hair oil is an herbal one and is loaded with ingredients like curry leaves, bhringraj, Neem leaves, Amla, etc.
Simply dilute Rosemary Essential oil in your herbal hair oil and use it for lice prevention.
Recipe 2- Lice Hair Spray
In a spray bottle add normal water.
You can also fill the bottle with Rosemary water or Rosemary hydrosol to get amazing benefits and noticeable results in just a week or two.
Now add a few drops of Rosemary Essential oil and shake the spray bottle.
When everything is mixed, spray it on your scalp before combing.
You can repeat this remedy two times a day or specifically at night to get rid of lice.
Takeaway
Research has demonstrated the effectiveness of using Rosemary Essential oil for lice prevention. It is truly a one-of-a-kind product that works well. However, since it is a natural remedy it takes time to show results. It is very important to be consistent while using Rosemary oil for lice. Also, do not forget to invest in 100% pure and organic essential oils from Moksha Lifestyle to get amazing benefits.
You may also like:
FAQs
1. Does rosemary oil kill lice?
Rosemary oil prevents lice infestation to a great extent. With regular usage, it might kill the lice. But, proper research studies are needed for that.
2. Which is the best oil to prevent head lice?
Several essential oils help to prevent head lice. But, the best and the most effective ones are tea tree oil, peppermint oil, rosemary oil, and lavender oil.