Romanticizing the feel of soft and lustrous hair? The day is not far as you can also flaunt your gorgeous tresses and make them look shiny without much effort. Yes, you heard it right. Without much effort, you can do everything good for your hair. Are you wondering how that is possible? Let us tell you that rosehip oil for hair has been awarded as the best hair oil for shiny hair. It not only promotes hair growth but also enhances the feel and look of your hair.
Rosehip oil has all its goodness and is a perfect one for all your beauty and hair care needs. From reducing acne scars, dull spots, and pimples to reviving your hair it does all for you.
Rosehip Oil For Hair & Its Properties
Rosehip oil is quite well renowned for its antioxidant compounds, anti-inflammatory qualities, and hydrating, soothing, and restoring characteristics, which render it the most widely desired after-base oil on the planet. Because of its unbelievable therapeutic benefits, a growing number of people around the world favor Rosehip Oil over other natural oils for treating their skin and their hair. Let's stare at the Rosehip Oil properties to learn more about how it might meet all of your skin and hair needs.
Contains Vitamin E
Vitamin E is a very potent ingredient that increases hair growth. Just by adding volume to your tresses, vitamin E present in rosehip oil increases hair growth and improves the texture of your hair.
Contains Vitamin A
Vitamin A present in rosehip oil prevents hair fall to a great extent. Vitamin A averts free radical damage in your hairline or scalp and in turn, avoids hair fall and severe hair damage.
Vitamin C
Did you know that rosehip oil for hair is a dream come true for gorgeous tresses? Yes, rosehip oil contains Vitamin C which enhances the absorption of iron in your hair and prevents split ends. It controls hair damage and hair loss and strengthens the hair by promoting hair growth.
Packed With Omega 3 & Omega-6
Hairs are prone to sun damage. The presence of omega 3 and 6 nourish our hair deeply. It prevents your hair from sun damage and nurtures the follicles promoting hair growth.
Omega-9
Tissue damage is a serious problem that everyone faces these days. The hair cells get damaged after severe hair breakage. To prevent all this, rosehip oil for hair is made. The presence of rich Omega-9 in rosehip oil strengthens the hair.
Benefits Of Rosehip Oil For Hair
It is important to recognize the benefits of rosehip oil for hair. Without knowing the astounding benefits, you might not fall in love with this oil. So, here are some amazing benefits of rosehip oil for hair.
You may like this also:
Diminishes Split Ends
Split ends can be very irritating especially when you have to attend a special function. To tame those furious split ends, try rosehip oil for hair. Rosehip oil closes the cuticles and strengthens your hair intensely. It also enhances the porosity of your hair which eventually tackles split ends, hair breakage, and hair fall. The magical hair oil tames split ends, nourishes your hair, and detangles it like a smooth cream.
No More Dandruff With Rosehip Oil For Hair
When rosehip oil is with you, you don't have to worry about dandruff and its side effects. Dandruff is said to cause hair fall and extreme hair loss reducing the quality of your hair. However, rosehip oil is anti-inflammatory in nature. It tackles hair damage and prevents dandruff and itchy scalp. Since the natural and pure rosehip oil for hair is non-greasy and unrefined, it goes deep into the scalp and promotes hair growth, and nourishes your scalp.
Conditioning Properties
As mentioned above, rosehip oil is packed with essential nutrients and vitamins. It contains all kinds of good vitamins and has omega 3 and 6 which naturally nourishes your hair.
Reduces Frizziness
Rosehip Oil is extremely advantageous for crumbly and frizzy hair because it profoundly conditions belligerent curly hair. It aids in keeping your dry, thick curly hair smooth and sleek. Rosehip Oil can indeed be rubbed straight into your hairline.
Controls Hair fall
Rosehip oil, which is filled with antioxidants, is also well-known to help avert hair fall. These antioxidant compounds assertively combat free radical damage, which is responsible for the accumulation on your hair and your scalp. Fumes, particles, emissions, harmful ultraviolet rays, and anxiety can all encourage the blockage of toxins on your hairline, causing significant harm to your hair and hairline.
How To Use Rosehip Oil For Hair?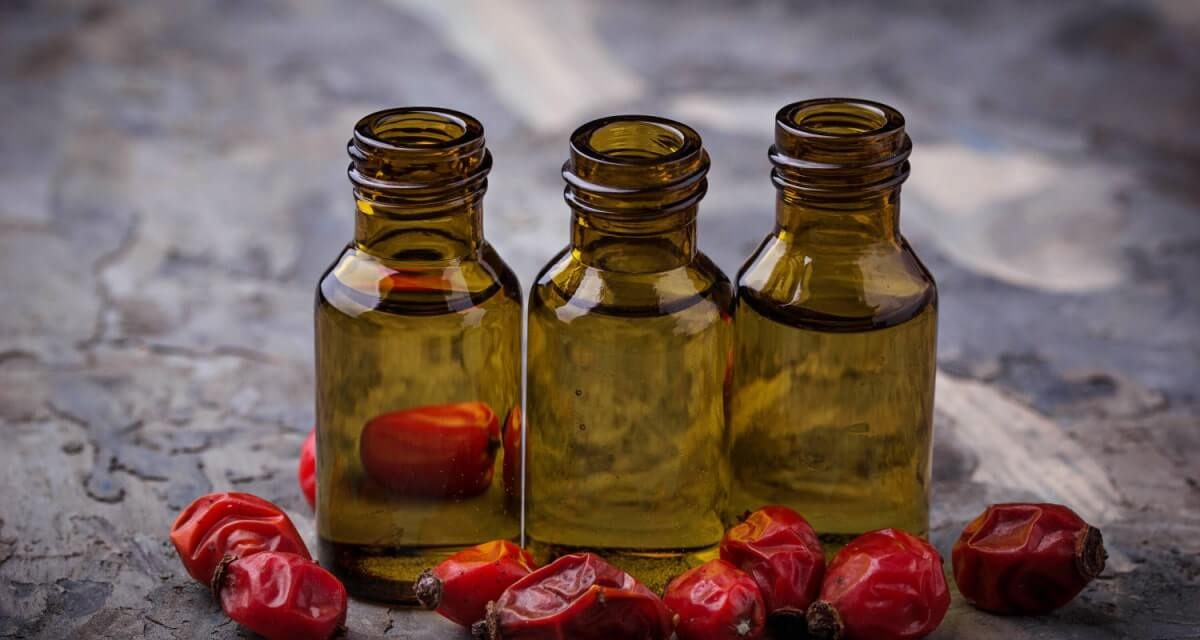 You may like this also:
Wondering how to use this magical golden oil for your hair? We have got you covered. Rosehip oil can be used in different ways on your scalp. Let's have a look at some DIY remedies of rosehip oil for hair.
Recipe 1 – As A Hair Serum
Ingredients:
Method:
Take some rosehip oil in your palms.
Rub it till it becomes warm and then gently apply it on the ends of your hair.
Make sure to not rub it and just gently go through your hair strands.
This idea of using rosehip oil as a hair serum is perfect as it tames frizziness and smoothens the hair.
Recipe 2 – Rosehip Oil As A Hair Oil
Ingredients:
1 tbsp coconut oil
4-5 drops of rosehip oil
3-4 drops of tea tree essential oil
Method:
In a bowl add coconut oil.
Now pour in a few drops of tea tree essential oil
Pour rosehip oil into it and mix the blend really well.
Warm it on gas and use it as a hair nourishing treatment cum hair oil.
It will instantly revive your dull and dry hair.
Takeaway
After learning about the advantages and applications of Rosehip Oil, you'll undoubtedly wish to get your fingers on some. However, prior to actually attempting something unique on your scalp or hair, it is constantly preferred that users perform a patch test to examine for any adverse reactions or hypersensitivity in their body.
The seedlings of the Rosehip fruit are used to retrieve Moksha Lifestyle Pure Rosehip Seed oil. This is an entirely pure and natural product derived from cold pressing. It diminishes the visibility of scar tissue, skin discoloration, and skin irritation. It is a moisturizing and hydrating oil for the hair, face, and neck. So, if you want to get your hands on pure rosehip oil for hair then head over to mokshalifestyle.com