Patches of inflamed, red, rough, itchy, and cracked skin, can be symptoms of eczema. If you are suffering from eczema, it is time to consider some natural solution that can calm inflammation-related symptoms and repair and nourish damaged skin. Therefore, to bring notice we have dedicated this entire blog to how beneficial is hemp oil for eczema. Due to its high concentration of gamma-linolenic acids, it helps in reducing itchiness, irritation, and inflammation of the skin. For further information on this natural cure, keep reading the complete blog. As, with these benefits, we have linked some easy-to-do DIY recipes using hemp oil to cure eczema and other conditions like psoriasis, dermatitis, acne, etc.
Why Consider Hemp Seed Oil For Eczema?
Eczema is a wholesome term used to describe a variety of skin conditions, including acne, dermatitis, and nummulite eczema, among others, which include symptoms including redness, blisters, inflamed skin, and more. Even though there are many different causes of eczema, including heredity and the environment, there is only a handful that can be treated with hemp seed oil, such as inflammation and immune system regulation. Cold pressing is a method used to obtain hemp seed oil from the seeds of Cannabis sativa. The active components in this miraculous oil from nature include gamma-linolenic acid, Omega-6, and Omega-3 essential fatty acids, which are crucial for nourishing and mending damaged skin while easing the symptoms of irritation. These advantages make hemp seed oil an excellent alternative for psoriasis, acne, and eczema treatment. In addition to this, it contains protein and other nutrients that are highly helpful in regenerating skin tissue and minimizing scar tissue, including phosphorus, zinc, vitamin A, magnesium, manganese, sulfur, potassium, iron, and calcium. Read the benefits covered in our next segment to find out more about how useful hemp oil is for eczema.
Benefits Of Using Hemp Seed Oil For Eczema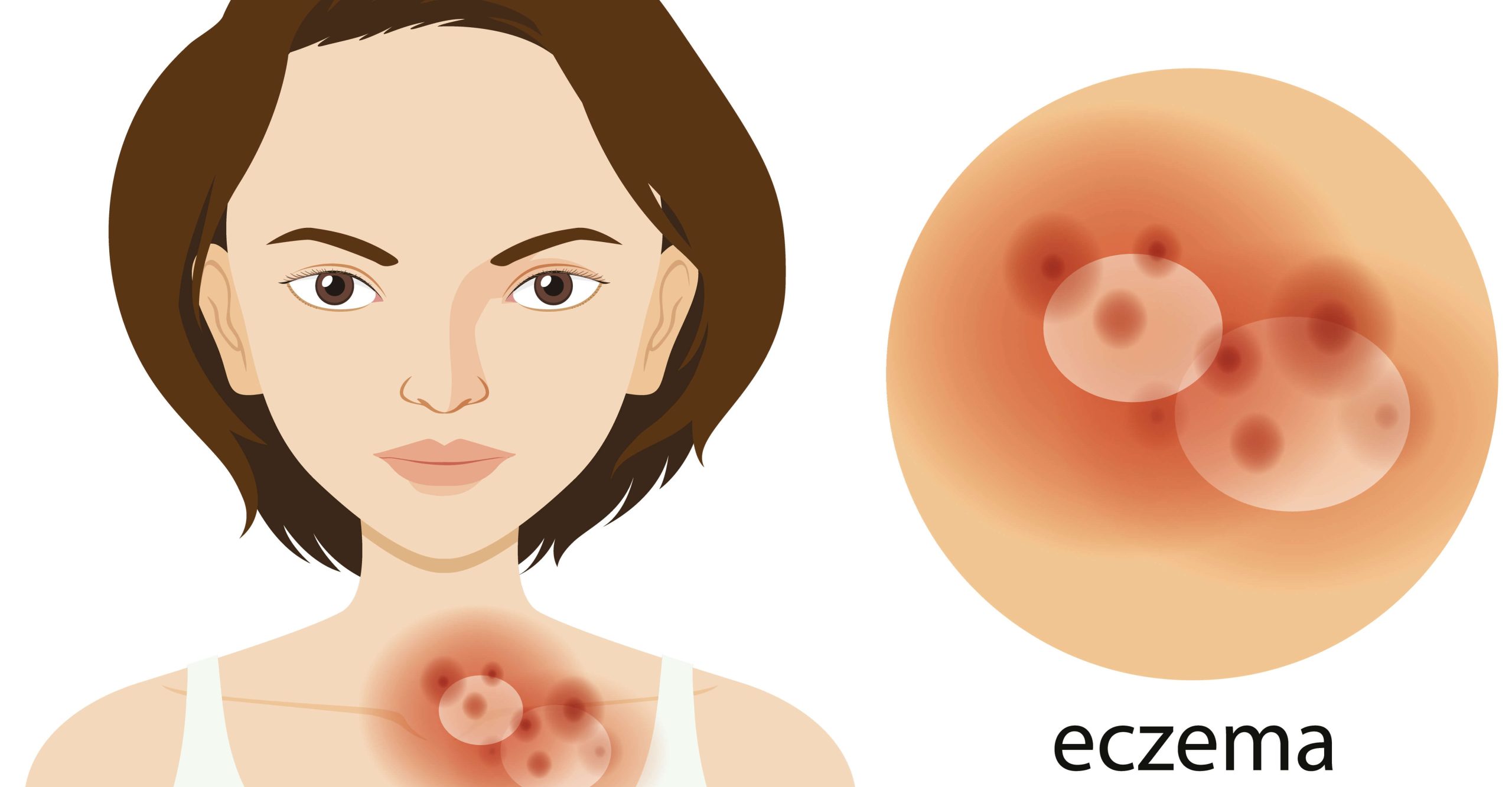 Due to its exceptional active ingredients and qualities, such as anti-inflammatory, cannabinoids, flavonoids, omega 3, and 6, the hemp seed oil is a powerhouse that can be useful in treating a variety of health concerns. These make a significant contribution to the skin's healing and nourishment. Hemp oil has a range of benefits. Here, some of the benefits are discussed.
Minimizes Oil Production
With no pore-clogging effects, hemp seed oil is used to hydrate the skin. Because it balances out oily, dry skin by hydrating it and controlling the skin's oil production. Your skin may generate oil as a result of dryness or skin scarring, which can also be a result of acne. The skin pores of dry skin can be protected with hemp seed oil without being clogged. In addition, it aids in minimizing facial imperfections like acne, blemishes, redness, irritation, etc. Therefore, considering hemp oil to cure eczema can be a great choice.
Heal And Soothes Inflammation
Hemp seed oil is loaded with phytochemicals like Omega 3, and 6, Terpenes, Cannabinoids, and Palmitic acid which are nutritional sources for calming and lowering skin inflammation, healing cracked dry skin, wound healing redness, etc. Along with it also helps in the production of new cells which help in the regeneration and nourishment of the skin.
Hemp oil contains linoleic acid and oleic acid, which play a vital role in healing and improving skin health.
You may like this also:
Moisturizing And Hydrating
Hemp seed oil is a humectant which means that it pulls moisture to the skin. It prevents all forms of dryness and roughness by penetrating the tissues deeply. Additionally, the skin is simultaneously softened and strengthened by the omega 3, 6, and 9 fatty acids and vitamins E, and D while also being sealed off from moisture by the skin barrier by providing soft, smooth, and hydrated skin. Also, Its concentration is safe for all skin types.
Calms Various Skin Disorders
Hemp seed oil's omega 3 and omega 6 necessary fatty acids are particularly helpful for eczema, rosacea, and psoriasis. After 15- 20 weeks, studies have demonstrated that dietary hemp seed oil reduced the signs and symptoms of eczema. Hemp seed oil is a fantastic option for people with acneic skin issues because it is non-comedogenic, helps to control sebum production, and is anti-inflammatory. Hemp seed oil's gamma linoleic acid gives skin moisture, locks it in, and prevents dryness. It creates a shielding layer to guard the skin from deterioration.
Try our pure and organic Hemp Seed Oil to improve your skin conditions from the inside out.
DIY Recipes Using Hemp Seed Oil For Eczema Prone Skin- Homemade Recipes

You can use hemp seed oil by putting it straight on your skin if you have skin irritation and inflammation. You'll feel less itchiness and irritation as a result. However, test it on a little part of the skin first to make sure you don't have any negative side effects before using it on the larger region. We have linked some easy-to-try DIY recipes using hemp oil to cure eczema.
Recipe 1
Ingredients:
Directions:
Add hemp seed oil and rosehip seed oil to a glass basin.
4–5 drops of lavender essential oil should now be added. Mix it thoroughly.
On your hands, apply a few drops of the oil mixture. Between your palms, rub them.
Apply it there while giving the region a circular massage. Leave it on.
Recipe 2
Ingredients
1 Ripe Avocado
¼ Cup of Hemp Seed Oil
2 teaspoons of Spirulina powder.
Directions
After peeling one ripe avocado, grind it.
Add 2 tablespoons of Spirulina powder and 1/4 cup of hemp seed oil. Blend all ingredients to create a smooth mixture.
While the skin is still wet, evenly apply the mask.
After 15-20 minutes, rinse it.
You may like this also:
Things To Keep In Mind Before Applying Hemp Oil To The Skin
Always search for hemp seed oil that is cold-pressed (which keeps the oil's nutritional advantages from being lost), organic, unextracted, and from a source that adheres to ethical standards. It should range from light to dark green.
Hemp oil should always be heated on low because it melts readily.
To prevent skin rashes or allergic reactions, always do a patch or skin test before applying hemp seed oil directly to your skin.
To get the highest-grade oils on the market, only purchase hemp seed oil that has received USDA Organic Certification.
Hemp oil shouldn't necessarily be stored in the refrigerator, but it should be, and it should be used within a few months after being opened. It should also be kept in a cool, dark area. After that, it will begin to lose its nutritional value.
Conclusion
Hemp seed oil is one of the effective natural remedies for treating skin disorders, especially eczema. Its active nutrients and properties have been calming to heal and nourish skin to the deepest level, which promotes a youthful and nourished glow. If you have symptoms like redness, inflammation, and dry skin, then it can be eczema, so we highly recommend trying hemp oil for eczema-prone skin. This natural and versatile will work magic and regenerate your skin without any side effects. The best part is that you can take this orally or topically. You can take 1 teaspoon of oil orally once a day to start treating your skin long-term. Though, we recommend consulting your doctor before using it directly to avoid any irritation or allergic reactions.
Start controlling your eczema by grabbing some hemp oil today. You can order 100% pure and organic hemp seed oil to cure eczema from www.mokshalifestyle.com.
You can visit their online store at https://shop.mokshalifestyle.com/ or follow us on Instagram at @mokshalifestyle for daily updates.
FAQs
Can Hemp Oil Be Used To Treat Eczema?
Inflammatory skin disorders can cause symptoms including skin dryness, itching, and soreness. Hemp oil contains powerful anti-inflammatory components, including fatty acids, and antioxidants which act as a powerful tool to cure eczema-prone skin.
Does Hemp Oil Have CBD In It?
Hemp seed oil is produced from the cannabis plant similar to that used to make marijuana but with little to no tetrahydrocannabinol (THC), the psychoactive ingredient. Hemp includes cannabidiol (CBD) instead of THC, a substance that has been used to treat conditions ranging from anxiety to epilepsy.
Does Hemp Oil Aid With Skin Healing?
Hemp seed oil's anti-inflammatory and hydrating qualities can aid to relieve dry, itchy skin. Hemp seed oil is helpful for a variety of skin issues, including psoriasis and acne as well as dry, itchy, irritated skin.