Dark circles are one of the most common problems that youngsters face these days. Well, not only youngsters but people of all age group has puffy eyes and dark circles and the main reason behind that sums up to lack of sleep and more screen time. The lifestyle that we are currently following is not a life-changing one and has more chances to damage your skin, especially the under-eye area. There are so many causes of dark circles and the prominent ones are stress, sedentary and unhealthy lifestyle, lack of nutrition, more sun exposure, lack of vitamins, and improper blood flow. While all these major reasons and the visibility of dark circles on the other hand we have essential oils for puffy eyes that create a barrel among these.
You may also like:
Yes, you find it right. The essential oils for dark circles under the eyes have amazing benefits as they are extracted freshly from the plant and are loaded with the essence of the parts of the plant.
The best essential oils for puffy eyes and dark circles help to reduce the intensity of dark circles and increase skin hydration providing a subtle and natural glow. If you are wondering what essential oils are good for dark circles then we have a list of essential oils today. But before that, let's have a look at some of the benefits of essential oils for puffy eyes and dark circles.
Benefits Of Essential Oils For Dark Circles And Puffy Eyes
As you know that essential oils are loaded with beneficial properties for your skin but, it has some mind-blowing qualities that help reduce dark circles and puffy eyes. Let's have a look at them:
Essential Oils Reduce Puffiness
You might have noticed puffy eyes or swelling areas around your under the eye due to lack of sleep or any other reason. Thanks to the power of essential oils for dark circles, which are packed with potent vitamins like vitamin E and help reduce under-eye puffiness effectively.
Essential Oils Provide Hydration
If there is one point that you should always remember about your under-eye is that your under-eye area is very sensitive and delicate as compared to the entire skin on your body. The under-eye area's skin is very thin and therefore gets dehydrated very easily if it is not nourished with hydration. In such cases, essential oils for the under-eye are a great pic as they moisturize your dehydrated skin and form a protective barrier to reduce the loss of moisture.
Essential Oils For Tightening The Skin
As mentioned above the skin under your eye area is very loose and thin and therefore it needs proper nourishment and hydration. But along with that, your saggy skin also needs firmness which is provided with the help of essential oils for dark circles and puffy eyes. Essential oils for dark circles under the eye reduce dullness and tighten the skin which provides a firm look.
Now that you know all the good thoughts about essential oils for dark circles and puffy eyes, let's have a look at the top essential oils that are very effective to reduce dark circles under the eye.
Best Essential Oils For Puffy Eyes And Dark Circles
1. Rosemary Essential Oil
Herbal essential oils are never out of work as they are packed with anti-inflammatory antibacterial and antifungal properties that tackle the bacterial infection under your eyes and reduce the dark spots and puffy eyes to a great extent. Rosemary oil is one of the most commonly used essential oils for dark circles as it helps to tackle the process of aging and reduces the signs of aging. Wrinkles, fine lines and saggy skin might appear around your eye thanks to Rosemary Essential Oil which has calming properties that reverses the signs of aging. If used regularly, rosemary essential oil can help in the proper under-eye treatment and can reduce and minimize the appearance of dark circles to a great extent.
2. Eucalyptus Essential Oil
Eucalyptus Essential oil is well known for its amazing qualities to improve blood circulation around your skin and improve your skin health. Eucalyptus Essential Oil reduces the appearance of dark circles visibility and gives results in a few weeks. The area around your under-eye is very sensitive and needs proper care and attention. Kudos to eucalyptus essential oil, which improves blood circulation around your eye area and helps to reduce performance and dark spots around your skin!
3. Sandalwood Essential Oil
You might have heard of using sandalwood to complete religious practices and spiritual favors in pooja and other traditional festivities. But that is not all; you can use sandalwood essential oil to reduce dark circles around your eye area. Sandalwood Essential oil is loaded with skin brightening and whitening properties that help to provide an even toned skin around your under eyes and also helps to tighten it. Sandalwood essential oil is known to revitalize your skin and make it look glowing and radiant in no time.
4. Tea Tree Essential Oil
Everyone knows about the holy-grail tea tree essential oil for skin and hair. But did you know that tea tree essential oil is also great for your under-eye area? Well, tea tree essential oil is widely used to eliminate the signs of aging and to reduce puffy eyes and dark circles. If you are searching for the best essential oils for allergies and puffy eyes then tea tree essential oil is the one you need. Tea tree oil has anti-inflammatory, antibacterial, and antifungal properties that eradicate any fungal infection that might be surrounding your under-eye area and making it look dull and dark.
5. Lavender Essential Oil
There is no essential oil like lavender essential oil for dark circles and puffy eyes. Do you know why we say that? Well, lavender Essential oil helps to promote the blood flow around your under-eye area making it look radiant lustrous, and glowing in no time. Lavender essential oil is an all-rounder and therefore it can also be used effectively to treat dark circles and puffy eyes. If you are looking for the best essential oils for tired puffy eyes then, the lavender essential oil is top-notch. It also hydrates and tightens your skin like no other treatment.
6. Lemon Essential Oil
Our grandma used to use lemon for its brightening and lightening properties in old age time. Well, one should not use lemon directly on their skin but we cannot deny the fact that lemon essential oil is loaded with skin-brightening properties. You can simply dilute the lemon essential oil with a carrier oil of your choice to reduce puffiness, swelling, and tiredness around your eye. Not only this, but lemon oil also promotes the brightening process around your under-eye area which is a great thing.
You may also like:
Essential Oils Recipe For Puffy Eyes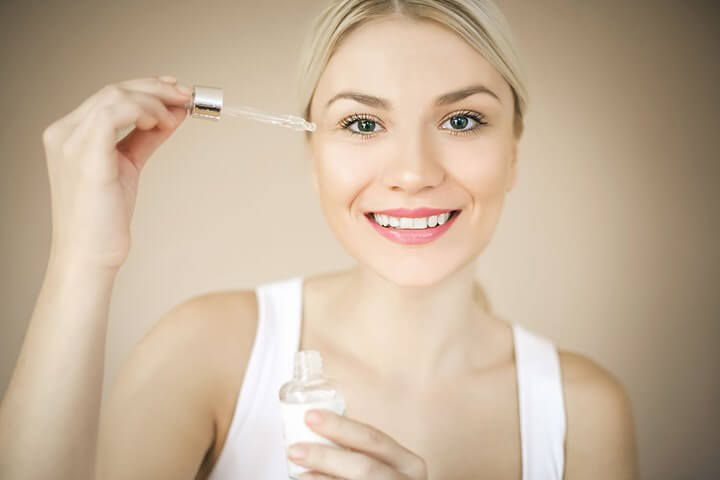 Are you thinking about how you can use the best essential oils for puffy eyes? Well, we have the best essential oils recipe for puffy eyes which not only brighten the dull area but also reduce the dark circles.
Under Eye Gel
Ingredients:
2 tbsp of aloe vera gel
8- 10 drops of Almond oil
5 drops of Sandalwood essential oil
3 drops of Eucalyptus essential oil
2 drops of Lemon essential oil
1 tbsp of glycerine
Method:
In a bowl combine Aloe Vera gel with glycerine and almond oil.
Mix it well and then pour the essential oils mentioned in the required quantity.
Mix it well to form a gel-like consistency for your under-eye gel.
Now apply this under rise gel at night before going to sleep and even in the morning.
You can store it in the refrigerator for enhanced results.
Takeaway
Essential oils for puffy eyes deserve all the credit as they do what they claim. But, are you doing the right thing? We are talking about purchasing mixed and filtered essential oils from fake websites. Save yourself from this and buy pure essential oils in India from mokshalifestyle.com