Are you looking for that instant boost of energy and calmness in your mind? The best essential oils for healing the body have got your back. Did you know that essential oils have incredible powers to heal your body from within? It not only calms your senses and nerves but also relaxes your mind.
You may also like:
Essential Oils for healing skin have been used for ages now. Old age people use it in their daily routine to stay fresh and energetic. A majority of therapists rely on the best essential oils for healing and soothing to treat their patients in the best way possible. Each soothing essential oil has immeasurable benefits. Keeping this in mind, it is important to know that finding the best calming essential oil can be a distinctive task. You cannot decide on your own which essential oil has the most amount of energy and benefits. So to help you make an informed decision, we are here to guide you with the best essential oils for soothing.
7 Soothing And Healing Essential Oils
Get ready guys, it's time to find out the best healing essential oils for your body that are not only all-rounders but also convalesce your body internally like a PRO. Presenting to you 7 soothing and healing essential oils!
1. Frankincense Essential Oil
Popularly known as one of the best essential oils for prayer, Frankincense Essential Oil is truly a gem of a product. Frankincense essential oil is considered one of the best healing essential oils for your body. It is also known as Bible essential oil as it is used in church and for holy practices. One of the best essential oils for soothing Frankincense oil is also a game-changer for oral practices. It improves your digestive health and immune system. Frankincense essential oil has anti-inflammatory properties that ward off anxiety, panic attacks, and depression. It also helps you achieve a wholesome and healthy body system. In addition to this frankincense essential oil for soothing your body is perfect to tackle respiratory issues. While all this was not enough Frankincense essential oil also keeps a check on problems like neurological, gastrointestinal, cardiovascular, and tissue systems.
2. Lavender Essential Oil
How can we forget lavender essential oils while talking about healing essential oils for the skin? The lavender essential oil has anti-depressant properties that help with stress, nervousness, and depression. The holy grail oil that is known to promote good sleep is also a great one to heal your skin naturally. The lavender essential oil blend for healing is the best one as it calms your mind and promotes outlandish relaxation. The floral, refreshing, and therapeutic smell of lavender essential oil is a must-have after a long hectic day. Apart from its wonderful calming and soothing properties, a lavender essential oil is also used in various aromatherapy sessions. Not only this the refreshing essential oil to comfort your mind has abilities to reduce headaches, blood pressure, and many such diseases.
3. Lemon Essential Oil
One of the best essential oils to heal naturally and relax your mind is lemon essential oil. We can never forget the best citrus essential oils while talking about healing and soothing essential oils for the skin and body. Did you know that the healing power of essential oils is truly magical? Talking about lemon essential oil helps to enhance lymph drainage and refreshes your dull, dehydrated, and patchy skin. The lemon essential oil also has anti-inflammatory and anti-microbial properties that help to tackle problems like strain, anxiety, and overthinking. The fruity and citrus aroma of lemon essential oil is loved by everyone.
4. Chamomile Essential Oil
Do you want to ace your fragrance feel? Get pure Chamomile Essential Oil from the Moksha Lifestyle and you will notice amazing benefits in your body. Chamomile oil has a very soothing fragrance that addresses various health problems. It also contains anti-depressant properties that uplift your mood and ditch anxiety and stress. If you are a herbal tea lover, you might know that Chamomile tea is loved by everyone and many people sip it before bedtime. No wonder Chamomile oil is known to relax your body and gives you a good and restful sleep with dreams sweeter than your desserts. Chamomile oil is also known as a natural antibiotic ingredient that helps to reduce inflammation and acne. It quashes breakouts and patchy skin in just a few weeks.
5. Peppermint Essential Oil
While talking about soothing and healing essential oils for the body, how can we forget the minty fragrant essential oil? Do you have any guesses for the same? We are talking about none other than peppermint essential oil for healing and soothing. Peppermint Essential Oil has active healing properties that make it up perfect one to use in the winter season. One of the best essential oils for healing and soothing is also known to eliminate nausea, fatigue, and digestion problems. The cooling properties of peppermint essential oil make it an ideal ingredient to be added to multiple skin care products. For years the beauty industry has been using peppermint essential oil as it helps to relieve skin irritation and minimizes the appearance of acne and redness. While being the best essential oil for healing and soothing, peppermint oil also sharpens your concentration and enhances your memory power. For all such reasons, it is known as one of the best essential oils for prayer and also the best essential oils for studying and concentration.
6. Eucalyptus Essential Oil
Eucalyptus Essential Oil is a potent one as it is used by almost every specialist in all fields. Eucalyptus essential oil is used copiously by aromatherapy teachers for relaxing spa sessions and to heal the body naturally. If you are looking for one of the best essential oils for healing the body, then opt for eucalyptus essential oil without any second thought. The magical and healing essential oil kicks off symptoms of flu cold and fever. It is also known to track and eliminate respiratory issues and migraine problems. All in all eucalyptus essential oil is an ideal essential oil for someone who is feeling sick and under the weather for a long time. A drop or two in the vaporizer will help you to heal naturally and will calm your senses.
7. Sandalwood Essential Oil
So, do you remember the authentic fragrance of Chandan? Yes, we are referring to sandalwood or Chandan which is very frequently used for holy practices and sacred rituals. One of the best healing and soothing essential oils, sandalwood oil helps to heal upset throats and wards off flu and cold. Even if you show your flaws, sandalwood essential oil would still love you the same because it improves your nervous system functioning and tackles the problem of depression and anxiety. The intriguing, calming, and earthy smell of sandalwood essential oil releases muscle pain and decreases inflammation. At the end of a long hectic day, you need something to feel grounded. Sandalwood essential oil is one of the best grounding essential oil and seems to be one of the most used essential oils for healing and soothing your skin and body.
DIY Essential Oil Blends For Healing And Soothing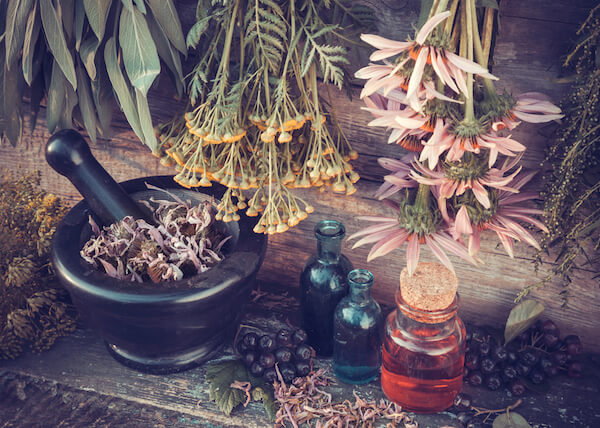 Recipe 1 – Hot Bath Blend
Did you know that a hot bath with the best essential oils for healing and soothing can be a plus to deal with external and internal problems? This hot bath blend of the best essential oils for healing and soothing invigorates a calming atmosphere and balances your mind and body
Ingredients:
Method:
In a bowl and both the essential oils.
Mix them well.
Now and it to your hot bathtub.
Enjoy the peaceful and relaxing bath session.
Recipe 2 – Calming Essential Oil Blend
The combination of the best calming essential oil promotes a sense of satisfaction and enhances body relaxation. This essential oil blend is not only good to fight mental problems but also eliminates physical fatigue and stress from your mind.
Ingredients:
Method:
In a bowl add all of the best essential oils for healing and soothing.
Give these essential oils a good mix.
Now as per the instructions of your diffuser, diffuse it before bedtime or right after waking up in the morning.
Things To Keep In Mind While Using The Best Essential Oils For Healing The Body
Essential oils are only for external use and should never be ingested.
Store essential oils out of reach of children and store them apart from other products.
Some essential oils can be fatal to pets and therefore always research before using them.
Essential oils must ALWAYS be diluted before applying to the skin as they are highly concentrated and can cause irritation. You can dilute them with a carrier oil of your choice and, the max concentration of essential oils should be 3-4%.
Always do a patch test before applying to larger areas of the skin.
It is unclear what effects essential oils have on pregnant and breastfeeding women. While some consider them safe, many doctors advise pregnant women to avoid the use of essential oils.
Always buy pure essential oils and stay away from fake counterparts as they won't contain the same therapeutic benefits.
Takeaway
So are you ready to indulge in a full-on self-care session and pamper yourself with the best healing and soothing essential oils? We know this might be a task for many people out there because not everyone gets the time to indulge in such sessions. But, it is never too late to catch up some time for yourself and make yourself feel mollycoddled. Do try out these essential oil blends for healing to feel calm and relaxed both internally and externally. However, while buying the best essential oils for healing make sure to opt for certified essential oils. The best essential oils store in India Moksha Lifestyle provides pure essential oils at prices that won't burn your pocket.
You may also like:
FAQs
1. Which essential oil is good for relaxing?
To choose the best ones, you can go with Chamomile, lavender, Rose, Jasmine, and Frankincense essential oil. These essential oils are probably the best ones to rejuvenate your mind and also promote self-love within yourself.
2. Which is the most calming scent?
As per studies and research, lavender essential oil is known to carry the most calming, soothing, and healing scent among all essential oils. It not only relaxes your mind and body but also promotes sleep, fights insomnia, releases tension, and tackles anxiety and stress like a PRO.