Coconut oil massage for a baby? Are you kidding me? These are the lines a new mother might say to everyone. But, what if we tell you that coconut oil massage for a baby is a blessing? Yes, it actually is. Coconut oil benefits for baby massage are overwhelming and they show the results like anything. So, without any further ado, let's look at some amazing benefits of coconut oil massage for babies.
Newborns are among the most gentle, sympathetic, and soft life forms, and newly-born body massages assist them in developing bone strength and great blood flow in their early childhood. We Indians almost possess a regimen for newborn baby food habits, sleeping patterns, and massage time. Choosing the appropriate body oil for your baby might be one of the most complicated jobs you will confront as a mother.
Particularly with the amazing array of baby relaxation items available on the e-commerce sites and market, such as natural oils, coconut oil, massage oil, and so on. Expectant parents have always been uncertain regarding what is preferable for their newborn munchkin. A few parents prefer experimenting with it and trusting new-generation product lines, whereas others rely entirely on conventional products due to the confidence instilled within them by their parents or guardians.
The ones who believe in the traditional way of baby massage stick to coconut oil for baby massage. And, to be honest they could also view the astounding benefits of coconut oil massage for babies.
Why Is Coconut Oil Best For Baby Massage?
You may like this also:
Even after getting all the attention from certain doctors and dadi maa about coconut oil for baby massage, moms are never sure when it comes to their babies. But, let us tell you that coconut oil massage for babies is actually a relaxing therapy. Pure and organic coconut oil is known to nourish the soft and delicate skin of your baby. As you know a baby's skin is susceptible and delicate. It can react to any product whatsoever. But, thanks to pure coconut oil from Moksha Lifestyle now your baby's skin is safe. Pure coconut oil is said to be an amazing ingredient for your baby's soft skin. Packed with loads of antioxidants and Vitamin E, it nourishes the skin and makes it soft and supple.
Coconut oil has been shown to possess multiple therapeutic and soothing properties for the body. It boasts the capacity to repair, replenish, and moisturize the skin in addition to being quickly absorbing. It is a multi-functional oil that can be utilized to calm and comfort the body in the colder months as well as in summer. Due to this, it is suitable for baby massage treatments throughout the entire year.
Benefits Of Coconut Oil Massage For Baby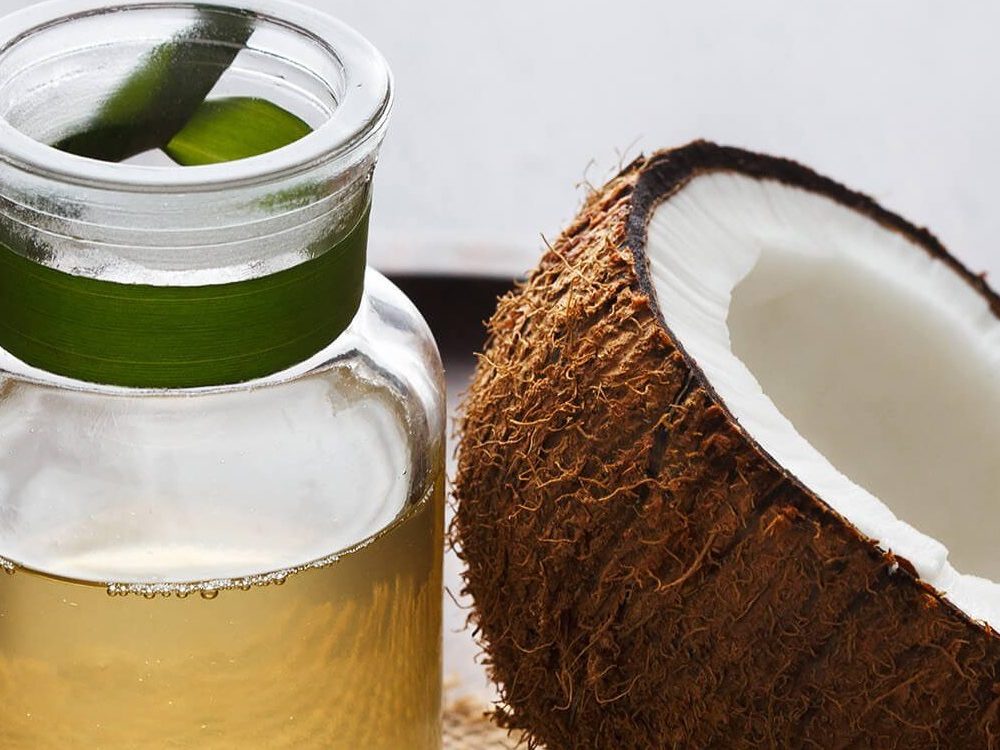 Say Goodbye To Diaper Rashes
A mother-to-be is always worried about the prolonged usage of diapers and the rashes that come along. Pampers has now become the accepted norm for young moms. Nappy irritations affect newborns frequently in their initial years. But, there's no way mothers should worry about rashes because coconut oil keeps an eye on them. In such situations, coconut oil can really be extremely beneficial because it reduces the rashes, suffering, and severity of skin irritation. Coconut oil acts as a guard for your baby's skin. It nurtures the delicate poop area and keeps rashes at bay.
Pesky insects will also hunt for delicate skin. Your infant cannot defend himself against the troublesome organisms who arrive in search of a dessert. Chigger bites might be quite painful, as well as the skin might indeed turn red. Pure coconut oil in this case can be very beneficial. One can apply coconut oil directly or by mixing it with just a drop of essential oil to get relief. Coconut oil can be applied to infected mosquito bites to provide relaxation, and the newborn baby will profit from its anti-fungal and anti-inflammatory, and antiseptic properties.
Skin irritation might take over your baby's skin forever. There are times when itchy skin leads to intense redness, flakiness, and dry patches. For such times, save pure coconut oil for your little one! Baby eczema is a serious problem if not treated well. Once the body itchiness is increased and not treated it converts into eczema which might lead to suffering and pain.
Coconut oil massage for babies helps in this scenario. It keeps the skin well-hydrated and moisturized.
Lice are very common in a newborn babies. Infants catch lice faster than anyone else. So, to protect your baby from this, make sure to apply coconut oil. You can also apply coconut oil mixed with camphor if your baby is not allergic to the smell. Coconut oil prevents the appearance of upcoming lice and keeps the hair clean and nourished.
Babies are fond of therapeutic massages. They love when their loved ones peek into their delicate body and give them a quick massage. Coconut oil massage for babies helps like a charm in this case. It relaxes your baby and gives him a sense of calmness and a soothing atmosphere.
To everyone's surprise (not much), coconut oil massage for babies also helps them to sleep peacefully. So, enroll the therapeutic massaging technique in your baby's schedule.
For babies, you don't need to purchase 100 different products. Just get your hands on Pure coconut oil in India from Moksha Lifestyle and you are sorted. Coconut oil acts as a perfect massage oil, body lotion, body butter, and whatnot for your baby. It is ideal to use in summer as well as winter. A quick coconut oil baby massage is like a therapy that solves all your skincare issues.
Takeaway
You may like this also:
Coconut oil has built its supremacy in the life of a newborn baby. Now it's your turn as a parent to choose the best coconut oil in India. We always recommend people look for certifications and authenticity of the carrier oils and essential oils in India. When it comes to your baby, we suggest buying high-quality oils from Moksha Lifestyle. Moksha Lifestyle is dedicated to serving you top-notch quality products without any hindrance. So, grab yours now from mokshalifestyle.com