Everyone these days is crazy about using the best essential oils for the scalp. Not only do they talk about it but they are also aware of the Exclusive benefits that it provides. But if you are a regular follower of organic beauty, you might know that carrier oils also play a very important role. Yes, you heard it right. Carrier Oils like jojoba oil for the scalp are the ones that you should include in your daily Hair Care routine. Are you wondering if jojoba oil for the scalp works or not? Well, the potent carrier oil is packed with sound benefits for your hair. Jojoba oil for dry scalp is used for its mind-blowing benefits. It not only nurtures your dry hair but also keeps it moisturized and soft. Are you wondering how? Today's blog is all about this. Will talk majorly about using jojoba oil for the scalp and its effectiveness in the long run. Apart from this the blog also covers the major benefits of using jojoba oil for hair.
You may also like:
If you are someone who sticks to an effortless Hair Care routine that offers glorious benefits then jojoba oil should be in one of your steps. Jojoba oil serves as a natural conditioning treatment for your scalp and hair. Combining jojoba oil with essential oils for itchy scalp works well. Like many other natural oils that include olive oil, castor oil, or coconut oil, jojoba oil outshines it ideally and restores the natural texture of your hair. It not only hydrates dry hair ends but also nurtures your scalp for improved hair growth. Let's dive deep into the benefits of using jojoba oil for the scalp.
Is Jojoba Oil Good For Scalp?
Jojoba oil comes from the seeds of the jojoba plant and is typically a wax-like Easter which is then processed in the form of an oil. Jojoba oil serves as an excellent carrier oil and is a widely recognized treatment to treat dry scalp itchiness brittle hair and hair fall.
Using jojoba oil for the scalp is a tricky part as not everyone gets it right. If you have to use jojoba oil for a dry scalp make sure to combine it with an Essential Oil. Jojoba oil for it is scalp and Jo Yuva oil for scalp psoriasis is an effective remedy that tackles the itchiness on your scalp and combats dandruff and flakiness. Jojoba oil is truly effective for the scalp as it is loaded with antioxidant and anti-inflammatory properties. It also balances the pH level of your scalp and makes it favorable for the upcoming weather conditions. Also, how can we overlook that jojoba oil is non-comedogenic? It simply does not clog your pores at any cost and is best suited for all hair types.
Benefits Of Jojoba Oil For Scalp
After knowing the effectiveness of jojoba oil for an itchy scalp, here are some of the benefits that you must know. Jojoba oil for scalp benefits unruly the best ones and provides maximum advantages. So let's have a look.
1. Jojoba Oil For Dandruff
Are you suffering from dandruff flakiness and itchy scalp all the time? Well, jojoba oil is the only one that works. Jojoba oil is a rich source of anti-microbial and aunty fungal properties which helps to tackle the major symptoms of dandruff studies and doctors have revealed that using jojoba oil for dandruff in combination with other essential oils brings in astounding results.
2. Jojoba Oil For Scalp Psoriasis
Psoriasis is not only evident on the skin but it also damages your scalp. But not anymore. With the best jojoba oil for the scalp, you can be assured of its effectiveness in the long run. Jojoba oil is loaded with anti-inflammatory qualities along with major anti-microbial properties which treat scalp Psoriasis pretty well. It also reduces inflammation and is widely used in the Hair Care industry for its conditioning benefits. So including it in your regular Hair Care routine is one of the best decisions that you can make for your tresses.
3. Jojoba Oil For Frizzy Hair
Frizzy hair and flyaways! Who are they? You will have questions like this once you start using jojoba oil for dry scalp in your routine. Frizzy hair appears due to various reasons and so are the flyways. Thankfully with jojoba oil for the scalp, you can take a sigh of relief. Jojoba Oil creates a barrier around your hair follicles and locks in the moisture content to prevent frizzy hair. It also tames flyaways and nurtures your scalp internally.
4. Jojoba Oil For Hair Fall And Breakage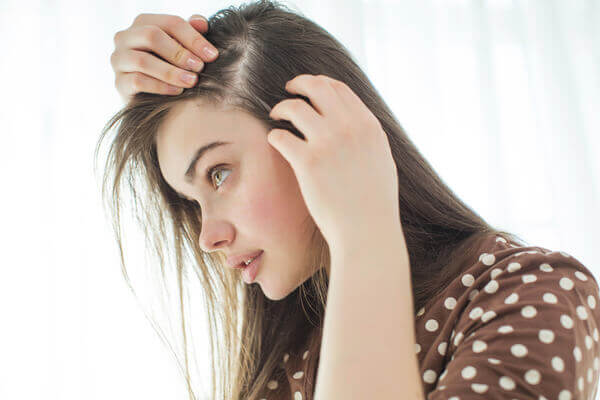 Say goodbye to uncertain hair breakage and hair fall with the best jojoba oil for hair. Jojoba oil significantly reduces the frequency of hair breakage and thereby tackles hair fall. It provides a boost of hydration and power to your hair strands which helps to protect it from breakage. So you can simply use jojoba oil deep conditioning treatment to nourish your hair and reduce hair fall.
5. Jojoba Oil For Hair Conditioning
How about soft bouncy and shiny hair which are manageable and does not show signs of frizziness and dryness? This is possible only after you start using jojoba oil for hair conditioning. Jojoba oil is rich in vitamins like Vitamin B complex along with essential fatty acids including oleic acid. Along with this jojoba oil is also rich in palmitic acid, behenic acid, and gadoleic acid. All of these fatty acids together serve as emollients for your hair and condition it like a dream. It creates a protective barrier around your scalp and works as an ideal conditioning treatment to soften dry hair stands.
6. Jojoba Oil For Dry Scalp
Bed farewell to the itchiness and flakiness that arrives from a dry scalp. A dry scalp usually reveals its presence because of a lack of natural sebum. This makes it highly prone to inflammation, scalp irritation, and infections like yeast and fungal infections. Jojoba oil as you know mimics the natural sebum of our skin and is a perfect treatment for your scalp. It has moisturizing properties which deeply since in your scalp and serves as a natural hydrating agent.
You may also like:
Takeaway
Jojoba oil is a natural way to condition your hair and scalp without going all fancy. But using it with the best essential oils for itchy scalp gives prominent results. At Moksha Lifestyles, we serve 100% pure jojoba oil for dry scalp along with the best essential oils for dandruff and scalp so that you can benefit from the best-selling combos in the long run.