Dealing with dark patches on your skin may be pigmentation( melasma) caused by sun damage. Looking for a natural, safe solution to fade pigmentation and sun spots without having to use harsh chemicals. Consider using rosehip oil for hyperpigmentation, as it is the perfect solution for any kind of dark spots caused by sun exposure which can make your skin dull and uneven. Fruits from rose bushes are called rosehips. Rosehip seed oil, a powerful skincare product packed with nutrients, is created by pressing the seeds of these plants which have skin-nourishing vitamins and essential fatty acids contributing to healthy and nourished skin. Therefore, to talk more about how rosehip is one of the best oils for treating hyperpigmentation, to how including it in your everyday regimen can protect and nourish your skin.
Let's get to know more about this plant-based oil and how beneficial it can be for your skin health.
Why Consider Using Rosehip Seed Oil For Pigmentation?
Rosehip seed oil is made by cold-pressing the seeds of the Rosa canina plant, which is renowned for its restorative and anti-aging qualities. A rise in melanin production brought on by skin damage, hormone changes, or sun exposure can make some regions of the skin darker, giving them an uneven, blotchy appearance. According to history, it has a wealth of vitamins, antioxidants, and vital fatty acids that are great for your skin. Vitamin A is one of them, and it is made up of nutrients including retinoids, lycopene, and beta-carotene. Retinoids have been shown in numerous studies to be effective at reducing hyperpigmentation and other overt signs of aging with continued use. A wonderful elixir for skin that is prone to hyperpigmentation, dullness, and uneven skin tone is this naturally occurring, quickly absorbing oil which makes it the best possible for every skin care regimen.
You may also like:
So, indeed, rosehip oil has a plethora of benefits for healthy skin. More about that is provided in our next section.
Amazing Benefits Of Using Rosehip Oil For Hyperpigmentation
The rosehip seed oil has a long history of benefiting skin health due to its nutritional content and properties making it a great source of nourishment for the skin. For, treating hyperpigmentation rosehip seed oil has a lot to offer, let's understand it through its amazing benefits contributing to hyperpigmentation-prone skin.
● Defends Against Sun Damage
Rosehip seed oil is rich in antioxidants and phytochemicals that can scavenge free radicals created by exposure to sunlight. These unstable chemicals have the potential to harm healthy cells and speed up cellular aging. To avoid photodamage, rosehip oil can be extremely beneficial. Because it contains a lot of Vitamin E and fatty acids, organic rosehip seed oil is the best option for UV protection. Additionally, because it contains Vitamin C, it moisturizes and nourishes your skin. Therefore, we can say considering rosehip oil for hyperpigmentation can be a great choice.
● Promotes The Production Of Collagen
The foundation of moisturized, healthy skin is collagen, yet it is easily lost owing to daily stress and pollution. But this is where rosehip oil can assist; rich in vitamins C and A, it encourages the production of collagen, which eliminates old, dead skin cells and promotes the development of moisturized, smooth skin. It works wonders to get rid of dark spots, wrinkles, and fine lines naturally. Additionally, it includes lycopene, which helps to heal dark spots and has skin-rejuvenating qualities.
● Minimizes Inflammation
Along with its high vitamin E content, rosehip seed oil also possesses anti-bacterial and antifungal qualities that aid in calming irritated, sensitive, and sun-damaged skin. The antioxidants and Vitamin E in rosehip oil can assist to improve skin barriers by clogging pores and hydrating and nourishing them if you have any kind of fungal infection or irritation. The antibacterial and moisturizing properties of rosehip oil protect the skin from infections while also keeping it hydrated and well-nourished.
● Skin Tone Correction
By removing extra oil from the pores, vitamin C contributes to the radiant shine on your face. Rosehip seed oils are well known for providing even skin tone and for having vital triglycerides and antioxidant effects that reduce hyperpigmentation.
● Moisturizes And Nourish The Skin
Essential fatty acids like linoleic and linolenic acid, which are abundant in rosehip seed oil, aid in reducing moisture loss by establishing a barrier over the skin. Its vitamin E and other necessary elements offer your skin an even tone and a beautiful glow. Because it absorbs quickly, this oil contributes to smoother skin by hydrating and moisturizing your skin while keeping water locked inside.
Knowing these amazing benefits, we know how much you are thinking of trying the rosehip oil for hyperpigmentation and getting spotless and healthy skin, which has been dampened by sun exposure, acne scars, or wounds. So, you can consider trying the DIY recipes we have mentioned below using pure rosehip seed oil.
DIYs Recipes Using The Rosehip Seed Oil For Hyperpigmentation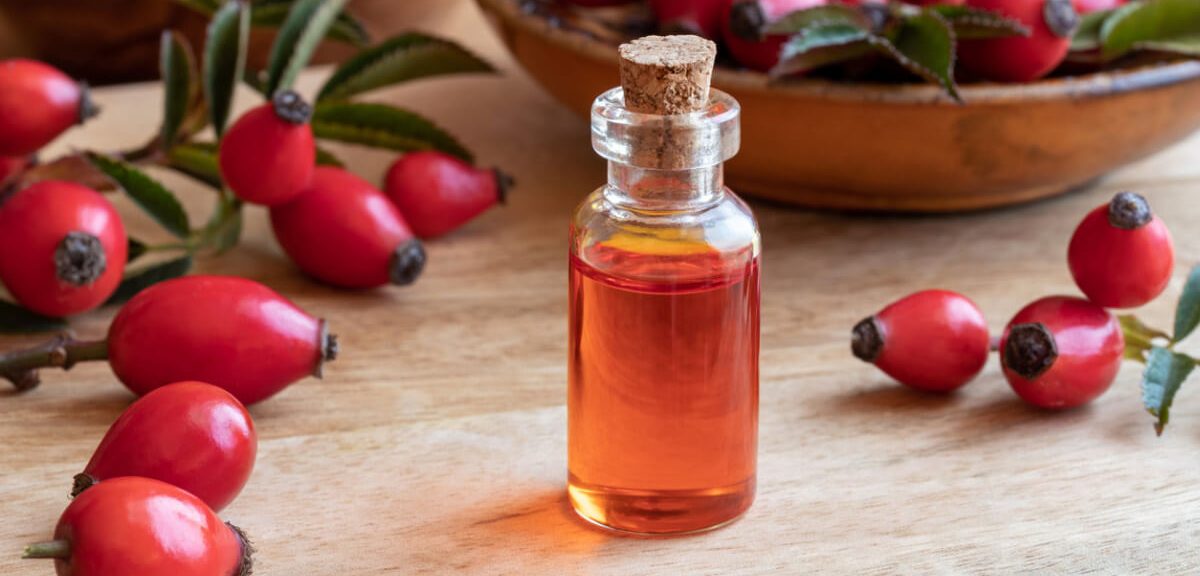 Rosehip seed oil is among those oils, which is a must-have in your daily skincare routine. As, its skin-nourishing vitamins work wonders for your skin health by locking in moisture giving you smoother-looking, plump and spotless skin.
How to use rosehip seed Oil– You can take 2-3 drops of oil in the palm of your hand, 2-3 drops should be sufficient for your uneven skin tone area. Then gently pat the oil with the tips of your fingers over your face and neck and massage in an upward motion. That means, you can directly apply on the affected or hyperpigmentation-prone skin, but ensuring a patch test before usage is a must.
For extra moisturizing and nourishment, you can try and include it for giving a healthy treat to your skin, as it works wonders. Try it today and let us know how you felt.
Recipe 1: Moisturizing Cream
Recipe 2: Nourishing Serum
Directions:
Apply a few drops of this spot therapy overnight DIY recipe, paying particular attention to pigmented or acne-scarred areas.
Ensure that you apply before washing your wash with plant-based face wash, for better results.
Things To Keep In Mind Before Using Rosehip Oil For Skin
1. To change the flavor and color of rosehip oil, they are refined and processed in a variety of ways. As a result, be sure to choose cold-pressed rosehip oil for all of your skincare requirements. Rich orange/red, pure rosehip oil has a light woodsy scent. It is completely pure, undiluted, and heat-free extracted to preserve all of its natural ingredients.
2. Look for only USDA-CERTIFIED Oils, they are tested and are available with the finest raw material available in the market.
3. Though Rosehip seed oil is safe for every skin type, ensure that you perform a patch test before using it to avoid any allergic reactions.
Takeaways
Rose seed oil is one of the best oils for treating hyperpigmentation, dark spots, and uneven skin tone. It is known for its amazing skin-healing properties, which makes it popularly used in skincare and beauty products. You should definitely, consider rosehip oil for hyperpigmentation and get your skin protected from unwanted UV rays, pollution, and stress which can be a reason for the dullness of the skin. Vitamins A, and C and valuable nutrients and properties included in pure rosehip seed oil help to balance out skin tone and encourage cell renewal for a more radiant, brighter appearance.
You may like this also:
It is a facial oil that you absolutely must have in your collection given its enormous aesthetic benefits. Enjoy the advantages of this gift from nature to humankind and re-establish a connection with it for beautiful, young-looking skin.
FAQs
1. Which skin types respond well to rosehip seed oil?
Rosehip oil works best on skin types that are normal, mixed, or oily. Though, perform a skin test before applying directly on your skin. If irritation occurs, discontinue using the oil immediately.
2. Will the rosehip seed oil clog my pores?
The comedogenicity of the rosehip seed oil is 1. Pore blockage is therefore unlikely depending on your skin type. If you are pregnant or breastfeeding or have any skin allergies, we recommend you consult your doctor before usage.
3. Which is the best brand to avail of the best quality Rosehip Seed Oil?
We recommend going for Moksha Lifestyle. To ensure that only premium-grade carrier oils are delivered to customers, Moksha's carrier oils are put through several quality checks and testing in our lab using GC and GCMS to meet customer standards and needs. As well as eco-friendly packaging materials and the greatest quality practices to ensure that our products are delivered securely.
You can visit their online store at https://shop.mokshalifestyle.com/ or follow us on Instagram at @mokshalifestyle for daily updates.