Raw butter for the skin is considered to be very beneficial as it deeply moisturizes and has commendable benefits. Talking about one of the most prominent butters these days shea butter has gained immense popularity in recent years. You might have heard of shea butter before but today will discuss everything related to using shea butter as a shaving cream. Are you surprised to know about the usage of shea butter as a shaving cream? Well, it's true and several people include it in their routine for effortless shaving. So are you decked up to consider all the major qualities of shea butter?
Shea butter is a natural treasure from Mother Nature that not only nurtures your skin but has amazing benefits to tackle different skin concerns. Let us discuss the usage of Shea butter for shaving.
You may also like:
Shea butter is a great ingredient to use for the body. Apart from moisturizing your skin intensely it also keeps it soft and supple the antioxidant-rich shea butter glides on your skin like a dream and provides a silky soft touch. Shea butter is primarily extracted from the nuts of Shea trees using various methods. The unprocessed shea butter is in its purest form and has multiple benefits that help to reduce the friction in your skin. Using shea butter also keeps inflammation at bay and brings smooth skin in just one go.
Is Shea Butter Good For Shaving?
We know you might be wondering about the benefits of shea butter and if it is good for shaving or not well the raw and unprocessed butter glides very smoothly on your skin and is an ideal choice for shaving. The rich and luxurious butter helps to reduce irritation post-shaving and also tackles redness on your skin. If you are also looking for an all-in-one moisturizing treatment for your skin after shaving then this is it. Shea butter for after shaving is also utilized by many people because offers hydrating qualities once your skin is shaved it is prone to inflammation and lack of hydration and water contains thankfully not anymore which shea butter for shaving you do not have to worry about the after-effects of shave. Just apply a thin court of Shia butter on your skin before shaving and you are sorted.
Benefits Of Shea Butter For Shaving
1. Shea Butter For Smooth Skin
For the smoothest and softest skin after shaving you need shea butter in your shaving routine. It has anti-inflammatory, calming, and soothing qualities which together help to reduce skin issues to a great extent. It not only reduces redness post-shaving but also soothes your skin and reduces the chances of swelling bumps and ingrown hair. So use it for smooth and soft skin after shaving and to reduce the chances of razor cuts and burns.
2. Shea Butter For Hydrated Skin
Do you want soft and moisturized skin especially when you shave your body and experience extreme dryness? Well, this is the perfect time to include Shea butter in your routine shea butter is loaded with essential vitamins and nutrients along with potent fatty acids that help to moisturize your skin intensely. Not only this but Shia butter is rich in exotic oils which instantly sinks into your skin and creates a smooth and flawless barrier. You can escape from dehydrated skin in just one go after using shea butter for shaving. Also, you can try the best shea butter for shaving cream.
3. Shea Butter Prevents Ingrown Hair
Struggling with ingrown hair that looks disgusting and is very evident post-shaving? Well, it's time to rely on the properties of Shea butter as it helps to reduce in-grown hair by smoothening and softening the surface of your skin. Using shea butter post-shaving reduces the chances of ingrown hair and also rejuvenates your hair follicles. So once you apply shea butter before shaving or post-shaving, it instantly helps in easier hair growth which is usually trapped inside your skin.
4. Shea Butter Rejuvenates Your Skin
Rejuvenate your dull and dehydrated skin post-shaving with the best shea butter for shaving cream while you might not know it is important to clarify that shea butter has major rejuvenating and regenerative qualities the presence of potent antioxidants along with vitamins and essential fatty acids serves as a perfect moisturizer for your skin all these nutrients and goodness in Shea butter together helps to regenerate the old skin cells and glorify the new ones not only this part it also protects your skin from razor cuts and inflammation.
Is Shea Butter Good For After Shaving?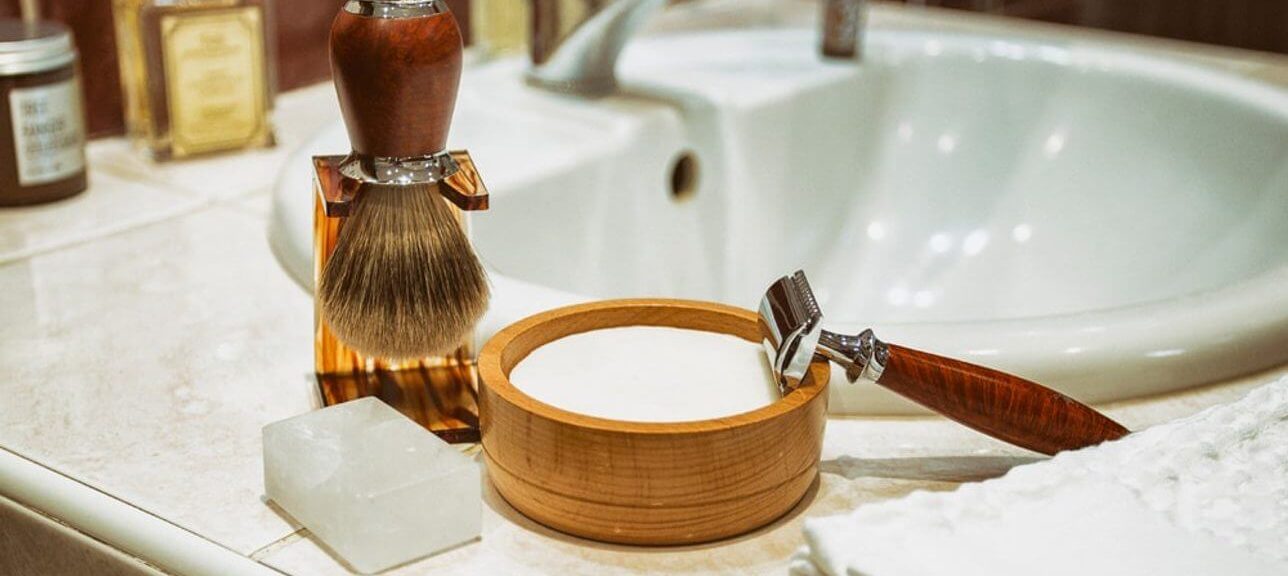 Earlier we discussed the uses of shea butter for shaving and using it pre-application for the smoothest glide ever. But now is the time to discover if shea butter is good for after shaving or not. Well to be precise it is a great one to use after shaving. Once you shave your skin it becomes prone to inflammation, irritation, and redness. So it is very important to moisturize it then and there to prevent ingrown hair and itchy skin. With the best shea butter for shaving you can prevent all these issues and instantly attract hydrated and moisturized skin.
You may also like:
Takeaway
We are nearing the end of the discussion about using shea butter as a shaving cream. As experts, we always ask you to do a patch test to avoid any skin irritation. So likewise it is very important to first check if shea butter suits your skin or not. Using it directly might not be a great idea. So, we recommend you make a shaving cream with shea butter and other essential oils for the best shave of your life and to avoid post-shaving concerns.