When we talk about Shea butter for men there are no such exclusive benefits that women do not get. Skin care is pretty much the same for men and women and that's why today will present some amazing benefits of using shea butter for men. Using raw shea butter for men comes with excellent benefits as it enhances a radiant and healthy glow. It not only moisturizes the skin but also promotes softness. The subtle glow that shea butter for men provides is truly commendable. Shea Butter is primarily extracted from the nuts of the Shea tree and comes as a very beneficial ingredient in the Skin Care industry particularly when we talk about shea butter for men it has some prominent benefits using shea butter lotion for men keeps their skin hydrated and soft all day long not only this but shea butter wash for men is also used before shaving for an effortless shave.
You may also like:
Apart from using shea butter for shaving, shea butter lotion for men's oily skin is also utilized in several ways, especially in the upcoming winter season. It works wonders for glowing skin and softens dry areas. Also, how can we forget that Shea butter is non-comedogenic which is why it is meant for all skin types? People who have dry skin and those who bear sensitive skin can include shea butter in their skin care regimen. This fat is extracted from Shea nuts and is native to the regions of East and West Africa. Organic shea butter for men is a secret ingredient in several skin care products typically designed for men. It is because Shea butter is a super ingredient that not only comes in handy with razor bumps but also tackles a lot of skin conditions and moisturizes the skin well.
Is Shea Butter Beneficial For Men?
Well, today will present some amazing benefits of using shea butter for men in many ways:
1. Shea Butter Moisturizes The Skin
Shea butter is loaded with essential fatty acids along with vitamins and nutrients that deeply moisturize your skin and build the jazz to keep up with dryness and patchiness. Shea butter is a natural moisturizer and hydrated which reduces dryness itchiness and crank skin. Also, shea butter is 100% natural and rich in essential nutrients and vitamins which acts as a perfect fuss-free treatment for men's skincare. Utilizing raw shea butter for men not only hydrates your skin but also works as an ideal treatment for beard growth and other men-related issues.
2. Shea Butter For Shaving
How can we overlook the benefits of shea butter for men's skincare as it truly works for shaving? Using raw shea butter for aftershave is a treatment that many people are not aware of but here is a reality check even though men are typically not interested in skincare and beauty routines it is very important to take care of their skin, especially after shave. Shea butter for shaving not only moisturizes the skin but also keeps cuts, itchiness, and burn at bay. It also heals your skin from the harsh effects of shaving and brings softness and keeps it smooth.
3. Shea Butter Heals Skin Conditions
Are you suffering from several skin conditions like acne pimples dryness flaky skin and bad skin health? If that is your concern then make sure to include Shea butter for men in your skincare routine. Shea butter lotion for men is meant to hydrate the skin intensely and seal in all the moisture as it is loaded with healthy fatty acids and vitamins. Using shea butter body lotion for men works as a natural humectant along with the major emollient properties. All these qualities of Shea butter moisturize the skin deeply and reduce the chances of after-shave cuts, burns, and wounds.
4. Shea Butter Is A Natural And Effective Remedy
Natural remedies for dry skin in men are very popular and definitely, the best ones as they are free from chemicals and toxins. Talking about Shea butter specifically it is a great ingredient, especially for men who suffer from dryness. Shea butter is rich in fatty acids like oleic and linoleic acids which help to heal the skin and serve as a natural remedy along with its regenerative qualities. These properties of shea butter for men make it a perfect option to reduce active acne and treat several skin conditions like aging, cuts, burns, and other injuries.
You may also like:
Treat Toenail Fungus With Essential Oils
How To Use Shea Butter For Men?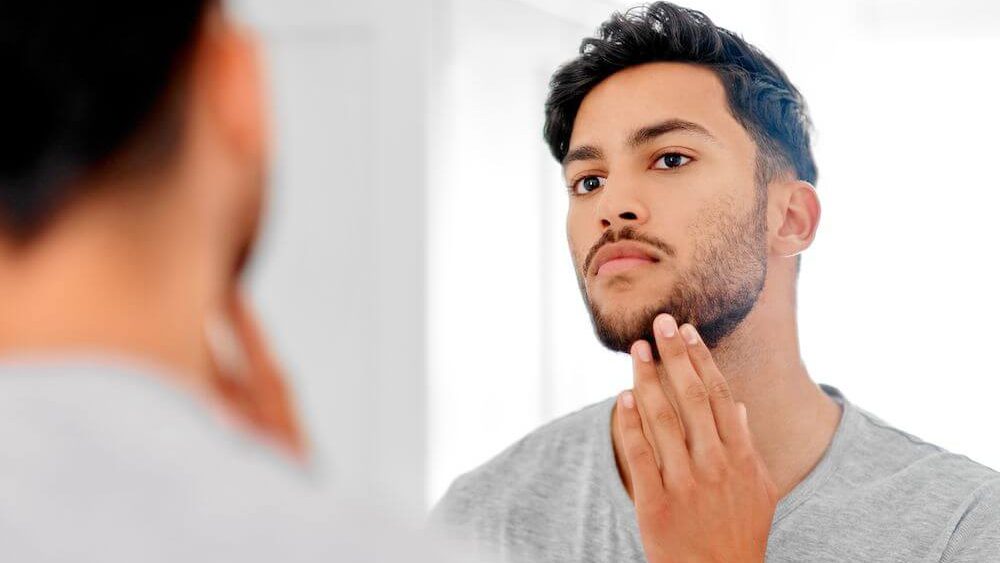 If you are still concerned about the usage of RAW Shea butter for men's skin care then here is everything you need to know.
Include organic shea butter for men in your routine especially after you clean your skin and tone it. Take a pea-sized amount of shea butter and rub it between your fingers, apply it generously on your face in a tap-tap motion, and leave it on overnight. Now wash it off the next morning with cold water.
Another way to include shea butter for men in routine is by using it after shaving. Once you shave your entire face apply a small amount of shea butter on the face and let the skin absorb its goodness. Shea butter is rich in essential fatty acids along with vitamins and nutrients that not only reduce the chances of after-shave cuts but also moisturize the skin after shaving.
Takeaway
Using shea butter for men has amazing benefits and truly does wonders for the skin. One should always consider one skin type before going all out with natural remedies for skin. Shea butter is very thick and heavy in consistency and that's why it is essential to utilize it in the winter season rather than in humid or hot climates.