The primary signs of aging on the skin appear when you notice dark circles or wrinkles around your face. Yes, you heard it right. Your facial skin often tends to develop saggy skin, wrinkles, and under-eye bags. To be precise the under-eye area of your facial skin is very delicate and thin. It easily gets wrinkles and sagginess which typically disrupts your overall skin health. So, to keep all the skin concerns at bay, especially under eye bags here's a simple and very effective remedy. It is none other than shea butter for under eyes. Yes, that's true. Shea butter for under-eye and wrinkles is widely used because of its commendable properties.
You may also like:
Well on the same page, we cannot ignore the fact that Lifestyle factors, diet, and age also matter in this case. You should not blindly trust natural remedies for serious concerns like under-eye bags especially when you are aging. Make sure to keep an eye on the factors along with using effective remedies for under-eye bags like shea butter.
Did you know that shea butter has amazing benefits for under eyes? It helps to treat a variety of skin conditions be it rashes, Eczema, psoriasis, itchiness, and inflammation. Well, not only this but the high content of fatty acids in Shea butter helps to reduce the appearance of stretch marks. Shea butter is also used to treat acne and acne scars. Shea Butter for Acne scars is a widely accepted remedy that is used in combination with potent essential oils for pimples.
What Is Shea Butter?
A fat-like substance that is packed with fatty acids and vitamins is shea butter which feels luxurious and buttery on the skin. Shea butter is extracted from the nuts of the shea tree and is used in the treatment of various skin care concerns. As mentioned above Shea butter has a rich texture which tackles skin problems like acne scars burns rashes etc. As a beauty ingredient shea butter also helps to lock the moisture content in your skin and keeps it hydrated and moisturized all day long. It tackles dryness on your facial skin and leaves no chance of patchiness.
Even though Shea butter is used in other forms as well, the best way to include it in your routine is by applying it directly or combining it with a carrier oil. But using shea butter for under-eye care is the best thing that you can do to your skin. The unrefined raw shea butter for under the eyes keeps the area firm and hydrated. So here's presenting the well-known benefits of Shea butter for under eyes.
Benefits Of Shea Butter For Under Eyes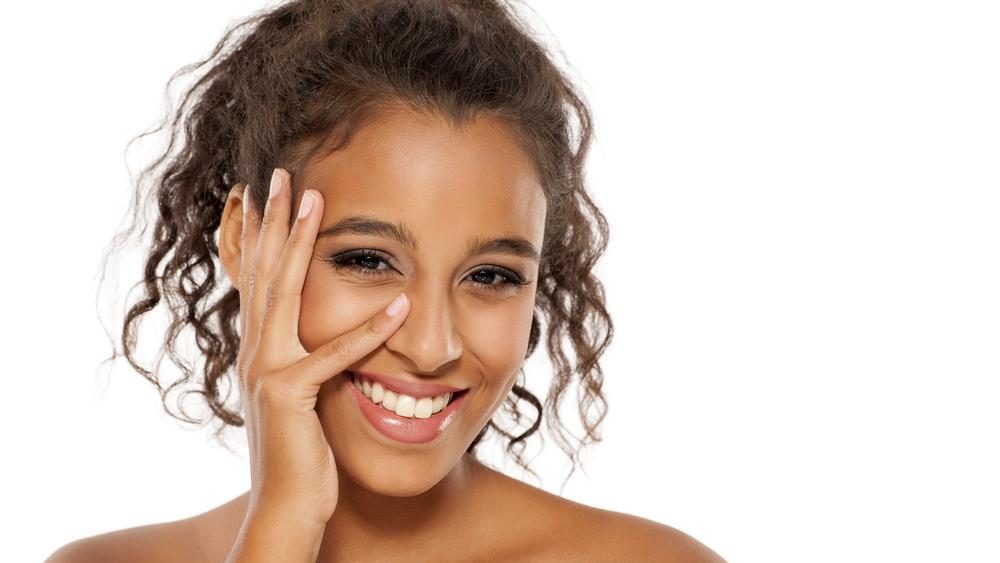 Shea butter helps to enhance the texture of your under-eye area and smoothens it. Well, that is true. The texture around your under-eye area becomes dry and patchy when it is not moisturized properly. Thankfully we have unrefined raw shea butter at Moksha Lifestyles which not only enhances the texture but also moisturizes the area so that it doesn't feel dry at all. Using African Shea butter under the eyes helps as it is pure and free from toxins and chemicals. There are no additives in raw Shea butter for under eyes.
Shea butter has antioxidant properties. The luxurious and rich butter is loaded with antioxidants that include Vitamin E and Vitamin A. Both the major antioxidants help to tackle the free radical damage that might harm your under-eye area. Not only this but the antioxidant properties also help to tackle the signs of aging.
So, if you see wrinkles, saggy skin, or fine lines under your eyes for some reason make sure to incorporate Shea butter in your routine. Shea butter for under eyes reverses the signs of aging and brings in results that might truly blow your mind.
Are you wondering about the effectiveness of African Shea butter for under eye area? Well here's everything you need to know. The unrefined raw shea butter for under the eyes has anti-inflammatory properties. Well, that's true. The anti-inflammatory qualities of raw shea butter eliminate the dark circles under your eyes. It not only reduces its appearance but also makes the area look visibly brightened and even-toned.
Using raw shea butter under your eyes also keeps puffiness at bay and makes you look youthful over time. However, the results are visible only if you use pure and unrefined Shea butter for under eyes regularly in your routine in combination with other ingredients. Also, remember to make several lifestyle changes to keep up with the natural ingredients that you are using for benefits.
Dryness is one of the major reasons why our under-eye area looks extremely saggy and becomes dark. The dry skin is prone to dullness which further leads to dark spots and under-eye circles over some time. However, reducing them does not take much time. You only need pure and RAW shea butter for under eyes in your routine and you are done. Yes, you heard it right. Shea butter has a minimal amount of allontoin in it. The presence of this ingredient helps to promote collagen production in your skin and also keeps a tight and smooth. Not only this but using shea butter under eyes diligently leaves no dryness and makes your skin firm and even-toned.
You may also like:
Takeaway
Shea butter is a versatile ingredient that you can add to your skincare routine for mind-blowing benefits for your skin. Not only does it help to disappear several skin care concerns but it also brings in a lot of change be it bright skin, spotless skin, or a youthful glow. That's why it is important to include natural remedies for glowing skin in your routine which not only tackle under-eye issues but also collectively solve all your skincare concerns. Shea butter is one of them and you can find it in its purest form at Moksha Lifestyles.