Your little one requires standard care almost all the time once it comes out from the huge belly. Yes, we are talking about your baby who might experience various skin concerns. One of the prominent ones is diaper rash. Diaper rashes are very common these days especially among the GenZ generation because they rely on diapers for their baby. While there is nothing wrong with using diapers for babies it is important to know that regular usage of diaper male lead to diaper rashes. If your baby is experiencing itchiness, redness, and burning sensation around their genitals then there are high chances that they are suffering from diaper rash. Diaper rashes may also lead to constant inflammation which in rare cases brings in blood. Of course, no mother wants this and that's why we have a natural alternative for high-end rash creams which are loaded with toxic ingredients. Shea Butter it is. Using shea butter for diaper rash is one of the best things that you can do for your baby. 
Today we will discuss the benefits of using shea butter for diaper rash along with the best way to include it in your little one's routine. Shea butter is undoubtedly one of the best healing agents for adults and kids. Whether you are suffering from severe skin issues or any other Hair Care problem shea butter is here to the rescue.
You may also like:
Shea butter is primarily derived from the nuts of the Shea tree and comes out as a fatty substance. This high-quality fat is rich in antioxidants and vitamins like vitamin A and Vitamin E. Along with this, it is also rich in essential fatty acids including linoleic, oleic, and cinnamic acid. All these rich components of Shea butter add to the properties and help to prevent diaper rash to a great extent on another note shea butter also contains anti-inflammatory qualities which tackle the inflammation and redness around the bum area. Next time you see rashes on your baby's genitals and want to eliminate them ASAP then make sure to try shea butter as a diaper rash cream.
Is Shea Butter Good For Diaper Rash?
We know you might be wondering if shea butter is good for diaper rash or not. Well, rich and luxurious butter can be applied on the skin directly when needed it serves as a great moisturizer and hydrates the skin well. It instantly soothes irritated skin and rashes on your baby's bum. Using it regularly around your baby's genital serves as a perfect home remedy for diaper rash. Shea butter is loaded with antibacterial anti-inflammatory and anti-microbial properties which accompany the elimination of diaper rash and also bids farewell to bacterial infection. Using African Shea butter for diaper rash redness.
Also, you can make a diaper rash cream using shea butter at your home for added benefits. However, make sure to do a patch test and see if shea butter suits your baby or not.
Benefits Of Shea Butter For Diaper Rash
Now that we know about the effectiveness of Shea butter for diaper rash it is important to gather some information regarding the benefits of shea butter. Let's check them out.
1. Highly Moisturizing
By now you might already know that shea butter is highly moisturizing. It is considered a natural emollient along with an incredible hydrator for your skin. It helps to protect your little one's skin well and also prevents infections. Babies are born with delicate skin which is prone to dryness, especially in the winter season. But you do not have to worry about it anymore. With African shea butter for babies, you can use it to cure irritation and dryness. It is loaded with saturated fatty acids, vitamins nutrients, and essential fatty acids that not only maintain the natural barrier of baby's skin but also hydrate it pretty well.
2. Promotes Healthy Skin
How about the healthy and glowing skin that you desire for your babies? Shea butter is a rich source of Vitamins like vitamin A and E which helps to enhance glowing and healthy skin. As per studies, Vitamin A is capable of enhancing the elasticity of your skin and also improves the texture. On the other hand, Vitamin E is widely recognized because of its antioxidant qualities that also prevent damage from free radicals. The presence of essential fatty acids in shea butter helps to seal in the moisture content and also shields the outer layer of your baby's skin. If your baby has got a severe diaper rash you simply have to rub Shea butter between your palms and apply it around your baby's genitals.
3. Treats Eczema In Babies
Eczema in babies is very common these days. Since newborns are born with delicate and sensitive skin and hence they develop Eczema in the early stage of their life. The flakiness and dryness result in infant Eczema which might lead to rashes and redness all around the body. Thankfully research has revealed that shea butter is the only natural remedy that seems to work for baby Eczema. Shea butter helps to reduce the symptoms of Eczema in babies that majorly including flaky skin irritation, inflammation, and dryness. Shea butter is a rich source of antioxidants along with essential fatty acids that tackle all skin conditions and also improve the texture of your baby's skin.
4. Cures Diaper Rash
Say goodbye to diaper rash and the redness that comes along only with RAW and organic African Shea butter for diaper rash. Shea butter is rich in anti-inflammatory qualities along with essential fatty acids which makes it an ideal option for treating diaper rashes. Overall shea butter is a great natural remedy that reads diaper rash along with other skin conditions. The moisturizing qualities of shea butter aid in soothing irritated skin and rashes and reduce the chances of regular appearance. The anti-inflammatory properties tackle the irritated and itchy skin in babies.
5. Reduces Redness And Inflammation
No more inflammation and redness especially if you have African Shea butter for diaper rash redness. If you make your baby wear diapers for more than 3 to 4 hours it might lead to intense redness and inflammation around their genitals. But with RAW and organic shea butter for diaper rash, you can be assured of their elimination in some period. Shea butter for diaper rash reduces the sensitivity and also tackles redness and pain associated with diaper rash. It helps to bring back your baby's skin to its normal stage with regular application.
How To Use Shea Butter For Diaper Rash?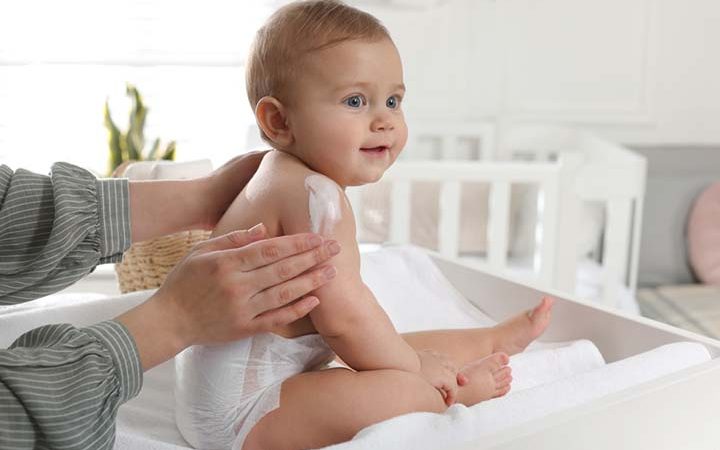 Including shea butter in your baby's routine is pretty straightforward. As you know Shea butter acts as a natural moisturizer, it can be used directly on your baby's skin. It is safe and mild to use on delicate and sensitive skin types. However, if you notice any side effects whatsoever make sure to consult your doctor.
You may also like:
Takeaway
Shea butter serves as an all-natural remedy for diaper rash along with several skin conditions like inflammation redness and irritated skin. It helps to soothe your baby's bum. Organic and African Shea butter for diaper rash is gentle and mild enough to be used on infants. So, make sure to get your hands on the organic Shea Butter from Moksha Lifestyles.